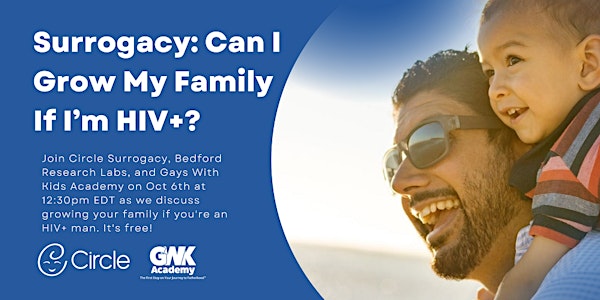 Surrogacy: Can I Grow My Family If I'm HIV+?
Join Circle Surrogacy, Bedford Research Labs, and Gays With Kids Academy and learn how to grow your family if you're an HIV+ man. It's free!
About this event
Surrogacy: Can I Grow My Family if I'm HIV+?
Have you ever wondered if HIV would prevent you from growing your family? We're happy to say it is possible to have a baby as an HIV+ man with the help of the SPAR (The Special Program of Assisted Reproduction) and surrogacy through Circle Surrogacy.
We encourage you to join Circle Surrogacy & Egg Donation, Bedford Research Labs Foundation, and Gays With Kids Academy (and Gays With Kids) for a 45-minute webinar on Surrogacy: Can I Grow My Family If I'm HIV+? This educational webinar will be full of great content to help answer a lot of questions about growing your family if you're HIV+; but most importantly, it will put your mind at ease knowing that you can have a child even if you're HIV+.
Discussion will include:
SPAR program - first steps before starting the program and the process
Surrogate matching process with the SPAR program
Relationship and communication with your surrogate
Legal considerations with the SPAR program
Much more
Open Q&A with our speakers after the presentation is over.
Our panel will consist of:
Brian Rosenberg, Founder, Gays with Kids/Gays With Kids Academy: Brian has more than 25 years of sales and marketing experience working in the not-for-profit and retail industries. But his real passion has been the creation of Gays With Kids, the one-stop destination for gay, bi and trans dads and dads-to-be that he co-founded with his husband in 2014.
Ryan Kiessling, Bedford Research Labs Foundation: Ryan has an undergraduate degree in Cell and Molecular Biology from the University of Massachusetts at Amherst, and a Masters Degree in Not for Profit Organization Management from Carnegie Mellon University. He oversees daily operations of the Bedford Research Foundation providing support for all research and clinical programs, including SPAR.
Jen Rachman, LSCW, Circle Surrogacy & Egg Donation: Jen is licensed clinical social worker, a young adult cancer survivor, and a parent through surrogacy. She earned a Master of Social Work degree from New York University and has over fifteen of clinical experience working with children, adolescents, and their families. Jen works as an Outreach Associate for Circle, conducting consultations and has represented Circle at events throughout the United States.
Anthony Brown, Manager of Client Services and Attorney, Circle Surrogacy & Egg Donation. Anthony graduated from Brooklyn Law School, where he served as research assistant to Nan Hunter, the founder of The Gay and Lesbian Project at the ACLU. Anthony and his husband were the subjects of CNN's, "In America, Gary and Tony Have a Baby", a documentary about their journey of having a child through surrogacy. He is also a member of The Family Law Institute of the National Gay and Lesbian Bar Association, the New York State Bar Association, the New York County Lawyers Association, the Committee for Assisted Reproduction Technology of the American Bar Association, and is the Emeritus Chairman of Men Having Babies.
Reserve your spot today! Registration is FREE. Once registered, you'll receive instructions from GoToWebinar on how to join.
About Circle Surrogacy & Egg Donation, GWK Academy, and Bedford Research Labs Foundation
Circle Surrogacy & Egg Donation was founded on the belief that everyone should have the opportunity to be a parent. To this day, that belief is at the core of everything we do. For over 26 years, we've helped straight and LGBTQ+ couples and singles fulfill their dreams of parenthood. We are a full-service agency, headquartered in Boston, Massachusetts with an office in London, UK; Los Angeles; New York; San Francisco; and Washington D.C., (and coming soon in 2022 to North Carolina). We have a devoted team comprised of experts in the field, combined with those who have personal experiences such as former egg donors, surrogates, and parents through surrogacy, IVF, and adoption. Our mission is to go above and beyond to grow families around the world by connecting, guiding, and supporting intended parents, surrogates, and egg donors on one of life's most extraordinary journeys. Together, we make parenthood possible.
Gays With Kids mission is to inspire, inform and guide queer men throughout their journey of family building, and then to support these dads to live their best authentic lives while navigating fatherhood.
The GWK Academy app was designed specifically to help queer men navigate their journey to fatherhood with confidence by giving them the information, resources, and connections they need before they get started. As such, we hope to become known as the de facto first stop on any queer man's journey to fatherhood. (Download the GWK Academy app on the iOS App Store or Google Play Store.)
Bedford Research Foundation is a Massachusetts 501(c)(3) public charity and biomedical institute conducting stem cell and related research for diseases and conditions that are currently considered incurable. Bedford Research Foundation began its work in 1996. Its initial project, the Special Program of Assisted Reproduction (SPAR), was created to facilitate healthy conception for couples with a male partner infected with HIV. The first SPAR baby was born healthy and infection-free in 1998. With the help of over 200 collaborating clinics nationwide, more than 230 healthy babies have been born through SPAR. In addition to breakthroughs in HIV, Bedford Research Foundation's SPAR research led to the creation of innovative methods of testing for diseases of the male genital tract, including the prostate. Success and expertise in fertility research and treatment lead to Bedford Research Foundation scientists implementing the first human egg donor program for stem cell research in September 2000.