Surrealistic Summer Solstice Jam 3 (free concert)
Description
Celebrate the Summer Solstice and the music of 1969
Surrealistic Summer Solstice Jam 3 and Psychedelic Photosynthesis
Golden Gate Park San Francisco
Wednesday, June 19th, 2019 • 6 pm - 10 pm
Conservatory lighting at approximately 9:10 pm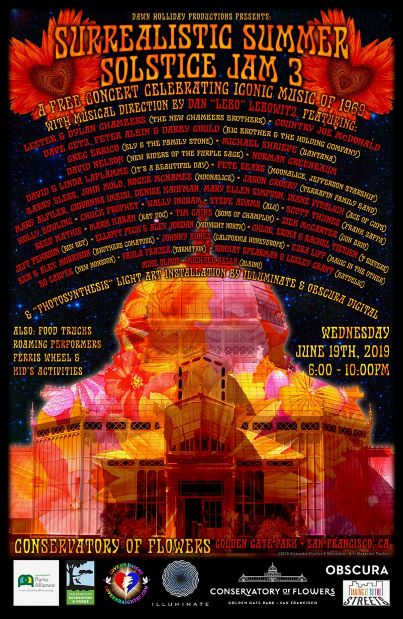 Join us for the 3rd annual outtasight, flower-powered night under the stars as we kick off summer with the Psychedelic Photosynthesis and Surrealistic Summer Solstice Jam. Spread out a blanket for an amazing night of free, live music and psychedelic visuals in San Francisco's Golden Gate Park at the iconic Conservatory of Flowers on Wednesday, June 19.
The concert, featuring the iconic songs of 1969 performed by legendary artists alongside bright new talents in the Bay Area music scene, will run from 6-10 p.m. The Conservatory's light show, Photosynthesis, will begin at approximately 9:15 p.m. transforming the building into a canvas of colorful light art.

Dance to Spirit in the Sky - performed by Norman Greenbaum. Fixin' to Die performed by Country Joe McDonald. Time Has Come Today - performed by the New Chambers Brothers, Evil Ways - by original members of Santana, and of course, Everyday People - performed by original members of Sly & The Family Stone.

This will be an All-Star concert featuring members of legendary Bay Area bands:
Big Brother & The Holding Company, Sly & the Family Stone, Santana, It's A Beautiful Day, Jefferson Starship, Jerry Garcia Band, Ace of Cups New Riders of the Purple Sage, New Chambers Brothers, Rat Dog, and Sons of Champlin.
Along with musicians from the newer generation of San Francisco bands: ALO, Box Set, Moonalice, Con Brio, Brothers Comatose, The California Honeydrops, Strangefolk, Midnight North, T Sisters, Katdelic, and Tarnation.
The flower-powered celebration is free and open to all ages. A variety of food trucks from Off the Grid will be available.
Developed in partnership with the San Francisco Recreation and Park Department, the light art installation, initiated by Illuminate, the nonprofit arts group behind The Bay Lights, together with Obscura Digital, a world-renowned creative studio specializing in large scale light-based art, uses gobo projectors to transform the all-white landmark with a series of exquisite scenes inspired by the rare tropical flowers within this national landmark.

Space is limited at this event, and public transportation is highly recommended, as parking is limited. John F. Kennedy Drive will be closed from Kezar Drive and 8th Ave. for the entirety of Wednesday, June 19. Let us know you're coming on Eventbrite.


Surrealistic Summer Solstice Jam 3 is produced by Dawn Holliday with the musical direction of Dan "Lebo" Lebowitz. The San Francisco Recreation and Park Department is grateful to the Conservatory of Flowers, San Francisco Parks Alliance, and numerous civic leaders and organizations for supporting the event.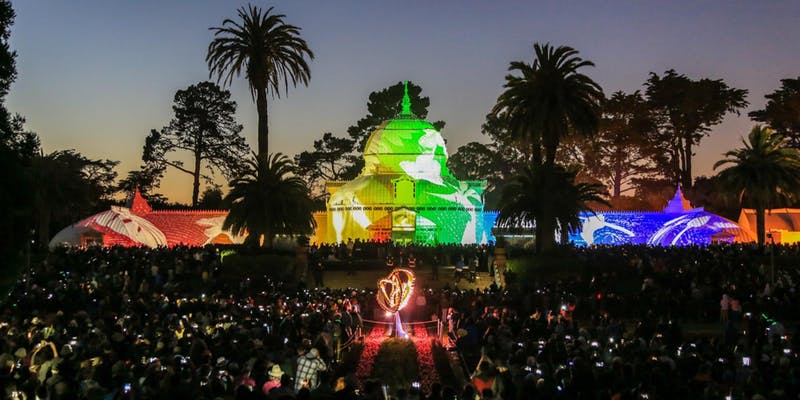 EVENT INFO ANNOUNCEMENT
If you're coming to enjoy the free Surrealistic Summer Solstice Concert at Conservatory of Flowers, please note the following:
The following items are not allowed at the event:
No Tents, Canopies, Tables, or other structures
No Unpermitted Vendors
No Coolers larger than 9"x12"
No Barbecues or cooking equipment
No Amplified Sound Equipment
No Generators
No Glass
No Backpacks larger than 9 x 12
Please take public transportation to the event if possible:
The closest MUNI bus is 5 Fulton bus which runs until the event ends and beyond. You can catch the bus at Fulton Street and 6th Ave, and it is also the closest bus stop to the event.
For Bus Schedule: Fulton 5 and SFMTA information

Or Plan Your Travel with Public Transit: 511 Transit Information

However, if you must drive, you can park at Golden Gate Park's Music Concourse Parking Lot, entrance at Fulton Street and 10th Ave:
Parking will available at the Music Concourse Parking Lot as it will be open late until 10:30 pm to accommodate parking for the event.
For maps on how to enter – please go to Music Concourse Parking Cost is a flat $17.
Entertainment for Surrealistic Summer Solstice Jam 3 blends San Francisco most beloved legacy bands and the bright new talents on the San Francisco music scene.
List of Musicians
Musical director - Dan "Lebo" Lebowitz
Ace of Cups
Steve Adams
Peter Albin
Michael Bello
Johnny Bones
Holly Bowling
Lester & Dylan Chambers
Country Joe McDonald
Tim Caine
Bo Carper
Jason Crosby
Greg Errico
Paula Frazer
Reid Genauer
Dave Getz
Lesley Grant
Darby Gould
Norman Greenbaum
Wally Ingram
Alex Jordan
Mark Karan
David & Linda LaFlamme
Ezra Lipp
Reed Mathis
Ziek McCarter
Roger McNamee
John Molo
Ben & Alex Morrison
David Nelson
Mike Olmos
Elliot Peck
Jeff Pehrson
Chuck Prophet
Pete Sears
Michael Shrieve
Barry Sless
RonKat Spearman
Scott Thunes
Chloe, Erika, & Rachel Tietjen
Lech Wierzynski
Plus more to be announced!