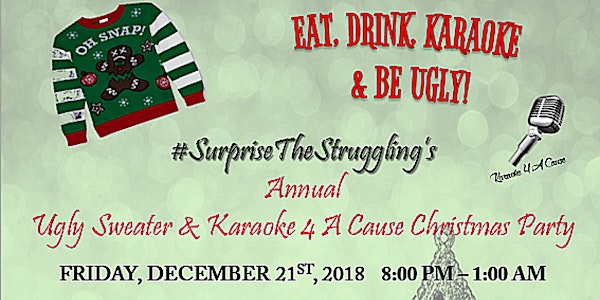 #SurpriseTheStruggling's Ugly Sweater & Karaoke4ACause Christmas Party
Location
Level Up Connection Space
228/17 Merrick Blvd.
Laurelton, New York 11413
Description
EAT, DRINK, KARAOKE & BE UGLY!
The Holidays are upon us once again. That means that a New Year is right around the corner! #SurpriseTheStruggling is holding it's Annual Ugly Sweater & Karaoke4ACause Fundraiser!

We are inviting you and your friends, family, significant others to come out and join us on Friday, December 21, 2018, from 8:00 PM until 1:00 AM for one of the best times of your life! It's a party!!! Full of fun, great food, drinks, and...KARAOKE!!!!

Be certain to wear your ugliest Christmas sweater if you want your chance to win the prize for ugliest sweater! Festivities will be held at the awesome Level Up Connection Space located in Laurelton, New York. Join us for the night's festivities which includes Karaoke 4 A Cause! You get to belt out your best rendition of your favorite song while helping to raise money for a great cause!

Tickets are $25 and are on sale now! Pass the word around! Eat, Drink, Karaoke, and Be Ugly for a cause!
All Proceeds from the night's events goes to support #SurpriseTheStruggling, Inc. (A 501c3 organization) to help with care and assistance to Homeless women and teen girls.