Surf's UP! January - June 2014 Astrology UPDATE!
Refund Policy
Contact the organizer to request a refund.
Description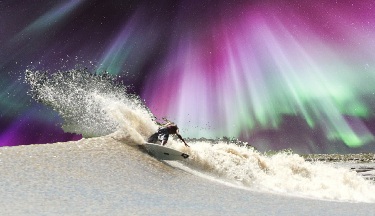 Surf's Up!
Riding the waves of the first six months of 2014
With Astrologer Pam Younghans and Wellness Educator Elsie Kerns
We have a powerful SuperMoon on January 1 to start off our new calendar year. This New Moon is potent not only because of its proximity to Earth, but also because it sets off the energy of the Cardinal Grand Cross that we'll be working with for much of 2014.
Since the new year begins in such dramatic fashion, it perhaps is not surprising to hear that the planetary influences during the first six months of 2014 will keep us on our toes! The image of a surfboarder is especially appropriate, given that we'll continually need to adjust our center of gravity to stay in balance as we navigate the ongoing waves of energy and change. Knowing when the big waves are coming, and knowing when we will have calm seas, can help us prepare and ride the waves more effectively.
To learn more about the astrological influences in effect January through June, please join astrologer Pam Younghans and Wellness Educator Elsie Kerns for their 90-minute "Surf's Up!" teleclass on Thursday, January 9. Among the topics we'll explore:
The ongoing Cardinal Grand Cross between Pluto, Uranus, Jupiter and Mars, including the powerful week in April when all four planets are at 13 degrees of their respective sign, and other times when the energy of the grand cross is "triggered" by the Moon and other faster-moving planets
The New and Full Moon energies each month
April's Lunar Eclipse in Libra and Solar Eclipse in Taurus

Mars' retrograde phase

in Libra from March 1 to May 9

Mercury's retrograde phases

in February and June
We've known for a while that the Pluto-Uranus square is inspiring major changes on global and personal levels. As we ride the waves of the first six months of 2014, we'll have even more focused opportunities to take risks that help us break free from the limitations of the past.
Imagine how the surfer feels when successfully harnessing the energy of that ocean wave – the sense of empowerment (Pluto), liberation (Uranus), joy (Jupiter) and self-confidence (Mars). This is the reward for taking the risk and utilizing the necessary combination of courage, perfect timing, and trust. This is what we are aiming for!
Here are the class details:
Surf's Up!
Riding the waves of the first six months of 2014
With Astrologer Pam Younghans and Wellness Educator Elsie Kerns
Thursday, January 9, 2014
4 to 5:30pm PST | 5 to 6:30pm MST | 6 to 7:30pm CST | 7 to 8:30pm EST
Attend either by phone or online! Your $25 registration fee includes an audio replay of the teleclass and a copy of the slideshow, so even if you cannot attend "live," you will have access to the class content afterward.
Please note: Payment options include credit card or personal check. To pay by check, see "show other payment options."
Questions? Contact Elsie Kerns at ekhealing@verizon.net or 856.988.7426