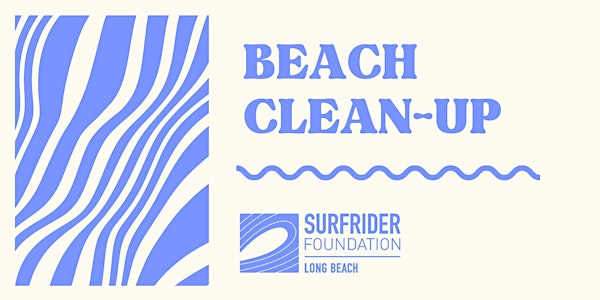 Surfrider Foundation | Beach Cleanup - Long Beach
A Surfrider Foundation program to tackle the ocean litter issue through education for action, citizen science, and campaigns.
When and where
Location
Belmont Pier Belmont Pier Long Beach, CA 90803
About this event
Beach cleanups are a fun and easy way to volunteer your time by helping to keep our beaches and ocean clean! Our cleanups take place every first Saturday of the month at Belmont Pier. We're always looking for volunteers to help out at the booth as well as participate in the cleanups.
Questions? Please read this list of frequently asked questions and if your question is not answered, please contact us at beachcleanup@longbeach.surfrider.org.
Please fill the form below to register ⬇️
Beach Cleanup Program Participation Waiver (Media Permission + Photo Release)
What purpose do beach cleanups serve?
Surfrider Foundation supports volunteers to organize Beach cleanups completely autonomously, with a range of tools and an educational approach.
Joining one of Surfrider's beach cleanups, participants become aware of the impact of waste-related pollution, while actively reducing marine litter.
When volunteers inform Surfrider about the waste picked up during their cleanup, they are contributing to pollution research and helping to influence legislation.
Reasons to participate in a beach cleanup
A beach cleanup is a practical action to protect the environment while enjoying some time with your family, friends or new acquaintances.
Taking part in a beach cleanup helps to make people aware of marine litter issues, using the educational tools provided by Surfrider.
Beach cleanups allow Surfrider to influence laws and reduce waste at source, through volunteer participation and information gathered on waste.