Surf & Yoga Retreat @ Azula 15th June until 19th June 2019
Join Eduardo Terzidis and Emy Cianci on the magical land of Azula surrounded by its trees and wilderness and just 20 minutes from the ocean!
About this event
During our time together we will be starting the day with an optional early morning meditation, followed by a yoga class to reawaken our inner bodies. After a delicious breakfast we will head to the beach where we will have the opportunity to learn the ancient art of surfing. The afternoons will be dedicated either to some more surfing or to some adventures in the nearby area. The day will end with another yoga class and then some evening activities.
We have decided to combine yoga, meditation and surfing as we consider these different gateways to creating a better relationship with ourselves and with nature. Through yoga and meditation we learn how our inner nature works, we learn about its rhythms and cycles, as well as understand how to connect and rest in our breath. These are all very important tools to apply both in our daily lives but also when out there, amidst the waves. While surfing, as a matter of fact, we are confronted with the power of the ocean. Knowing how to stay attuned to your body and breath will not only make you surf better but will also teach you how to pay respect to the power of the water. At the basis of our thinking is the idea that all of these practices can help us become more aware of ourselves, of our bodies and minds but also teach us how to be more attuned and respectful towards nature.
Part of our time together will also be dedicated to some beach cleaning time as an additional way to take care of the environment .
The retreat is recommended for beginners and/or intermediate surfers, although everyone is welcome !
***WHAT TO EXPECT
4-night Accommodation, private or shared room
- Transfer from Sao Luis to the farm
- Daily transfer to the beach
- Wholesome meals (GF, vegetarian, vegan-friendly)
- Daily Yoga Classes
- Daily Meditation
- Surf Lessons
- Free time to spend on the beach and/or on the land
- Night activities, jam sessions around the fire
- Community and friendship building
- Possible additional activities such as kayaking in the river, capoeira, nature walks and others
***ABOUT AZULA
The retreat will be hosted on the beautiful land of Azula. Azula is a permaculture project and the home of two families that share the same vision around sustainability and life. They offer different courses around the year mainly in permaculture and natural building.
***PRICES AND ACCOMODATION
- Shared Earth House Dormitory (5 people) EARLY BIRD (by 28th of February) 400 euros
- Lotus Tents shared (2 or 3 people) EARLY BIRD (by 28th of February) 440 euros
- Private Bell Tent EARLY BIRD (by 28 of February) 520 euros
- Shared Earth House Dormitory REGULAR (after 1st of March) 500 euros
- Lotus Tents shared REGULAR (after 1st of March) 540 euros
- Private Bell Tent REGULAR (after 1st of March) 620 euros
This price includes all your meals, transportation to and from the farm to Sao Luis (picking up on 8th of June and dropping off on 12th of June) and all course tuition and materials (if you have your own yoga mat you are welcome to bring it), as well as transportation to and from the beach.
***OTHER INFO
We ask all registrants to make a deposit of €100 (plus transaction fee) to secure your spot and the remaining fees be paid on arrival. If you wish to secure your spot please send us an email at emy.cianci@gmail.com or eduardo.terzidis@gmail.com and we will guide you through the paying process.
Please aim to arrive at Azula no later than 12:30 on the 15th for an introductory tour and delicious lunch.
***ABOUT THE FACILITATORS
EDUARDO TERZIDIS is a surfer, yogi and permaculture designer. He is Italian-Brazilian, born in Rome and has been living around the world during the last years. Surfing has been at the centre of his life since he was 5 years old and started playing with the waves. Growing up, he decided he wanted to give back to Nature all the precious gifts he receives under the form of waves and undescribable experiences in the Ocean. He started questioning why we humans hurt Nature so much, when Nature is so kind with us.
He has graduated as a mechanical engineer and soon realized that the 9 to 5 , suit and tie life was not for him. Since then, he has hit the road on a journey to discover himself and to break the patterns of modern society. This journey led him to Yoga, which he has started practicing with Nick Larsen. He sees Yoga as way to connect to our true selves and after years of personal study, Eduardo started teaching yoga in Italy, Australia and Austria.
His work focuses on shifting modern patterns towards more sustainable ones in order to create a more eco-logical future for our own selves and the environment around us.
EMILIA CIANCI is yoga and meditation teacher, a creative thinker and deep nature lover, She is originally from Rome, Italy but has now been living around the world for the last years. She has been studying and practicing yoga and meditation for the last 10 years. She earned certificates in yoga, studying in particular with Angela Farmer on the island of Lesvos, and has undergone several meditation intensives with her teachers. Her interest has always been in learning ways to bridge our inner and outer landscapes. She has earned a B.A in Philosophy but since then has gone on numerous learning journeys that have fed her own growth and curiosity. She has spent time with indigenous people, learning from their deep knowledge of nature, has earned certificates in movement and dance and is now undergoing a masters in Expressive Arts Therapy. She truly believes that the more we open ourselves to our "natural way of being", the more we will live a joyful, meaningful and compassionate life.
FOR MORE INFO please don't hesitate to contact us at emy.cianci@gmail.com or eduardo.terzidis@gmail.com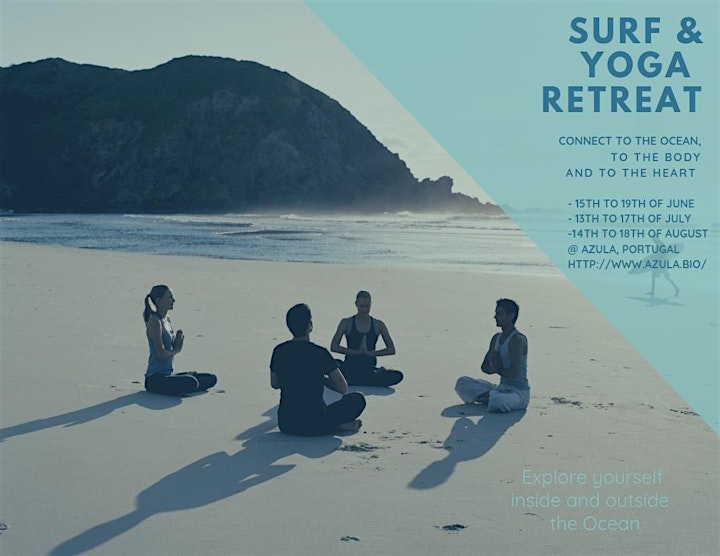 Organizer of Surf & Yoga Retreat @ Azula 15th June until 19th June 2019
Azula is a place, a project and the home of two families that share the same vision, to raise our children in a beautiful safe environment and to cultivate our land and ourselves to enjoy life fully. 
Located on the south west coast of Portugal, only a 20 minutes drive to the beach, we aim to transform this previously grazed land into an abundant garden and forest, where we as humans and nature itself can thrive. So far, this process has come to transform ourselves, filling us with passion for what we are doing and giving us great joy. We want to share this experience with more people and make a real, strong positive change in our world. 
Workshops such as natural building, permaculture design courses and gardening will happen from April 2017 on.