Surf - Skate - Science (4th-12th)

Friday, October 26, 2018 from 9:00 AM to 10:30 AM (EDT)
Event Details
PLEASE NOTE: REGISTRATION HAS BEEN MOVED
Surf-Skate-Science is a weekly homeschool class that is designed to enrich your child's school curriculum, our co-op classes offer physical activity through surf and skate lessons. Plus, participants will also learn the science involved in Action Sports including marine biology, environmental science, physics and more.
WHY ACTION SPORTS & SCIENCE?

It's a fact... kids just learn more when learning is hands- on and they are having fun. Our co-op classes offer active learning opportunities where kids can learn the science behind activities they love. This is what we call Action Science.
Each week we wil learn the Science of Surfing or Skateboarding. In our surf science classes, you will learn the science behind waves and get to know our local marine life. We will even visit a local shaper and get an inside look at how a surfboard is made. On our skate science weeks, jump on a board and learn the physics of skateboarding. You will also learn the process of how a skateboard is created and even get a chance at making a skateboard deck of you own as we dive into the science and design of a skate deck.
Students become not just skaters in a park or surfers in the water but scientists taking about motion, Newton's laws, simple machines, and the environment.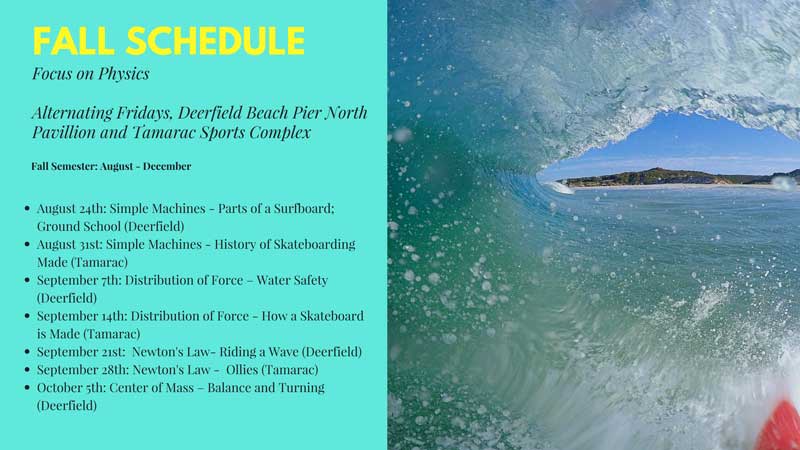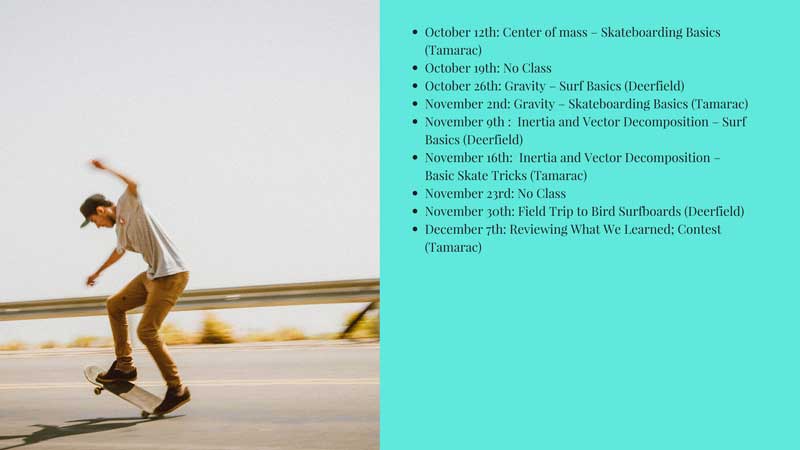 Fall Schedule & Locations:
August 24th: Simple Machines - Parts of a Surfboard; Ground School (North Pavillion Deerfield Beach)


August 31st: History of the Skateboard (Tamarac Skatepark)

September 7th: Distribution of Force – Water Safety

(North Pavillion Deerfield Beach)



September 14th: Creation of a Skateboard - Deforestation

(Tamarac Skatepark)



September 21st: Newton's Law- Riding a Wave

(North Pavillion Deerfield Beach)

September 28th: Ollies - Wood Densities

(Tamarac Skatepark)



October 5th: Center of Mass – Balance and Turning

(North Pavillion Deerfield Beach)



October 12th: Center of mass – Skateboarding basics part 1

(Tamarac Skatepark)




October 19th: No Class

October 26th: Gravity – Surf Basics Part 1

(North Pavillion Deerfield Beach)

November 2nd: Gravity – Skateboarding basics part 2

(Tamarac Skatepark)



November 9th : Inertia and Vector Decomposition – Surf Basics Part 2

(North Pavillion Deerfield Beach)

November 16th: Inertia and Vector Decomposition – Basic skate tricks

(Tamarac Skatepark)




November 23rd: No Class

November 30th: Field Trip to Bird Surfboards(Bird Surfboards)

December 7th: Reviewing What We Learned; Contest

(Tamarac Skatepark)
(Please note that there is $25 material fee that includes materials for the entire semester - If you are dropping in for the week an additional $5 will be collected for material fees. $20 material fee will be charged for those dropping in on Create-A-Skate weeks.)

FAQs
To register for an entire semester, click on the August 24th date and choose selection

Classes are for those from 4th-12th grade. Students will be grouped according to ages and understanding level.

Surfboards and skateboards will be available for use, but students may bring their own.

Parents are engouraged to participate.

Students will participate in hands-on experiments, beach activities, surf and skate. All skill levels will be accomodated for. Water sports will take place in lifeguard supervised areas only.

Students are encouraged to bring water in a reusable and refillable bottle.

Wear Sunscreen.

On skate days, please wear appropriate footwear.

Students over 16 can register as student leaders for a reduced rate. Email info@pushforgood for details and application.
COST*
BEFORE AUGUST 15th
$20 per class*

$250 for entire semester - 14 classes**

$130 for just surf or skate - 7 classes***
AUGUST 15th & After

$25 per class*

$300 for entire semester - 14 classes**

$165 for just surf or skate - 7 classes***
ADDITIONAL FEES



*Additional $25 supply fee for entire semester, includes custom made skate deck from Create-A-Skate.

**Aditional $20 for 1/2 Semester Supply Fee

***Drop in classes - $5 supply fee per class


Payable on 1st Day of Class
ABOUT THE INSTRUCTORS
Ulises and Toni will be your lead instructors. They have 3 children whom they have homeschooled.
Ulises Frallicciardi built and ran Ramp 48 Skatepark for over 15 years. He was behind their Ramp Camp program and help assist with Create-A-Skate at the park, Museum of Science and Discovery, Calvary Christian Academy and multiple other locations. He currently is director of Island Camps Skate Camp and also assists with thier free surf lesson program.
Toni Frallicciardi has taught Create-A-Skate for over 15 years. She has also hosted classes at local schools that include slimy science, kids gardening, steam classes, hour-of-coding and wordpress for kids at museums, schools, skateparks and community centers. She has also helped run skateparks for over a decade and a half and trains others to use sports as a way to mentor others. Toni went to school for Ocean Engineering and is passionate about sharing her love of science and art with the next generation.
When & Where

North Pavillion
314 Northeast 21st Avenue
Deerfield Beach, FL 33441


Friday, October 26, 2018 from 9:00 AM to 10:30 AM (EDT)
Add to my calendar
Organizer
Push for Good is a local community network that strives to invest in the next generation through skateboarding, science, technology, engineering, art, design and math.