Description
Its Brinner! - A spin-off of brunch (breakfast & lunch), Brinner is the newest way to experience a great fusion between Brunch & Dinner! Brunch Royalty sits at the forefront of this new foodie movement! Dedicated to providing a ultimate experience, "It's Brinner" is a GREAT place to celebrate your birthday, eat with friends to get ready for the work week, or just flat out have an awsome sunday-funday! Join us on Sundays for Brinner! Available *every Sunday.
*LGBT Edition is 1st sundays. To RSVP for that click here
---




Supreme Sundays Presents "It's Brinner!"
Time: 2pm - 9pm
Full Buffet 2-6pm | Live Entertainment 6-9pm (Live Food Stations only)
All Brinner patrons are allowed to stay for Saint Sundays for as long as they want!
ENJOY BRUNCH ON OUR BEAUTIFUL ROOFTOP!!!!!!!
Music & Entertainment: The hottest Live DJ's playing HIP HOP, R&B, Soca, Reggae, and international hits!
Price: $40 INCLUDING BOTTOMLESS MIMOSA
Venue: 1230 Champagne Lounge - The hottest new venue in DC https://www.1230dc.com/

---
QUESTIONS? EMAIL info@supremesundays.com
---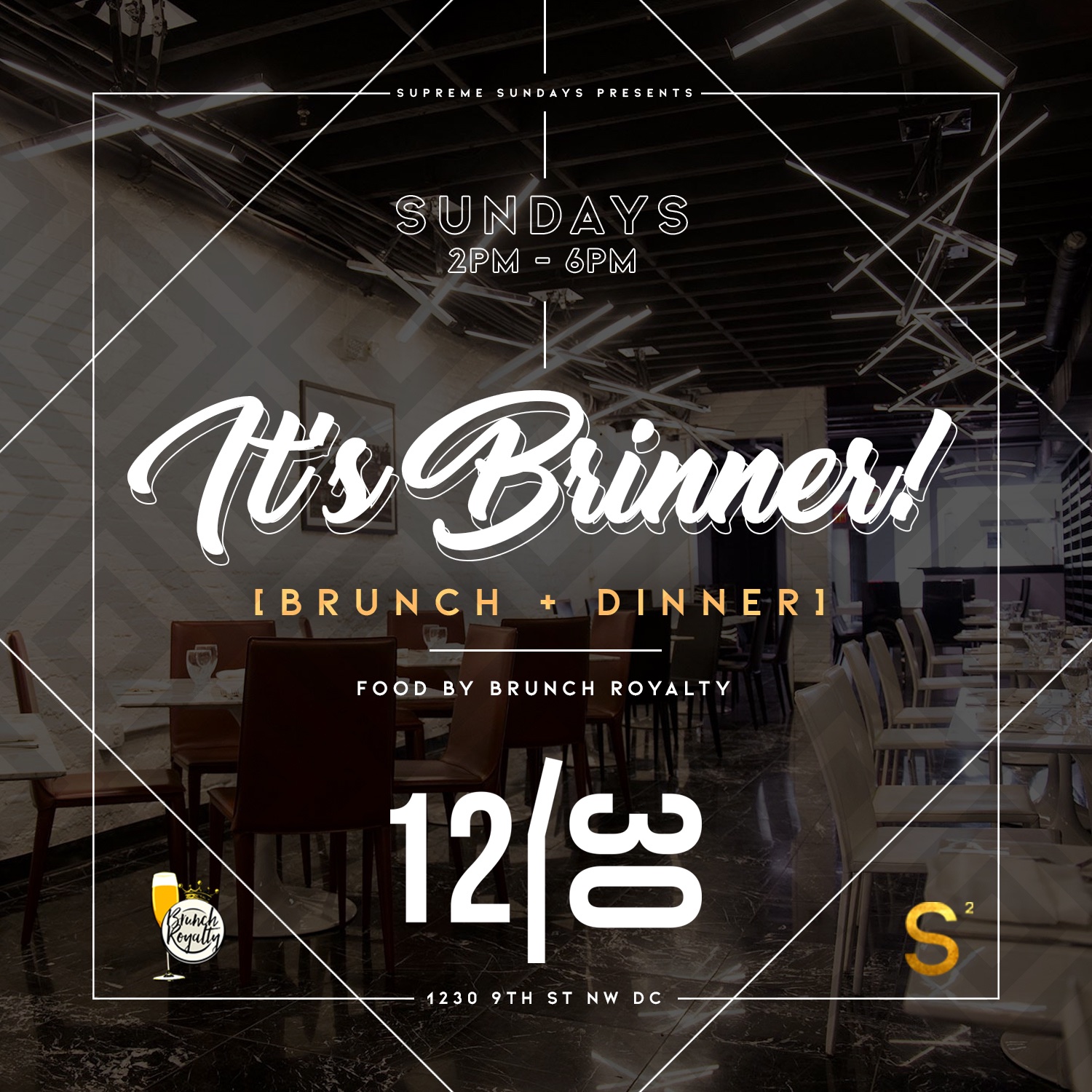 THE BUFFET MENU - Available 2pm-6pm
(Not all items will be available every week. Food is while supplies last)
ASSORTED FLAVOR SPECIALTY WINGS
JAMAICAN JERK CHICKEN
FRIED FISH
SWEDISH MEATBALLS
TURKEY BACON
PORK BACON
PORK SAUSAGE
MIXED VEGGIES
CHEESY GRITS
FRESH FRUIT
FRESH SALAD
MAC & CHEESE
COLLARD GREENS
THE LIVE STATION MENU - AVALIABLE
SEAFOOD STATION ( CRABS, MUSSELS, LOBSTER TAILS)
EGG STATION (EGGS ANY STYLE, PORK BACON, TURKEY BACON, STEAK, VEGGIES)
GRIDDLE & WAFFLE STATION ( FRENCH TOAST, PANCAKES , WAFFLES)
QUESTIONS? EMAIL info@supremesundays.com
More Venue pics at https://www.1230dc.com/