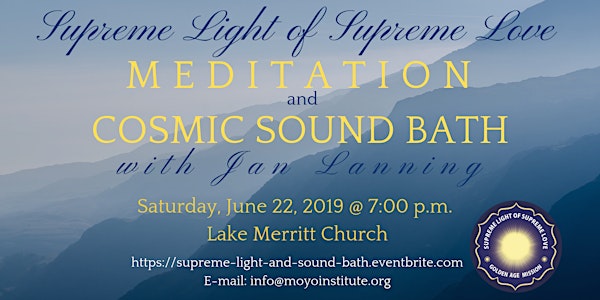 Supreme Light Meditation & Cosmic Sound Bath
Location
Lake Merritt United Methodist Church
1330 Lakeshore Avenue
Oakland, CA 94606
Description
Grab your yoga mat, a blanket and pillow and join us for a spectacular evening of immersion in Sound Healing and Supreme Light Meditation. This Cosmic Sound Bath is deeply healing. It is great for meditation and relaxation, emotional release, decreased depression, lowering blood pressure, clearing chakras and stimulating the flow of Kundalini energy.
The Supreme Light of Supreme Love Meditation is a powerful transmission of Divine energy that allows us to experience Divine Grace as a collective, and strengthens our connection to the Divine. It also supports the activation of our light bodies as the Earth Ascends. This is one of the gifts to help usher in the blossoming of the Golden Age.
Benefits of the Supreme Light of Supreme Love Meditation are good relationships, happiness, peace and joy.
Give yourself the gift of nourishing your spirit. Tickets are available here or at the door.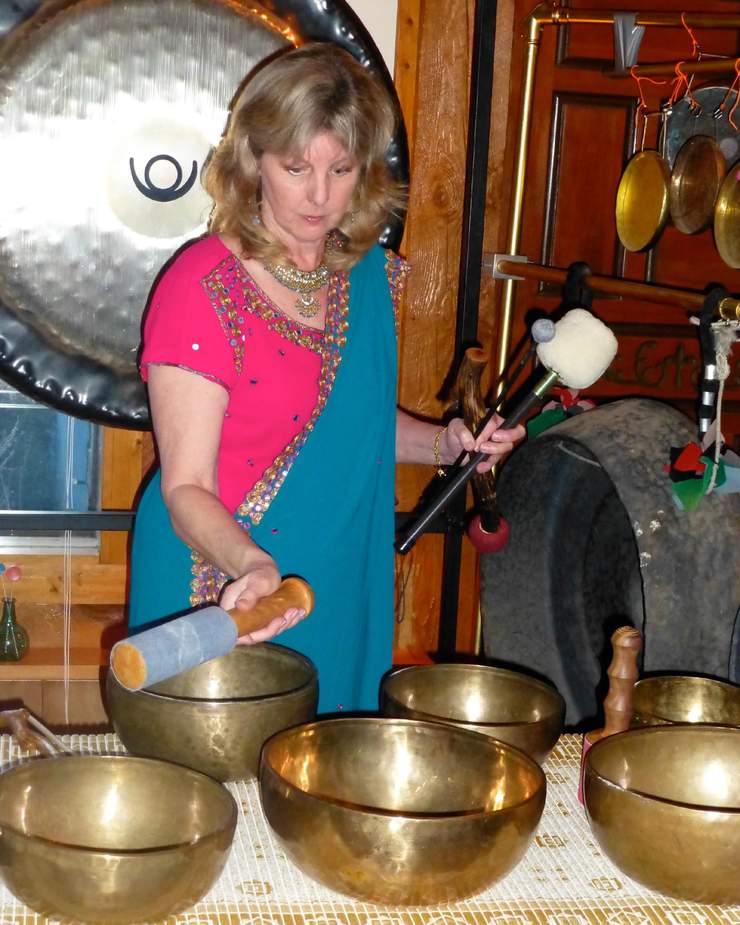 About Jan Lanning
Jan is a Oneness Trainer, certified Acutonics® Sound Healer and an accredited teacher of the Acutonics® tuning fork system. Her clients receive sessions which can be deeply relaxing, healing, and life-transitional.
Part of Jan's repertoire is her offering of the "Sound Bath." Participants sit or recline with their eyes closed, listening to the sounds of the Tibetan and crystal bowls,and also receiving the power of the Pluto gong. The Sound Bath delivers relaxation at a deep level, and for some, the experience of vivid colors or profound insights.
Music was her career for most of Jan's life. After receiving her Bachelors degree in Music Education from Shenandoah Conservatory of Music in Virginia, she taught piano and voice for thirty years in the Washington, D.C. area where she enhanced her music training with master classes in jazz vocals and piano pedagogy.
During the course of her career, Jan's path led her to exotic places which inspired her work in sound healing. Egypt, India, and Thailand were her most favorite and influential destinations.
If you haven't already done so, don't forget to sign up for:
JOURNEY INTO AWAKENING
TUESDAY, JULY 9, 2019
7:30 AM - 7:30 PM
This event will sell out!
https://journey-into-awakening-july-9.eventbrite.com
A day of immersion in ancient sacred practices, powerful teachings, and meditations led by enlightened monks deepens and anchors our state so that we begin to fully embody an Awakened Consciousness.