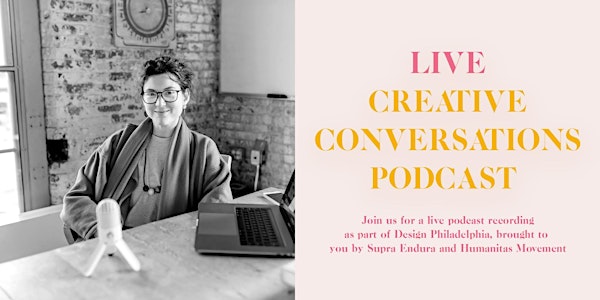 SUPRA ENDURA : CREATIVE CONVERSATION LIVE PODCAST
When and where
Location
Center for Architecture and Design 1218 Arch Street Philadelphia, PA 19107
Description
Join us as owner and designer, Gabrielle Mandel of clothing brand Supra Endura brings a special guest, on stage at the Center for Architecture and Design for a special live taping of her podcast, Creative Conversations.
Supra Endura: Creative Conversations is a podcast all about creative
entrepreneurship and navigating your way through the creative industry.
Podcast host, Gabrielle Mandel brings on accomplished guests who talk
about their journeys and their creative process. Mandel is interested in
unlocking the human qualities of running a creative business and both
leads the conversation while also drawing upon her own experience of
working in the design industry. She loves to celebrate the successes of
her guests, but also have them talk about the times when things did not
work out. Each conversation is infused with humor and the tone is
warm and intimate- like a great conversation with one of your close
friends.