Description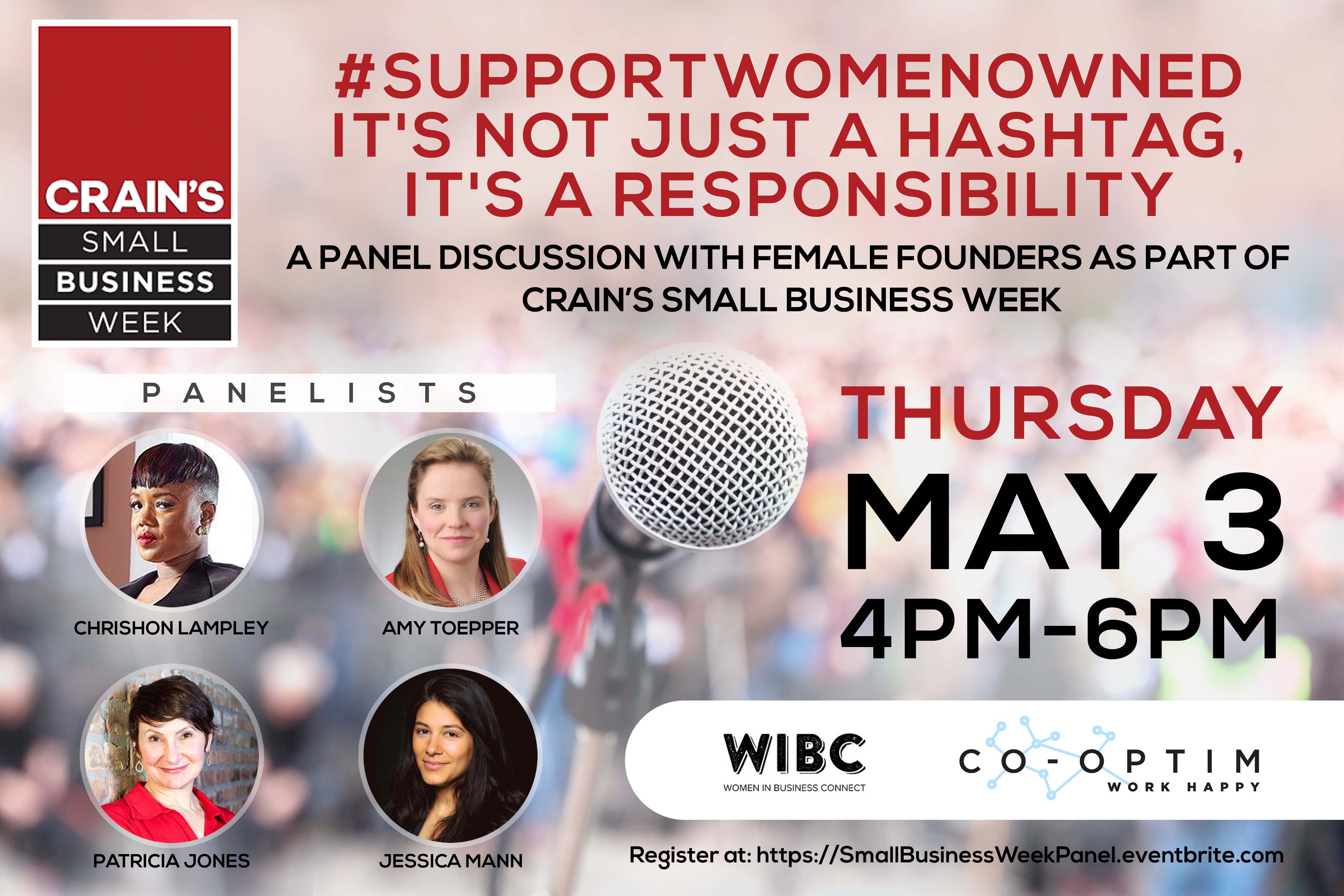 WIBC presents: Power Panels, a quarterly panel discussion on topics that matter to women in business.
We are tackling the importance of supporting women-owned goods & services with the topic:
#SupportWomenOwned, It's not just a hashtag, but a responsibility!
Only 3% of women-owned firms generate more than $1million a year in revenue.
Only 3% of minority- owned busineses are incorpoarted.
Less than 3% receive venture capital
What do you do when the odds are against you?
Hear a panel discussion from female founders who will be discussing how they got started in business, funded their business, and overcome adversity to grow their business.
This event is in conjunction with Crain's Small Business Week April 30- May 5.
---
Panelists:
Chrishon Lampley

As seen on CNBC's "The Job Interview," Chrishon Lampley is a negociant, wine enthusiast and founder of LCS Entertainment, LLC that features Love Cork Screw wines. Love Cork Screw is a lifestyle brand that launched six varietals in the fourth quarter of 2013. Since its inception, the LCS brand has acquired over 50 locations including, Mariano's, Whole Foods and other Chicago land area stores, restaurants and bars. This rapid expansion is attributed to Lampley's 14 years' of experience in the industry, which has given her leverage to develop a keen awareness of what people enjoy and what the market is missing. As a holistic brand, three wine-scented candles were added to the portfolio in 2014 available now at Target locations, including three bonus scented candles. Lampley leverages her platform to mentor young women and budding entrepreneurs who can benefit from her lessons and her success. She gives her time and resources greatly to nonprofit organizations through sponsorship and speaking engagements. Lampley has mentored youth through Urban Broadcast Media, Chicago Sky and Polished Pebbles to encourage Chicago's youth. She is a member and supporter of Delta Sigma Theta Sorority, Inc. LCS Entertainment, LLC is a licensed wholesaler and importer, a certified Minority Business Enterprise and a Women Business Enterprise.
Jessica Mann
Jessica Mann is a proud Chicago native. She began her entrepreneurial journey as a single mother, shortly after graduating from DePaul University during the 2008 recession. Despite the difficult economic times, Jessica moved forward with her vision of founding Empowering Youth Through Travel, a non-profit organization providing inner-city youth with educational overseas travel and cultural immersion. After working diligently on building EYTT from the ground up, Jessica knew it was time to focus on herself and her growing family. In 2016 she took her passion for health & wellness, and launched Ari Rose, a consciously crafted body care company focused on holistic self-care. Primarily sold online, Ari Rose is also available in two retail locations and two spas. Currently expecting her third daughter, Jessica has no plans of stopping anytime soon. Wrapping up her first co-authored book called, "She Dares to Win," Jessica continues to push forward ambitiously crushing her entrepreneurial goals.
Patricia Jones
Patricia Jones provides speaking, consulting, & executive coaching services through offerings in business transformation, strategy, merger integration, organizational effectiveness, future of work, and cultural change. She has spent 20+ years working on improving the technology, people, and business aspects within organizations. The recent 10 years were operating as the Founder & Managing Principal of Connected Arrows. Prior to establishing her own firm, she spent 4 years at Accenture where she held multiple leadership positions and was responsible for leading client engagement teams as well as developing the Global Strategy & Human Performance consulting practice. As a Merger Integration Executive, she's held responsibility for 9 successful mergers. Her early career spanned business, technology, and change roles within organizations. Her deep desire is to connect thinking, create simplicity among complexity, in a way that allows individuals and organizations to easily navigate the challenges that surface in delivering complex goals. She's very excited for the recent development of the Problem Solving Engine.
.Amy M. Toepper, ESQ
Amy M. Toepper is a corporate attorney with more than 15 years of experience. She is the owner of AMT Law, LLC and a co-founder of Legal In A Box, a company that provides access to legal services and forms for entrepreneurs, startups and small business. Legal In A Box's motto is that every business owner, regardless of size, should be able to say, "Let me speak to my attorney." Amy helps small businesses get their legal house in order while providing employment opportunities for women with law degrees who want flexible, alternative work schedules.
---
Moderator
Sherma Wise is a Journalist, on-air media talent, television producer, media executive, media entrepreneur. She is the owner and CEO of Media Wise Companies which creates television programming and produces live events. In 2012, she produced a book, "To Her Success" saluting the achievements and inspiring the aspirations of women, Central Indiana edition.She also was the Executive Producer of the TV Series, "Her Success," Chicagoland/Northwest Indiana Edition.
Host
Tiffany English is the founder of Velvetstyle, a boutique marketing company that specializes in Event Services, Social Media and Marketing Companies for Business Owners. She has produced, managed, and promoted over 350 events. In 2016, she created Women in Business Connect (WIBC), a professional networking group and support system for women to grow their business through building authentic relationships. WIBC is comprised of: networking events, resources, educational workshops, social time, and masterminding. In the coming months, WIBC will be introducing a mentoring program to mentor high school and college girls about entrepreneurship.
---
Venue Sponsor: Co-Optim
Co-Optim is the only luxury coworking space providing private offices coupled with high-end amenities and networking events. Co-Optim promotes wellness and growth in the workplace through aesthetics and convenience, where brilliance and creativity flow freely. #WorkHappy www.co-optim.com