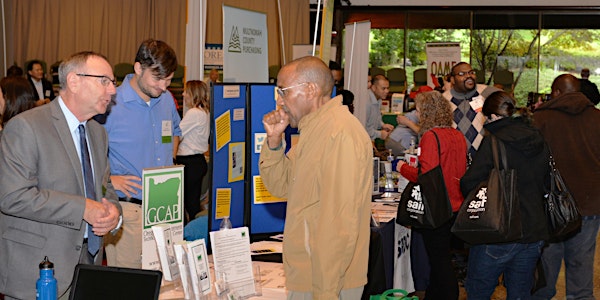 support@oregonsmallbusinessfair.com
When and where
Location
Warner Pacific College 2219 Southeast 68th Avenue #103B Portland, OR 97215
Description
The 2017 Oregon Small Business Fair, in its 23rd year is an all-day free event presented by loaned executives from city, county, state, federal and academic entities.
Objective information is provided in a non-selling atmosphere to assist existing, new and start-up entrepreneurs with their business questions and problems.
---

Workshop topics include:
New Business Track
Business Plans – Learn why Business Plans are important and essential to the success of your business. Find out the resources available to help create you create a business plan. Presented by Kay Kloster and Marilyn Scott of SCORE
Small Business Legal Basics – Learn how to protect your small business and deal with some of the legal issues involved when owning and running a business. You will discover how to avoid common mistakes while dealing with contracts, hiring employees, property leases, business name registration and local business tax requirements. Presenters are Brian Dasso of the Small Business Legal Clinic, Ruth Miles, Secretary of State's Office; Din Belderrain, Portland Tax Division; Amanda Caffall, The Commons Law Center
Small Business Taxes – Learn what you need to know to stay on the right track with Federal and State Taxes. Find out what to file and how to pay and the pros and cons of a sole proprietor, a partnership, an LLC, or a corporation. Learn the difference between an employee and an independent contractor. Presented by Greg McAllister, Oregon Department of Revenue; KayDel Marshall, Internal Revenue Service.

Established Business Track
Access to Capital – Learn from a variety of funding sources how to obtain capital for your business. Business Oregon offers direct loans and loan guarantees and the Small Business Administration also has Loan Guaranty Programs. Find out what kind of financial information is needed to obtain bank loans and the different kinds of loans offered such as loans to buy commercial property, loans to expand capacity, financing inventory, etc. Also included is information on Crowd Funding and Equity Source Financing, venture, angel investors, and nontraditional debt financing.. A business needs to know about different types of capital for different types of business. Find out about the Oregon Capital Scan, what type of capital is right for you, and how to access it. Presenters are Nate Wildfire and Neal Fitzgerald, Business Oregon; Scott Bossom, SBA; Robin Wang, Ascent Funding, and Amy Pearl from Hatch Innovation.
Government Contracting – Is not just for Big Business. Would you like to sell your products or services to Federal, State, or Local Governments? Learn about government contracting certifications and resources. Learn how to get registered,• Understand the procurement process as well as realities and myths of government contracting. Special programs exist for Minority and Women Owned businesses as well as Emerging Small Businesses. Presented by Kelly Stevens-Malnar of CoBid, Yuri Dyson of SBA, Carrie Hulse of Business Oregon, Tiffani Penson of City of Portland and Lee Fleming of Multnomah County
Successful Use of Social Media for Your Small Business – Do you wonder what you should focus on in your small business marketing? Is social media changing so fast that you don't know what you should focus on next? You're not alone. Come to this workshop and learn what to focus on. Learn the right kind of social media for your business, the ins and outs of online advertising, how to build relationships online with potential customers, as well as the number one social media tool and how you can use it. Presented by Albert Kaufman of AlbertIdeaTion and David Baer of Baer On Marketing
---
Keynote Speakers:

---
Bobby Lee, Portland Prosper
---


FAQs
What are my transport/parking options getting to the event?
Conveniently located just minutes from the major interstates, I-205 and I-84, Warner Pacific is a scheduled stop on the #4 bus route and is accessible via the Division Street MAX Station, located 1 ½ miles east of the College.
Free Parking - in front of the main building.
What are the options for lunch?
5 Box lunch options are available for purchase - More information is available here
NOTICE: Photo Release
By attending this event, the attendee grants Oregon Small Business Fair (including sponsors and exhibitors) permission to use his/her likeness in a photograph in any and all publications and materials without payment or consideration made to them. The attendee also releases Oregon Small Business Fair (including sponsors and exhibitors) of any liability, claims, demands, damages, actions and causes of action arising from or connected in any way with the use of the photograph(s). If you do not agree to this policy, you must notify the registration table at the event for other arrangements.
Where can I contact the organizers with any questions?
Email: contact@oregonsmallbusinessfair.com
Website: www.oregonsmallbusinessfair.com