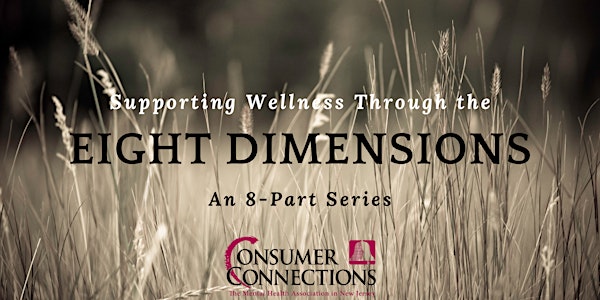 Supporting Wellness Through the Eight Dimensions: A Series
An 8-Part Series that explores how to provide peer support that encourages success in the eight dimensions of wellness
About this event
Wellness can be seen as meaning being healthy in many dimensions of our lives. That includes the emotional, physical, occupational, intellectual, financial, social, environmental, and spiritual parts. These dimensions are interconnected, with one dimension building on another.
Peer Supporters are tasked with assisting individuals as they navigate the pursuit of a wellness and recovery lifestyle. Peers often find themselves navigating the eight dimensions of wellness alongside the individuals they support.
Join us as we explore strategies, tools, and ideas that can be utilized in the peer support relationship to encourage success in each of the eight dimensions of wellness. Each of these eight sessions will focus 1 particular dimension of wellness.
Please note:
Participants may register to attend as few or as many sessions as they would like. Sessions are meant to standalone, and attendance at prior or future sessions is not required. A certificate of attendance will be provided after each individual session.
However, participants attending all eight sessions will be provided with an additional certificate for completing the entire series.
Schedule:
July 6, 2022: Environmental Wellness
August 10, 2022: Emotional Wellness
September 7, 2022: Social Wellness
October 5, 2022: Occupational Wellness
November 23, 2022: Financial Wellness
January 11, 2023: Intellectual Wellness
February 1, 2023: Physical Wellness
February 22, 2023: Spiritual Wellness
Individual Descriptions: Coming Soon!