Supporting LGBTQ Youth Through Advocacy and Programming: 2-Day KC Training
Description
OVERVIEW
This training will occur on Thursday, July 27 and Friday, July 28th from 9am-5pm. It will be hosted at Center for Spiritual Living, 1014 W. 39th Street, KCMO, 64111.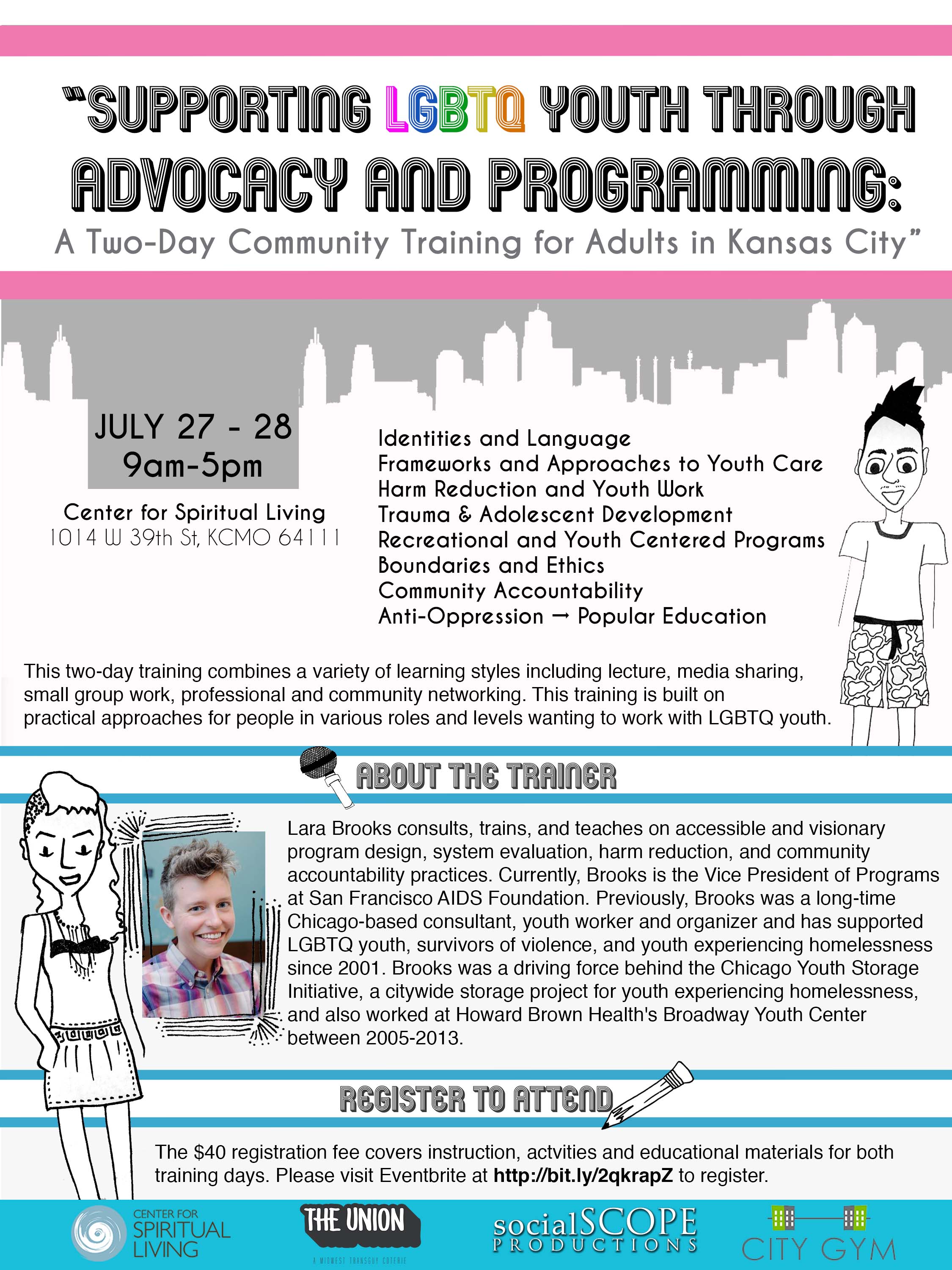 This two-day training combines a variety of learning styles including lecture, media sharing, small group work, professional and community networking. This training is built on practical approaches for people in various roles and levels wanting to work with lesbian, gay, bisexual, transgender and queer (LGBTQ) and gender non-conforming youth. This training will focus on a variety of topics, including:
Identities and Language

Frameworks and Approaches to Youth Care

Harm Reduction and Youth Work (Half-Day Training)

Trauma & Adolescent Development

Recreational and Youth Centered Programs

Boundaries and Ethics

Community Accountability

Anti-Oppression → Popular Education
A full training schedule will be shared shortly before the summer training. We reccomend that participants attend BOTH days, as they will build off each other and explore how to create sustainable programming and have effective advocacy for LGBTQ youth in the Kansas City region.
ABOUT THE TRAINER
Lara Brooks consults, trains, and teaches on accessible and visionary program design, system evaluation, harm reduction, and community accountability practices. Currently, Brooks is the Vice President of Programs at San Francisco AIDS Foundation. Previously, Brooks was a long-time Chicago-based consultant, youth worker and organizer and has supported LGBTQ youth, survivors of violence, and youth experiencing homelessness since 2001. Brooks was a driving force behind the Chicago Youth Storage Initiative, a citywide storage project for youth experiencing homelessness, and also worked at Howard Brown Health's Broadway Youth Center between 2005-2013.
REGISTER TO ATTEND
The $40 registration fee covers instruction, actvities and educational materials for both training days.
Please visit EventBrite to register.
Light snacks and beverages will be provided. Participants will need to bring their own lunch and there will be an hour lunch break provided both days.
SPONSORS
This training is generously provided by Lara Brooks and our local sponsors, The Union, City Gym KC, Center for Spiritual Living and SocialScope Productions.
For more information about this training, please contact Randall Jenson at 4socialscope@gmail.com.