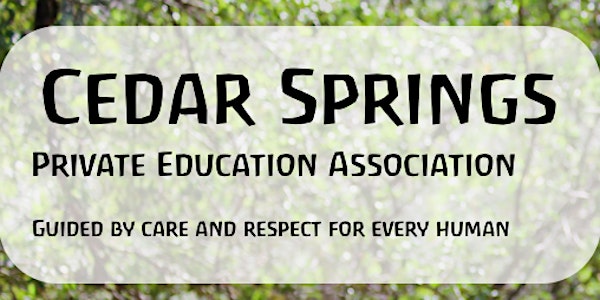 Supporting Healthy Children: Waldorf Education and Membership Models
Join innovative educators, administrators and parents as we chart a path forward for our children and our community.... and yours!
About this event
You are welcome to a special webinar given by Cedar Springs, a Private Education Association near Placerville, CA, a ministerial project of the Phoenix Rising Ministry.
During this video session we will hear from experts in healthcare, Waldorf education and educational administration as they describe some of the innovations at the heart of Cedar Springs PEA and what it could mean for you, your children's health and your community.
Speakers Include:
- Sarah Riffle - Early Childhood Waldorf Educator and Private Domain Expert
- Veronica Gunasekara - Storied Waldorf educator
- Danielle Frese, LAc - Parent, Acupuncturist and Membership Model Expert
- Inge Stoll - Early Childhood Waldorf Educator
Hosted by
- James Maskell - Parent and Healthcare Leader