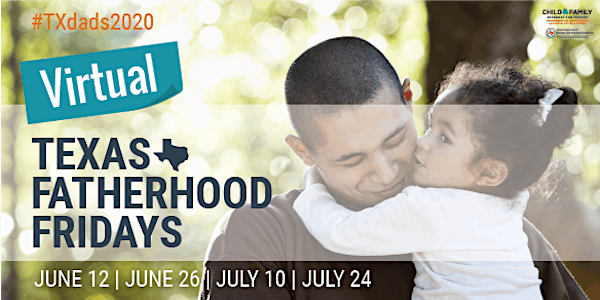 Supporting Families through Innovative Practices: 2020 Fatherhood Fridays Webinar Series
Join us for the 2nd Fatherhood Friday, "Fathers' Mental Health Needs"
When and where
Location
Virtual Webinar #2
About this event
June 26, 2020 (10:30am-12:00pm)
AGENDA:
Welcome & Updates, Dr. Cynthia Osborne, Director, Prenatal-to-3 Policy Impact Center
Fathers' Mental Health Needs Panel:
Ed Emmett, former Harris County Judge
Judge Oscar Kazen, Bexar County Court
Kevin Johnson, Positive Recovery Center
Moderator: Dorothy J. Mandell, PhD, Assistant Professor, University of Texas Health Science Center at Tyler
Announcement of Grand Prize Winner for Excellence Videos
Save the Date for the last two Fatherhood Fridays Webinars:
July 10, 2020 (10:30am-12:00pm)

July 24, 2020 (10:30am-12:00pm)
SOCIAL MEDIA and WEBSITES
Follow/tag for retweets: @CFRPlbj
CFRP webpage: https://childandfamilyresearch.utexas.edu/txdads2020 
Supporting Families through Innovative Practices
The Texas Fatherhood Summit is hosted by the Child and Family Research Partnership at The University of Texas at Austin LBJ School of Public Affairs and the Texas DFPS Prevention and Early Intervention Division. The popular event brings together public and private sector professionals who seek research-based best practices and innovations to best support dad, mom, and their children.
The 2020 Texas Fatherhood Summit is especially relevant for policymakers at all levels of government, community leaders, nonprofit organizations, program leaders, and local business professionals. Attendees will hear from state and local experts familiar with the region on the importance of fathers, existing fatherhood programs in Texas, and approaches to become more inclusive of the entire family. 
CONTACT INFO