SUPPORT SUMMIT sponsored by the Type One Diabetes Foundation

Thursday, September 15, 2011 at 6:00 PM

-

Saturday, September 17, 2011 at 5:00 PM (CDT)
Event Details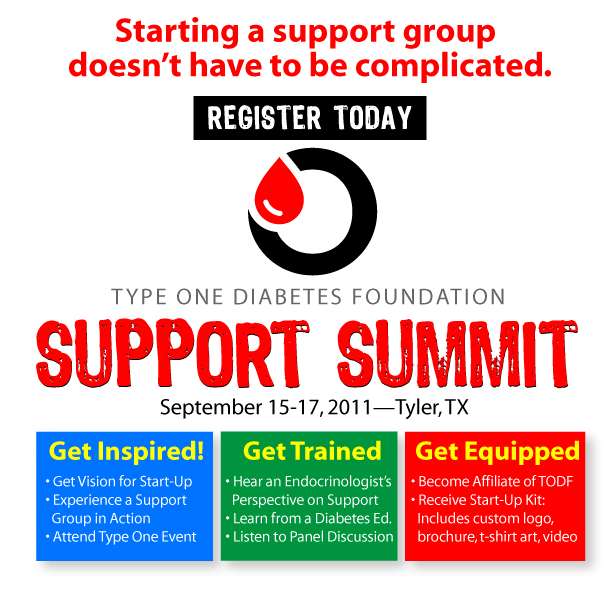 www.TODF.org
Do you wish you had a support group for Type 1 diabetes in your local community?  
Maybe you, your child or grandchild has Type 1 diabetes and a local support group has been a hope or dream for a long time.  You might have even considered beginning one yourself but just don't know where to start. It can seem overwhelming and we all know that living with Type 1 diabetes is overwhelming enough!  
The Type One Diabetes Foundation (TODF) can help you get started... and most of all it's easy and affordable!.  We have simplified the process for you by developing products and services that can be implemented in your hometown or community almost immediately.
We have been developing our services and programs over the past 2 years through the Tyler Type One Diabetes Foundation in Tyler, TX. Almost 2 years ago, Tyler Type One started with a few families who saw the need for support in our community.  Working alongside our local hospital and pediatric endocrinologist, Tyler Type One reaches out to each newly diagnosed child and family usually within 24 hours of diagnosis. This immediate contact by current Type 1 moms, dads and children helps families make the transition and necessary adjustments more easily. Having someone that is already living this disease look them in the eye and say, "You can do this and we are here to support you," is very comforting and empowering.  One of the greatest things we can offer one another is empathy.  We have been there too.
Having a local support group that meets regularly for further education and social networking creates an opportunity for deep, family-like friendships. Members of Tyler Type One often refer to one another as their "Type One Family".  
Support Summit
We will begin our conference on Thursday, September 15th by attending our local monthly support group so you can see what is already being done in our community.  You will see first hand how we structure our meetings with adult education, children's activities, food and fellowship.  You can also talk with some of our members and see for yourself a support group in action.  
Friday, September 16th will be a full day (with child care provided) of training.  Adults will learn how and why we started Tyler Type One, hear a local pediatric endocrinologist's perspective on the best ways to develop a healthy working relationship with your local medical community, and experience a condensed version of our Diabetes 101 class offered to all newly diagnosed families, grandparents, friends, nurses, teachers and caregivers.  You will also have plenty of discussion time and Q & A with our board members and volunteers.  
During the conference we will explain how your group can join our "Support Network Affiliate Program (SNAP)" and leave equipped to hit the ground running when you return home. Joining SNAP provides you with a custom artwork for the following:
• Logo (using the same look as TODF logo) 
• Business cards
• Brochure
• T-shirt art
• HD PSA video (used for marketing/awareness on the web and local TV) 
• Professional social media (help setting up a web presence) 
Joining the TODF as a SNAP member will not only give you the jumpstart you need but also the practical tools, professional look and larger network affiliation to start building a strong support system around your local Type 1 community.
The conference will end with a bang on Saturday, September 17th from 10 AM - 4 PM with a full day of fun, family activities at Pine Cove Camp in Tyler.  It is an exclusive event called Type One Family Day for Type 1 families to enjoy swimming, hiking, canoeing, riding horses, fishing, field games and many more fun activities.  Over 400 people from all over East Texas are expected to come together with one thing in common... they all live the daily challenges of Type 1 Diabetes and they are there to have FUN!  The conference fee covers the expenses for this day and lunch is included.  
Register Today!!
*A one year TODF SNAP membership is separate from the cost of the Support Summit ticket.  SNAP custom artwork and resources are included with all first time membership fees. You can join SNAP at any time.  The conference is just a great way to see up close what a support group looks like and receive excellent hands on training.
**Transportation, hotel and food are not included in Support Summit ticket.  Lunch on Saturday is included.

Suggested Hotels:  HIlton Gardens, Courtyard Marriott, Country Inn and Suites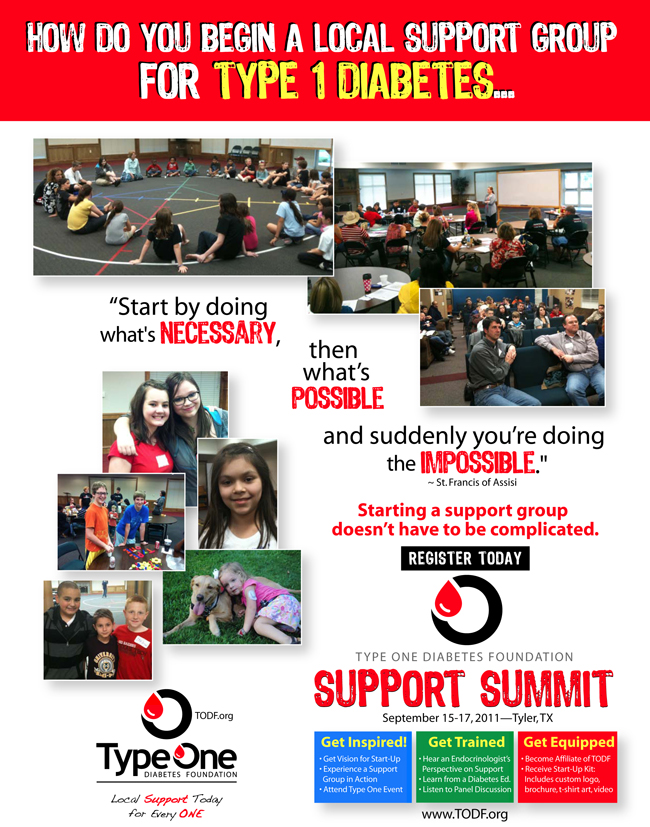 When & Where

Calvary Baptist Church
6704 Old Jacksonville Highway
Tyler, TX 75703-0520


Thursday, September 15, 2011 at 6:00 PM

-

Saturday, September 17, 2011 at 5:00 PM (CDT)
Add to my calendar
Organizer
The Type One Diabetes Foundation focuses primarily on building a strong local support system for those living with Type One Diabetes. We bridge the gap between diagnosis and the cure by connecting lives and sharing live saving information for the Type One community.