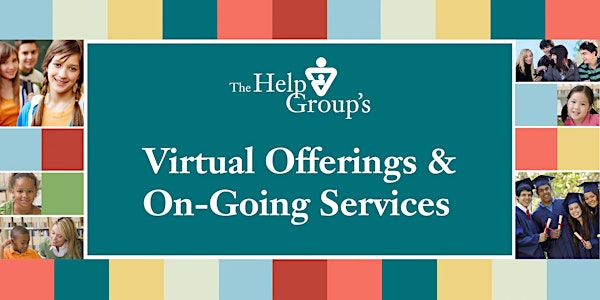 Support Group for Parents of Young Adults - Online
Bi-Weekly Parent-2-Parent Support Group Online Meet-up
About this event
This bi-weekly support group for parents of young adults with social/learning differences provides an opportunity to connect with other parents, share stories, and learn from one another. Parents will select topics and group leaders will facilitate discussions and offer guidance. These live sessions will take place bi-weekly and through Zoom. You can sign up at any time for this series!
FACILITATOR: Jeri Rochman, JD, MS, is the Advance LA Director of Community Outreach, a Life Skills Coach, National Board Certified Counselor and Certified Parent Educator.
DATES & TIME: 6 - 7 PM , Bi-Weekly on THURSDAYS
*April 30, May 14, May 28, June 11*
FEE: Free!
LOCATION: Online via Zoom*
*Must RSVP to receive the Zoom meeting information. An email with a Zoom link will be sent approximately 2 hours prior to each meet-up.*
Questions? Please contact Jeri at jrochman@thehelpgroup.org.