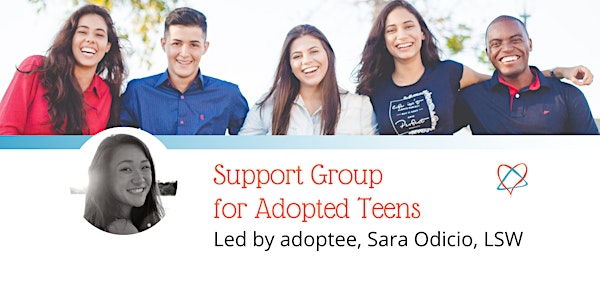 Support Group for Adopted Teens
8-week support group for teen adoptees
Refund Policy
Contact the organizer to request a refund.
Eventbrite's fee is nonrefundable.
About this event
8-week support group for teen adoptees
This support group is primarily designed to create a safe & supportive environment for adopted teens (ages 13 to 17) to engage with their story alongside fellow adoptees.
The group will use C.A.S.E.'s (Center for Adoption Support and Education) book, Beneath the Mask: For Teen Adoptees*, as a framework for the meetings.
During this 8-week session, teens will:
Explore the 7 Core Issues of Adoption
Learn better ways to answer other's adoption-related questions (even insensitive ones).
Have an opportunity to process their personal adoption journey and hear from one another in a supportive and collaborative way.
We all share the reality of adoption being a life-long journey, so let's walk the journey together. Comfortability with reading and sharing in front of the group is highly encouraged but not mandatory.
*Participants do not need this book to attend.
GROUP SCHEDULE
Mondays from September 26 to November 14.
7:00 to 8:30 PM Eastern / 4:00 to 5:30 PM Pacific
What Families Are Saying
"I appreciate so much, you having made this space for our adoptees to begin looking at their own adoption stories and beginning to process them in a way that feels comfortable and encouraging to them. I have really enjoyed seeing [my teen] begin to talk more openly and on a regular basis about adoption, and have opportunities for even the hard times to come up on a more regular basis so that we can experience pieces of grief and anger and let some of that emotion out of her mind and body...really, I am so pleased!"
"I am so thankful for this adoption support group! I think it is helping [my teen] move towards coming to terms with parts of her story."
"Thank you for the opportunities you provide for all these precious kiddos. The strength I see in [my teen] amazes me considering everything she's gone through - sadly, I think I'm just now allowing myself to see it. She's had that potential all along, but she either didn't have the right platform to have it shine through, or I was just blind to it. She's benefited greatly from the Teen Support Group and it's because of you and the peers she met via zoom. I thank God that you were placed in our path! "
"[My teen] seems happier lately...a combination of things but I believe this group is a positive addition."
"[My teen] really benefited from being in the group and went from being hesitant to more satisfied to see she isn't/wasn't the only one to feel the way she did."
"[My teen] said it was fun... we didn't have a chance to even ask how it went before he volunteered that on his own. He liked meeting people who live all over the US."
GROUP FACILITATOR
Sara Odicio, LSW
Sara was adopted from an orphanage in China when she was a year old. Sara studied Social Work in undergrad and graduate school and went on to attain her License of Social Work in 2019. Through working in the adoption field since 2018 and supporting adoptive families, her passion for the population grew even more as she was personally challenged to engage with her own adoption story in a deeper way.
Other than working with adoptive families, you can find Sara learning and growing as an Outpatient Therapist, pursuing her clinical license in the state of Pennsylvania. Sara also enjoys ALL THINGS music and food - a combination of the two is her favorite! She has a supportive husband, Jared, a little Chinese dwarf hamster, Cheenah and two very fluffy cats, Misty and Milo, at her home in Strasburg, PA.