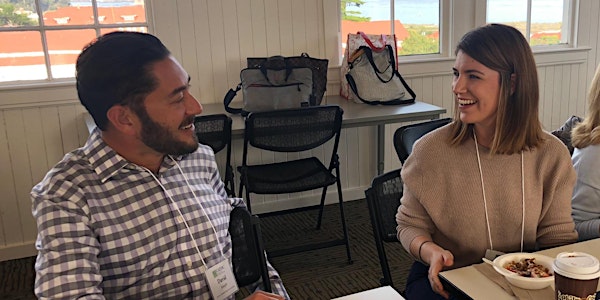 Support for Supporters (Northern California)
This program is for executive assistants, administrative assistants, and anyone serving in a support role at a school!
When and where
Location
The Bay School of San Francisco 35 Keyes Avenue San Francisco, CA 94129
Refund Policy
Contact the organizer to request a refund.
About this event
The position of Administrative Assistant to the Head of School or Division Head is a unique, complicated, and demanding one, requiring a high degree of professionalism as well as a complex combination of exceptional interpersonal skills, technology know-how, and the ability to manage and track several projects and events simultaneously.
As this administrative support role requires maintaining a high level of confidentiality, those in it can feel particularly isolated from others in the school. This program offers a small, confidential, and welcoming environment designed to foster connections, learning, support, and dialogue with peers who share similar experiences and challenges.
We will pay attention to the continuously changing demands of our roles. There will be time for connecting with new colleagues across the Bay Area, as well as opportunities for participants to share tips and tricks about resources within your more immediate region (North Bay, East Bay, San Francisco, Peninsula, South Bay). Along with guest speakers and readings, we will incorporate time to problem solve, share know-how and resources, request practical feedback or suggestions, or just simply laugh about our jobs.
This year's ongoing program will be in person and consist of three 5-hour workshops. Each session will focus on a different theme, with a guest speaker, and time to connect and problem solve. Meetings will be tailored to the needs and interests of our current participants. Our first meeting will allow time to reacquaint or get to know one another. Topics may include boundary setting, self-advocacy, delegation, leadership, tech resources, and self-care. 
AUDIENCE
This program is for executive assistants, administrative assistants, and anyone serving in a support role at a school.
DATES
SESSION 1: October 20, 2022 | 9:00am - 2:00pm
SESSION 2: January 26, 2023 | 9:00am - 2:00pm
SESSION 3: April 27, 2023 | 9:00am - 2:00pm
COVID-19 SAFETY PROTOCOLS
CATDC and the Bay School of San Francisco will be working together to do all we can to ensure your health and safety over the course of our three sessions, monitoring closely nationwide, state, and local updates and recommendations. We ask that you do not attend if you are infected with Covid, have Covid symptoms, or have had close contact with someone who is infected in the last 10 days.
All participants in this program need to be up to date with their COVID-19 vaccines and show a copy of their COVID-19 vaccination card (with booster or boosters) before attending. You are up to date with your COVID-19 vaccines when you have received all doses in the primary series and all boosters recommended for you, when eligible.
CANCELLATION POLICY
Life happens. We understand that there will be times when you cannot attend a workshop that you have registered and paid for. Below we have outlined our cancellation and refund policy, which we have in place to ensure the most accurate numbers when we secure well in advance locations, catering, and facilitators. Thank you for understanding.
For this in-person workshops refunds are available up to 14 days before the scheduled starting date. We are unable to provide refunds for cancellations made 13 days or less prior to the workshop.
Please contact us by email as soon as you know you cannot attend a workshop.
You will receive a full refund if CATDC chooses to cancel this event.