Sales Have Ended
Registrations are closed
Please call Jake Sinatra at 216-515-8303 x103 or email jsinatra@cacgrants.org.
Sales Have Ended
Registrations are closed
Please call Jake Sinatra at 216-515-8303 x103 or email jsinatra@cacgrants.org.
Description
Cuyahoga Arts & Culture's community-led Support for Artists Planning Team (SFAPT) invites local artists to a World Café on Saturday, September 16 at Rainey Institute. This community conversation is an opportunity to share your needs and aspirations as an artist in Cuyahoga County, and offer feedback on the SFAPT's vision and direction. Parking is available in the back of the building and overflow across the street. A light lunch will be provided.
About the Planning Team
The SFAPT is a group of Cuyahoga County residents (artists and community leaders) who are volunteering their expertise and time to co-create new approaches to provide support for artists and creative people in Cuyahoga County through Cuyahoga Arts & Culture. The planning team is a working collaboration among team members, residents, CAC staff, and CAC board members.
About World Café
The World Café will be facilitated by the Community Innovation Network from Case Western Reserve University. A World Café is a structured conversational process for sharing knowledge in which groups of people discuss a topic at several tables, with individuals switching tables periodically and getting introduced to the previous discussion at their new table by a table host. A café ambience is created in order to facilitate conversation.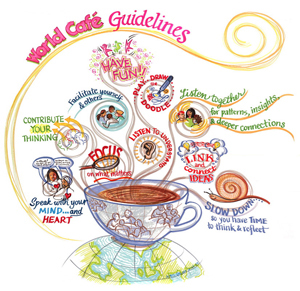 About CAC's Support for Artists
Since 2009, Cuyahoga Arts & Culture has invested more than $4-million to support more than 150 artists in Cuyahoga County. In 2017, the SFAPT was formed to bring community voices to the table to help identify new approaches to provide meaningful support to artists. Informed by you, the SFAPT will make its recommendations to CAC's board of trustees by the end of the year.
Questions? Need to adjust your registration? Contact Jake Sinatra at jsinatra@cacgrants.org or 216-515-8303.
Organizer of Support for Artists World Café
Cuyahoga Arts & Culture (CAC) is one of the largest local public funders for arts and culture in the nation, helping hundreds of organizations in Cuyahoga County connect millions of people to cultural experiences each year. Since 2007, CAC has invested $182 million in more than 400 organizations both large and small, making our community a more vibrant place to live, work and play. For more information, visit cacgrants.org.