Supply Chain & Operations Managment Technology Seminar (SCOMtech 2016) - Riyadh

Monday, April 4, 2016 from 9:00 AM to 3:00 PM (Arabian Standard Time Saudi Arabia Time)
Event Details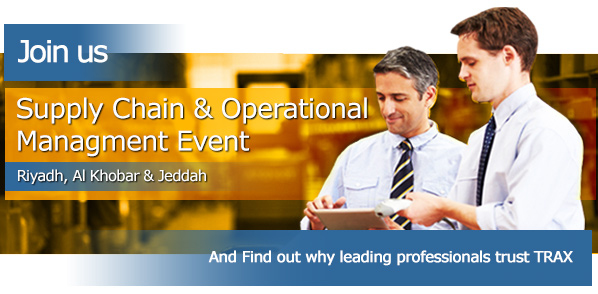 In the Supply Chain & Operations Management Technology Seminar (SCOMtech) you will be provided the answers to thought provoking questions about cross functionality, and provide ways you can optimize utilization on current technologies while maintaining low costs, minimizing risks and maximizing flexibility. Join us and other supply chain professionals to discuss best practices and important strategies within the industry. The event will be conducted in Riyadh, Jeddah & Khobar cities on 4th, 5th & 7th April. 2016 respectively.
Speakers will address a range of important topics covering different areas of the supply chain management including supply chain integration, logistics and warehouse management, demand management & materials planning and supply chain metrics & performance indicators. If you are involved in manufacturing, wholesale distribution or retail supply chains, this seminar is geared for you.
if you have any inquiries about this seminar, 
please contact us

through the email 

 events@traxconsulting.com or by phone at 9200 02493 or 

+966(11) 454 3353 from outside Saudi Arabia.



Have questions about Supply Chain & Operations Managment Technology Seminar (SCOMtech 2016) - Riyadh?
Contact Trax Consulting
When & Where

Marriott Hotel
Al Mather Street
Riyadh, Riyadh 12622
Saudi Arabia

Monday, April 4, 2016 from 9:00 AM to 3:00 PM (Arabian Standard Time Saudi Arabia Time)
Add to my calendar
Organizer
Who Are We?
Trax Consulting is a business solutions and consulting services provider established in Saudi Arabia with branches in Riyadh, Jeddah, Khobar and Dubai
As a member of Raed Altayar Group - a group of diversified businesses based in Jeddah city - Trax has been established by a team of senior consultants with wealth of ERP systems knowledge and industry experience. The competency of the consulting team of Trax is a key differentiator which enables it to stay far ahead of rivals.

In Trax, we value partnerships as an important way to extend our solution offerings for the sake of providing a better value to our customers. Trax is a Microsoft Certified Partner for Dynamics ERP systems and APICS International Channel Partner. Trax also is a partner for a number of branded business solutions providers in Europe.
What We Do?
Along with business solutions, in Trax we over a comprehensive portfolio of services including consulting and training services in the fields of operations management. This includes supply chain management, production planning, inventory management, materials planning, purchasing and logistics…etc.

Enabled by Microsoft Dynamics ERP Systems, APICS Operations Management education programs and our rich focused set of operations management consulting services, we offer a comprehensive portfolio of services that help organizations manage their business efficiently and achieve their business goals. We help them assess how to maximize their performance and works with them to achieve their vision. We develop and implement technology to improve our clients' productivity and efficiency.
We provide an integrated ERP solutions supported by business best practices in one model. This flexible approach enables Trax to cater to each client's varied needs - solving problems and optimizing operations at every level across the supply chain