Supply Chain Innovation Conference
About this event
Join us for a day of innovations in grocery retail supply chain!
Supply Chain Innovation is one of the Venture Café's annual conferences bringing together corporate innovators, entrepreneurs, academics, and investors for discussions of the most recent trends and developments that shape the landscape of warehousing, sourcing and logistics, storage and transportation, robotics and AI, food shopping and more!
During this event, you will have an opportunity to hear from industry experts, attend a pitch event, participate in a product demo, and network with supply chain specialists.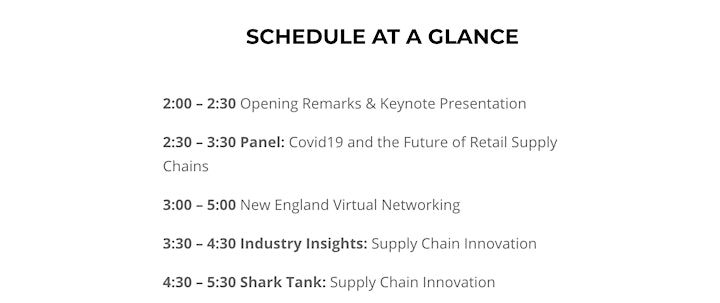 LEARN MORE ABOUT OUR SPONSOR:
Organizer of Supply Chain Innovation - CONFERENCE
At Venture Café Cambridge we provide a virtual platform that enables relationship-building for innovation to happen. We connect local entrepreneurs, investors, and enterprises to catalyze innovation and entrepreneurship in the Greater Boston area.
Venture Café Cambridge is activated by Innovation Studio, a 501(c)(3) non-profit and the leader in offering free innovation services, through a constellation of virtual and physical community spaces. Over the years Innovation Studio has run 5,000+ program sessions, held 2800 office hour sessions, welcomed 250,000+ public lounge users and 265,000+ program attendees, and a social reach 67,000+
www.vencaf.org