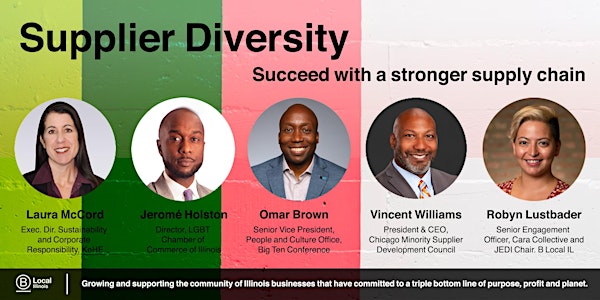 Supplier Diversity Webinar
Supplier Diversity is a key facet of your business' success. Learn why and how to make it your organization's superpower.
About this event
B Local Illinois is proud to sponsor this webinar featuring a panel of distinguished, mission-driven leaders that will be speaking to the power and value of establishing a supplier diversity program within your company or organization.
Business has the power to be a force for good. And good businesses are those that are best prepared to win in a global marketplace that places increasing importance on companies' social and environmental performance.
About the speakers
Laura McCord
Laura McCord (she/her/hers) has over 20 years of food retail experience with experience as a grocer, and account manager, with the majority of her time spent in category management. After obtaining her Master's degree in Sustainable Management, she transitioned to a newly created position at KeHE, Sustainability, and Corporate Responsibility, which focuses on environmental stewardship, employee engagement, and community involvement.
Laura is also the co-founder of CAREtrade, which focuses on suppliers that share KeHE's mission to serve to make lives better and DIVERSEtrade™, which focuses on diverse suppliers at KeHE.
Robyn Lustbader
Robyn (she/her/hers) is the Senior Engagement Officer at Cara Collective and Justice, Equity, Diversity and Inclusion (JEDI) Chair at B Local Illinois. Robyn's passion for JEDI issues starts with her diverse family, and celebrating her Pacific Islander heritage. She started her career as a musician, with a Music Education and Performance degree from Ithaca College. She is currently a rising Baumhart Scholar MBA at Loyola University's Quinlan School of Business and a member of the Chicago Chamber Choir.
Omar Brown
Omar Brown (he/him/his) is Senior Vice President, People & Culture Officer for Big Ten Conference. In this role, he drives diversity, equity and inclusion initiatives throughout the conference, such as the Equality Coalition and the Advisory Commission. Brown leads all people ops efforts for conference staff including talent acquisition, professional development and performance management. Prior to joining Big Ten, Brown was an organizational transformation leader in Deloitte's Human Capital Consulting practice.
From 2012 to 2015, Brown was part of the leadership team at the Chicago Transit Authority, including more than two years as vice president of human resources (HR).
Brown has amassed a great deal of practical experience in benefits consulting, finance and diversity throughout his career through his service with organizations such as City of Chicago, University of Illinois System, Illinois Housing Development Authority, General Board of Pension, and Aon Hewitt.
Jeromé Holston
Jeromé Holston is the Director of the LGBT Chamber of Commerce of Illinois--an organization whose focus is on promoting economic opportunities for the LGBT community. The LGBT Chamber of Commerce of Illinois does this by being an advocate and resource for all member businesses that encourage equality.
Under Jeromé's leadership, the Chamber serves a roster of over 300 Members, a number that increases almost daily. These members are lesbian, gay, bisexual, and transgender (LGBT) business owners, as well as gay-supportive businesses. Together they employ over 2,000 people in the Chicago area, with gross revenues that exceed $200 million.
Vincent Williams
J. Vincent Williams is President and Chief Executive Officer of Chicago Minority Supplier Development Council (ChicagoMSDC).
Prior to accepting the appointment at the ChicagoMSDC, Mr. Williams led economic development initiatives by consulting directly with small businesses and entrepreneurs interested in starting, growing, or scaling their business as the Vice President of Economic Empowerment and the Director of the Illinois Small Business Development Center at the YWCA Metropolitan Chicago.
Mr. Williams spent more than 25 years of his career in corporate America and non-profit organizations. He has extensive knowledge and experience in managing small business sustainability and succession, leading corporate C-Suite engagement and building valuable community partnerships. He is a native of Chicago's South Side and comes from a family of entrepreneurs.
About B Local Illinois
B Local Illinois is the non-profit organization whose purpose is to grow and support businesses in Illinois that have committed to a triple bottom line of purpose, profit and planet by obtaining B Corp certification. For more information, please visit their website.