| | |
| --- | --- |
| Supervisor Skills Workshop - Orlando | |
Event Details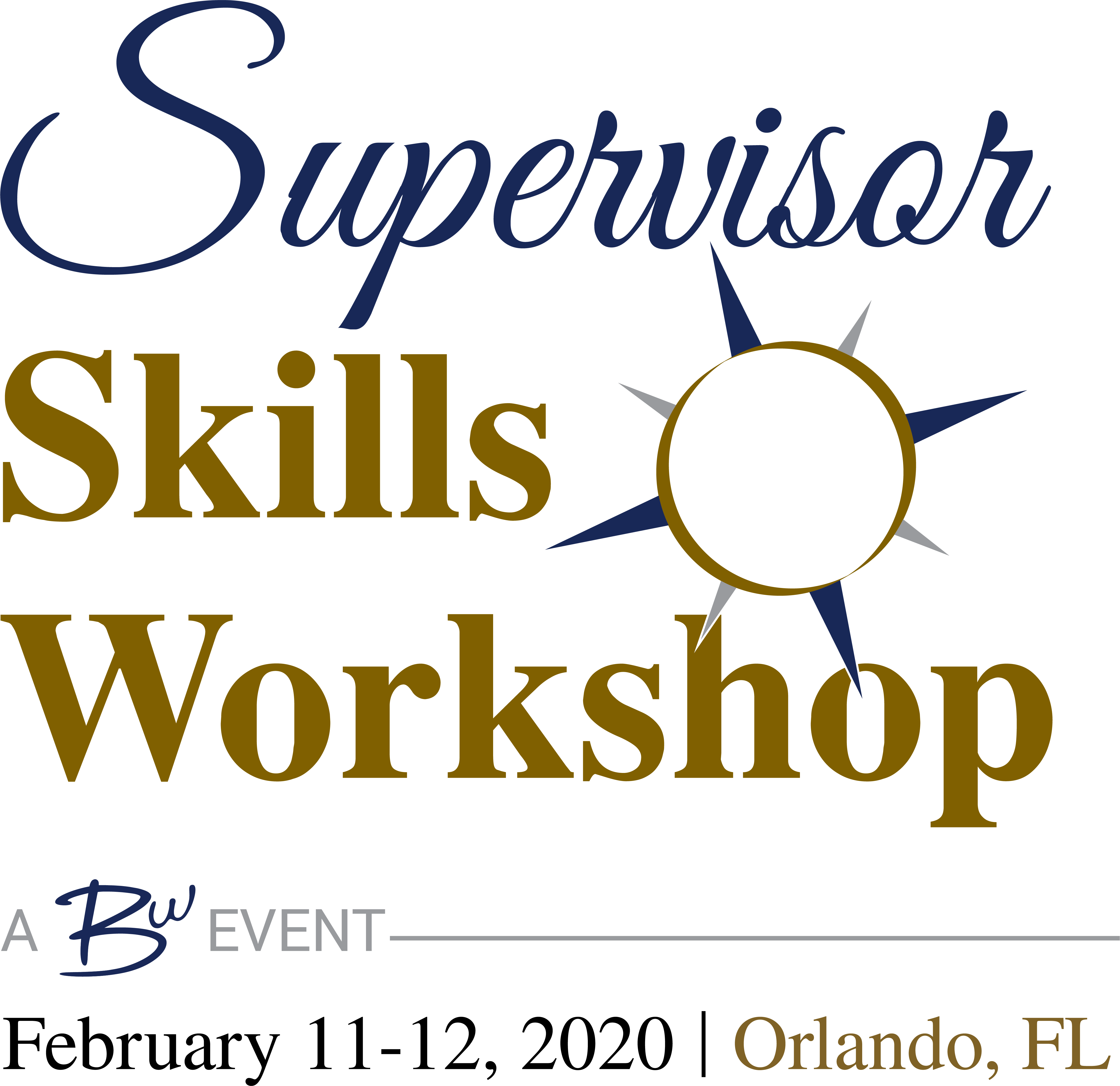 Do you have a hardworking and talented person on your team who is ready to take the next step up to management? Or perhaps you know a new manager, who is still struggling to understand the new world of managing others.
Unfortunately, I've found that the majority of employees who are promoted into a supervisor or management role were never given any type of formal training to do so. As a result, they oftentimes don't feel set up for success, which can lead to your new supervisor/manager feeling frustrated, disillusioned and ineffective overall.
The Supervisor Skills Workshop covers all of the basics on how to effectively supervise others on a team. Topics will be:
You as a Supervisor

Effective Communication

Conducting Training

Improving Employee Performance

Handing Problems and Conflict

Motivation and Team building

Leadership

Time Management
This event will held on February 11th & 12th at Roy's Restaurant in Orlando, FL. Day 1 is a full day and Day 2 is a half-day. Both days include a continental breakfast and lunch. 
Education on both days will begin promptly at 8:30AM. On Day 2, the event will end at 1:15PM.
**Space will be limited to 40 people.** 
Here is what recent attendees had to say about the program:
"The supervisor workshop was nothing short of AMAZING from beginning to end. Bryan has a way to relate to truly every demographic and learning style. Using humor and experiences he makes learning so fun. I look forward to implementing everything I have learned to not only work but in my everyday life at home. Bryan will be seeing more of my team and I in the future."      -Mieshia Fraser
"Everything you covered was spot on! I really loved the interactions we shared and will never forget the role playing scenes!! If only I had had that practice when I first became a leader!! I am sure I will review my notes from your Supervisor Skills Workshop throughout my career just so I may remain focused on the common goal of sustaining a successful and succinct team. I honestly feel that every leader needs to hear what you and your team have to deliver! Leadership is an art and you, my friend, are have become one of my favorite artists!! I enjoyed myself so much that the time flew by and I found myself feeling a sense of transformation and realignment. It was an experience that I will treasure for the rest of my life!"     -Xylka Molina
***If you are travelling from out of town, there are multiple hotel options to choose from in the general area. Click here to view various lodging accomodations.
Save This Event
Where

Roy's Restaurant Orlando
7760 W Sand Lake Rd
Orlando, FL 32819


Organizer
"Bryan is the premiere thought leader and speaker on the topic of customer service and customer experience in the world today. He is the rare confluence of tremendous content, broad business and management knowledge, and a presentation style that engages and entertains an audience. Bryan is equally effective in presentations to organizational leaders as he is at inspiring exceptional performance from front line service providers."   
--Luke Carlson, DiscoverStrenth 
-----------------------------------------------------
"Dr. Bryan Williams is a phenomenal motivator with an exhilarating magnetism. Bryan has a significant impact on every team member on a personal & professional level. Witnessing our team comprehending and aspiring to be exceptional is an awe-inspiring experience."
--Claudia Alvarado, William Wesley Grand Salon & Spa
------------------------------------------------------- 
"Bryan Williams met with and worked along side our senior leadership team and, with his guidance, we were pushed to our limits to discover our true potential. The "Bryan Williams experience" allowed us to focus on working together to create a corporate environment that impacted our entire team and launched."    
--Tom Watts, Exceptional Living Centers
--------------------------------------------------------
"Our team recently experienced a dynamic and engaging customer service expert, Dr. Bryan Williams.  Service excellence transcends industry sectors, and Bryan reached our group with very practical tools and insights to engage our leadership team to deliver world-class service.   He is a gifted customer service expert, who can inspire and lead others to awaken new opportunities!"
--Dawn Garcia, Sacred Heart Hospital