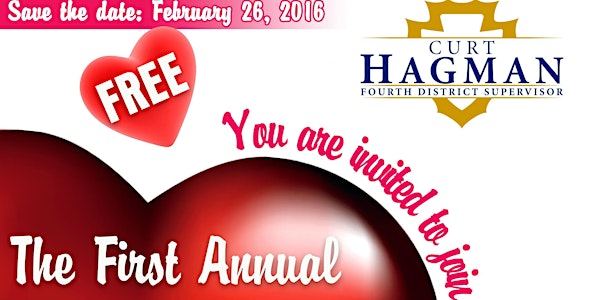 Supervisor Hagman's First Annual Happy Hearts Health Fair
When and where
Location
Westwind Community Center 2455 East Riverside Drive Ontario, CA 91761
Description
San Bernardino County's Fourth District Supervisor Curt Hagman announced Friday that he is making happy hearts a priority during American Heart Month this February 26th.
Supervisor Hagman has united with local elected officials, healthcare professionals, the City of Ontario, Inland Empire Health Plan (IEHP), and San Bernardino County's Department of Public Health in arranging the Fourth District's First Annual Happy & Healthy Hearts Health Fair for local residents to take advantage of potentially life-saving information regarding their heart health.
The Centers for Disease Control & Prevention (CDC) confirm that heart disease is the leading cause of death for both men and women, and is responsible for one in every four deaths in the United States. By joining the effort to fight heart disease in San Bernardino County, Hagman hopes to provide the community with much needed tools to contest a growing issue that is impacting our local community.
Heart health statistics are particularly concerning in San Bernardino County where the age adjusted death rate for coronary artery disease is currently 120.9 deaths per 100,000 people which falls far short of the Healthy People 2020 Goal of 103 deaths per 100,000. With heart disease being the leading cause of mortality in the United States, there has been a longstanding effort to assess risk factors for heart disease and to develop strategies to prevent heart disease by modifying those factors.
Hagman expressed his support for American Heart Month and upcoming health fair by stating, "The goal of this health fair is to bring attention to this illness and to provide resources and information to the community about preventing heart disease through simple lifestyle changes and identifying treatable risk factors such as diabetes and high blood pressure". Supervisor Hagman has invited the American Heart Association to participate during Friday's health fair to provide free blood pressure and diabetic screenings to residents that would like to ensure their heart is in good shape.
The First Annual Happy Hearts Health Fair will be held February 26, 2016 at the Westwind Community Center located at 2455 East Riverside Drive in Ontario. Doors will open at 10 AM and close around 1:00 PM. Additional information will posted to Supervisor Hagman's website: www.sbcounty.gov/bosd4; residents can also call (909) 387-4866.