Description
Join our boot camp! This is a program designed to give new or nearly-new supervisors a solid foundation to becoming a great supervisor. Participation will benefit both individuals and their organizations.
Supervision is tough!
Employee relations can be tricky, especially when laws and regulations appear to confuse the matter!
Decisions have to be made, and are often needed with limited or no information.
Interpersonal conflicts flare up without warning, and the workforce looks to you to calm things down.
Pressure to meet objectives mounts but meanwhile, your employees need to identify strategies and create their action plans in order to succeed.
Growth is terrific, but it comes with new positions that have to be filled with vetted and qualified staff.
Indeed, supervision is tough! The Supervisor Boot Camp is designed to give you the tools to legally, confidently and successfully supervise your employees. In addition, The Strive Group can administer a competency assessment, help you create your professional development plan, and provide just-in-time coaching as you begin this new chapter in your career.
All of the classes in the series begin at 8:00 am. Attendees have the option of attending in-person or via web/video conference.
Join us!
Pricing reflects a 10% discount off of individually priced classes.
Refund Policy: Refunds will be determined on a case by case basis.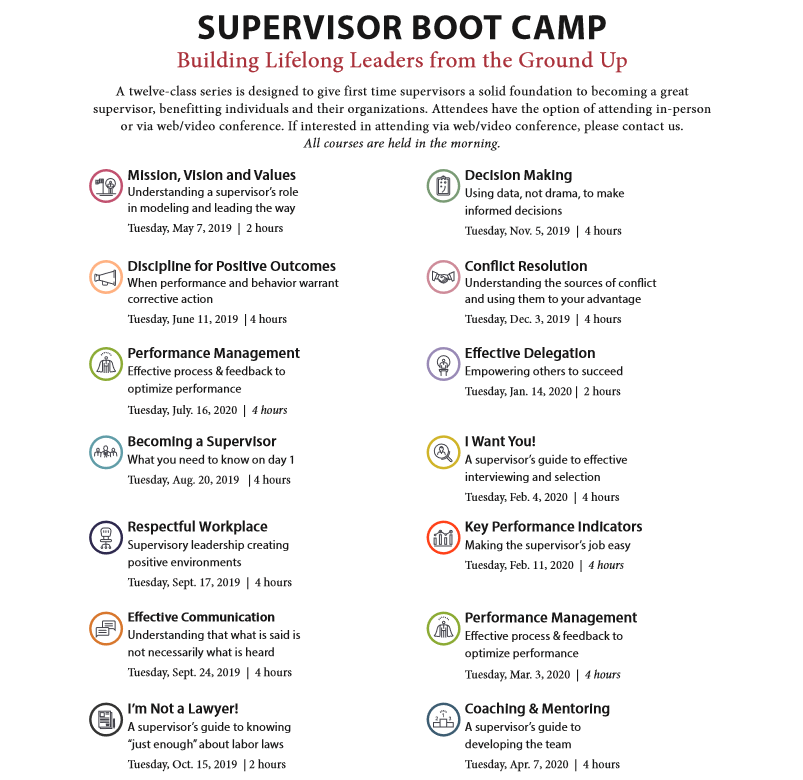 Register for individual classes by clicking on the links below.
Discipline for Positive Outcomes - June 11, 2019
Becoming a Supervisor - August 20, 2019
Respectful Workplace - September 17, 2019
Effective Communication - September 24, 2019
I'm Not a Lawyer - October 15, 2019
Decision Making - November 5, 2019

Conflict Resolution - December 3, 2019
Effective Delegation - January 14, 2020

I Want You! - February 4, 2020
Key Performance Indicators - February 11, 2020

Performance Management - March 3, 2020

Coaching & Mentoring - April 7, 2020