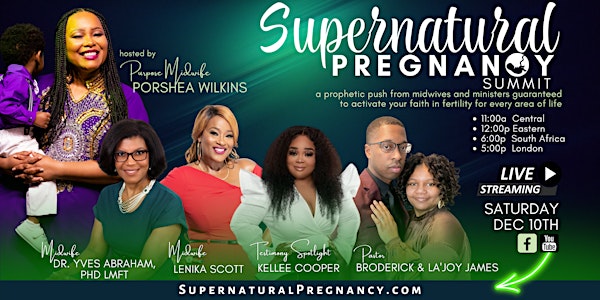 SUPERNATURAL PREGNANCY SUMMIT
A prophetic push from midwives and ministers guaranteed to activate your faith in fertility.
Refund Policy
Contact the organizer to request a refund.
Eventbrite's fee is nonrefundable.
About this event
UPDATE: VIRTUAL ONLY - ATTEND FROM ANYWHERE
The anticipation for the Supernatural Pregnancy Summit is so high. The Lord told me to focus on people in all stages of the process.
Those SINGLE and believing for MARRIAGE and CHILDREN.
Those BLENDED and believing for their first child TOGETHER.
Those MARRIED and believing for their first child EVER.
Those MARRIED with children and believing for ADDITIONAL.
Each stage comes with a different set of obstacles and blessings. No matter where you are in the process, I want you to know, God has not forgotten about you. He can do it and will - in HIS timing.
And while waiting may seen like a prison sentence, the peace on the other side makes the process worth it. ‼️ Set your reminders and join us in the delivery room LIVE ONLINE Saturday December 10th.
------------------------
I give all honor and glory to God – my Father – for every curse broken, demonic contract destroyed, marriage restored, womb healed, heart repaired, baby birthed and vision manifested.
God said loud and clear - in 9 MONTHS do it again.
Infertility looks different for everyone.
Fibroids, miscarriages, IVF, IUI, ectopic pregnancies, abortions, genetics, age, finances and more all create a wall of doubt; leaving you holding the bag of disappointment, discouragement and uncertainty. Cringing when you're asked "So when are you going to have a baby?"
You're a woman. This is what you were created by God to do. It should be easy; but, it's not. Month after month - negative. pregnancy. test.
You want to give up. You consider adoption and surrogacy. You even consider accepting that you will never carry. You tell yourself you don't really want a baby. You just stop caring.
Despite the pain, you still have to be who you are - wife, sister, friend, boss, employee - life doesn't pause because you want to have a baby. It's like you're in a fish bowl and everyone knows your big secret - you can't have a baby.
You feel judged, and alone.
We understand.
Don't make the mistake in assuming this is only for birthing children. The most important word is Supernatural. The dictionary describes it as, beyond scientific understanding or the laws of nature. I define it as Elohim. Pregnancy is simply a metaphor.
Life doesn't stop because you want to have a baby! I'm an example! While I was waiting to conceive our son I birthed a web design business and a book. After his arrival I birthed a docuseries, technology business and the first Supernatural Pregnancy Summit.
Its birthing season! Meet us in the delivery room for a prophetic push from midwives and ministers guaranteed to activate your faith in fertility for every area of life.