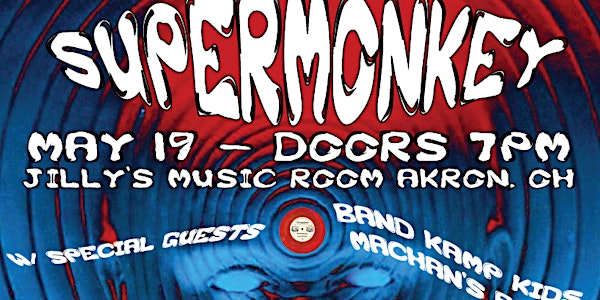 SUPERMONKEY wsg BAND KAMP REJECTS & MACHAN'S ROCK
SuperMonkey is currently touring as a stripped down 4 piece band in the vein of Jimi Hendrix & Stevie Ray Vaughn
Date and time
Starts on Friday, May 19 · 7pm EDT
Location
Jilly's Music Room 111 North Main Street Akron, OH 44308
Refund Policy
Contact the organizer to request a refund.
Eventbrite's fee is nonrefundable.
About this event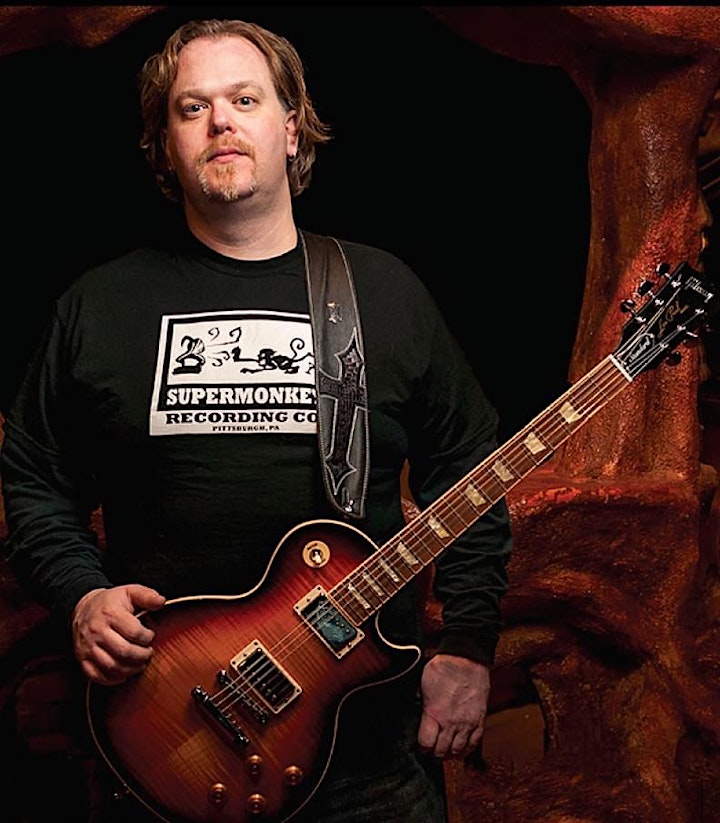 SuperMonkey is a recording artist, guitarist, singer, producer, and record label owner from Pittsburgh, PA. After releasing 7 albums & EP's with a variety acts and line ups SuperMonkey is currently touring as a stripped down 4 piece band in the vein of Jimi Hendrix & Stevie Ray Vaughn, preforming original songs from all of his recordings as well as a few choice covers like Prince, Ramones, & Mellencamp. SuperMonkey has shared the stage with many acts like Samantha Fish, members of Guns 'n Roses & Quiet Riot, RATT, Fuel, Ace Frehley, The Fixx, The Biters, Faster Pussycat, Living Colour, and Robin Trower. Owner of Pittsburgh Rock 'n Roll Record Label ​SuperMonkey Recording Company.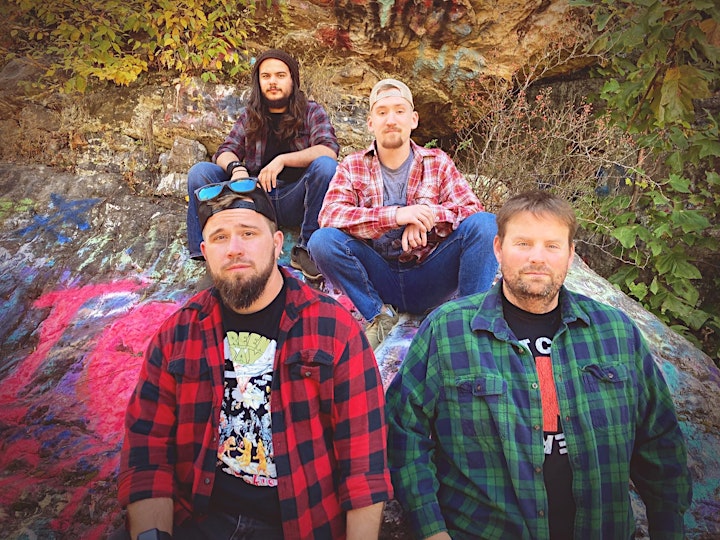 About the organizer
Jilly's Music Room – 111 N. Main St., Akron, OH 44308 – T: 330.576.3757 - OPEN: W & TH 5 – CLOSE | F & S 5PM – 1AM | WEEKEND BRUNCH S & SU 11AM - 3PM | CLOSED M & T
THE BASICS: Jilly's Music Room (est. 2013) is a live music and entertainment venue located in the Northside District of downtown Akron, Ohio. We feature original bands (local/regional/national) in a variety of genres, including: Blues, R&B, Rock, Indie, Pop, Singer/Songwriter, Americana, and Alt-Country, stand-up comedy and other entertainment at least four nights a week. Sophisticated without being pretentious, Jilly's has a full-service kitchen offering an eclectic, 100% gluten free small plates menu and weekend brunch, table service, craft cocktails, more than 100 beers, state of the art sound and light system, professional engineering and production staff, and exceptional service. Capacity: 244.
COVID CAUTION: An inherent risk of exposure to COVID-19 exists in any public place where people are present. COVID-19 is an extremely contagious disease that can lead to severe illness and death. According to the Centers for Disease Control and Prevention, senior citizens and guests with underlying medical conditions are especially vulnerable. For the safety of our employees, performers and guests, we encourage all non-vaccinated persons to continue to wear their masks. And, if you are not feeling well, please stay home. By visiting Jilly's Music Room you voluntarily assume all risks related to exposure to COVID-19.
LIVE ENTERTAINMENT: Jilly's offers live music & entertainment at least 4 nights a week! Weeknight bands/entertainers typically perform between 7 and 10PM. Friday and Saturday performances are 8PM-Midnight. Check our Events Page for exact times, cover and ticket information, special events, and Happy Hour entertainment.
BOOKING INQUIRIES: All booking is done by email. Please send your EPK to booking@jillysmusicroom.com. If you do not have an EPK, please include links to your website, social accounts and YouTube videos in your email, along with a current photo and current schedule of gigs. If we think that you/your band is a good fit for the club and we have available dates or time slots, we will contact you. Please – NO FACEBOOK REQUESTS, PHONE CALLS OR DROP-INS. Compensation is negotiated at time of booking. We do not take a cut of your merch sales. Food and beverage comps are provided to each band member. Touring bands should partner with a local band and/or have a strong connection to the area. We expect you to promote your show and to do your part to help fill the room. Professional sound, video, lighting, engineers and production staff are provided by the club. Unless agreed otherwise, performances may also be streamed on jillysmusicroom.live.
COVER: $5 Friday and Saturday | One drink minimum weeknights – Unless otherwise noted. Pre-sale tickets for some special events. Please refer to specific event information here: Events Page. WALK-UPS are welcome. $5 cover at the door. If seating is still available (see RESERVATIONS below), it will be filled on a first-come, first-served basis. NOTE: If you plan to arrive before 7PM and you'd just like a cocktail or two and some food, and plan to leave before the music starts, you will not need to pay the cover charge. If you have a change of heart and decide to stay, we can add it to your tab.
RESERVATIONS: Table seating is available through pre-paid online reservations. To make a reservation, please visit the ticketing link associated with the event you'd like to attend (current limit: 6. If your group is larger, please split it into multiple tables). Our online system allows guests to choose their own table or bar seat. Reserved seats must be pre-paid based on the evening's cover/ticket and are non-refundable except in the event of a show cancellation. Table reservations will be relinquished 20 minutes after the show's advertised start time. All sales are final. We do not take reservations by phone.
We send a weekly e-blast on Mondays with news, information and the week's events. You can also find information on our socials: Facebook, Twitter, and Instagram. SIGN-UP TO RECEIVE JILLY'S NEWS & ANNOUNCEMENTS HERE.
SAFETY & SECURITY: Please review our safety and security information prior to arriving at the venue.
Please arrive early to the venue to allow enough time for you and your guests to move through the queue and enter the venue.
Prior to entering, guests will pass through a security station with wand metal detection.to ensure the safety of everyone in the venue.
Please leave valuable and unnecessary items at home.
You may be asked to empty your pockets of all items so that they can be examined.
All alcohol and narcotic laws will be strictly enforced.
You will be asked to open your bag for a visual check and all bags must adhere to our bag policy. Only the following bags are allowed:
Clear plastic, vinyl or PVC bags (Maximum size: 12″x6″x12″)
Small clutch bags approximately the size of a hand (Maximum size: 4.5″ x 6.5″)
We reserve the right to refuse entry to anyone. If you see something that concerns you, please say something to our management or Security so we can ensure the best experience possible.
PROHIBITED ITEMS:
Plastic containers, sealed or unsealed, (i.e. water bottles), thermoses, Bota bags or wine skins
Alcoholic beverages or illegal drugs
Outside food and beverage
Glass bottles or aluminum cans
Laser pointers (will be confiscated and patron will be subject to ejection)
Recording devices (audio, video or cameras as restricted per show)
Any weapon or item construed as a weapon such as guns, knives, sticks, tasers, fireworks, or firearms
Bullhorns or noise makers
Backpacks
Umbrellas
Confetti
Animals (except certified guide dogs)
Skateboards, scooters, bikes, etc.
Chains or jewelry with spiked edges
Strollers
Musical instruments and instrument cases (unless you are participating in a designated Open Jam night)
Please do come with a smile and be prepared to enjoy a fun-filled night of music and dancing!
HAPPY HOUR: W – S from 5-7PM
HAPPY HOUR SPECIALS: 20% off everything!
FULL-SERVICE BAR: Craft and Signature cocktails, more than 100 beers, a fine wine selection, extensive selection of Mocktails (non-alcoholic specialty cocktails) and other N/A beverages.
TABLE SERVICE: Yes! We have an excellent, award-winning staff. They are happy to help, committed to providing the best service and to ensuring that you have a great time!
FULL-SERVICE KITCHEN: HOURS: W & TH 5-9PM | F & S 5-11PM - You can check out our menus here: Jilly's American Tapas & Brunch Menus. All of our food is made fresh, to order, in house, with locally-sourced ingredients, and is 100% gluten free. Really. Nothing pre-fab, processed, or from a bag found in the freezer section.
PAYMENT: To minimize contact, we prefer that you pay with a debit or credit card. Jilly's welcomes American Express, Visa, MasterCard and Discover. Checks are not accepted.
WEEKEND BRUNCH: Served S & SU from 11AM - 3PM. BRUNCH MENU
TAKE-OUT & DELIVERY: Yes! Both! Order from us directly online. (* Please note we DO NOT use 3rd party services like UberEats, DoorDash and GrubHub – even though you may see us listed on their sites).
PARTIES & CATERING: Yes! Both! We're happy to help with your on- or off-site event. Please email info@jillysmusicroom.com for more information and to request our catering menu.
UNDER 21 welcome with responsible adult until 10PM. We check IDs using the latest information and technology. There is an additional $2 charge for anyone Under 21 and identifying wristbands will be supplied that must be worn at all times while inside the venue. Children under the age of 15 must be seated and supervised, and may not wander throughout the facility unaccompanied – this includes trips to the bathroom. We have zero tolerance for climbing or standing on top of the furniture. If you bring your children to the club, you must be willing to supervise them and they must know how to behave in an adult atmosphere and show respect to performers and staff. If you are unable or unwilling to control your children, your tab will be closed and you will be escorted from the venue. Guests under 21 may not sit at the bar and must leave the premises by 10PM. Regardless of parent or guardian presence, persons under 21 may not consume alcohol. Immediate expulsion from the venue will result for minors caught drinking. In severe cases the proper authorities will be contacted if resistance arises.
OUR PHONE: Is a voicemail and information line only. No one answers it. Feel free to leave a message. We check messages daily between 9AM and 5PM and will call or text you back. If you call after 5PM, your message will not be picked up until the following morning.
PARKING: There is plenty of free street and public lot parking in the Northside District (out front, under the bridge on Furnace and Ridge, two huge, well lit public lots on Furnace Street between Ridge and Summit). On weekends, there is limited valet parking available in the small lot across the street (between the Akron Symphony and Northside Cellar). Park in either of the lots on the east side of the street signed "Luigi's Parking Only" at your own risk. Your car may be ticketed and/or towed. We can't apologize enough about that.