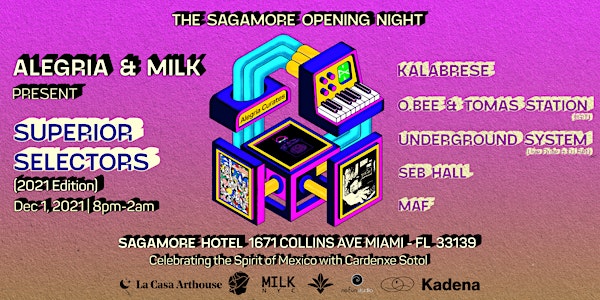 Superior Selectors by Alegria & Milk NYC
Superior Selectors by Alegria Community & Milk
When and where
Location
Sagamore Hotel South Beach - An All Suite Hotel 1671 Collins Avenue Miami Beach, FL 33139
Refund Policy
Contact the organizer to request a refund.
Eventbrite's fee is nonrefundable.
About this event
Alegria, The Sagamore & Milk NYC bring you the most dynamic & eclectic line up of Art Basel 2021.
Tables 1-2
10 people $2,000 minimum
Tables 3-13
6 people $800 minimum
Cabañas
10 people $1,500 minimum
E-mail us at: alegriacommunitygroup@gmail.com to reserve your table.
Kalabrese
Kalabrese is one of the more glittering characters in Zurich's music scene and mingling at the frontline as DJ, producer, bandleader and as co-owner of the legendary club Zukunft.
Through his very own style as a producer he caused a stir outside of Switzerland. Kalabrese's debut album «rumpelzirkus»is a great piece of music. It rumbles and works the funk organically and song oriented and recevied good reviews in the independent dance-scene all around the world. The 2nd album "Independent Dancer" came out in May 2013. More and more you can hear the signature of Kalabrese's sound and his unique songwriting with vocals of him self and singers like Khan from Berlin or Sarah Palin and other friends. independent dancer is a journey into different world, very lightfull and positiv and allways funky. Radio stations like KCRW in America or Sonica Ibiza played regularly songs of the independent dancer album, and on Spotify he has more then 800,000 listeners. kalabrese counts with a small fan base all over the world of people who enjoy that special non-perfect groove between indie-dance, funk, afro, house and blues. For the last years, Kalabrese and his Rumpelorchestra focussed on playing an extended live show with gigs for festivals (Fusion, Garbicz, Calvi On The Rocks, ReSolute New York). Currently he is working on new material for a third album and enjoying a side project with Jimi Jules under the name "Jules Et Spatz".
Tomas Station (Jigit)
Growing up between Bogotá and Chicago, Tomás experienced at an early age a clash of cultures and sounds that would open doors to a lifelong musical obsession. He received formal music training during his youth, playing both piano and drums, and participated in several bands ranging in styles from Hardcore Punk to Jazz. During a summer visit to Chicago during his teenage years he stumbled across the legendary Gramaphone Records and discovered a world that would change everything for him. Upon returning to Colombia, dreaming of drum machines and synthesizers, he formed Downpitch Recordings alongside labelmates Dorado and Bruno Anthony. The label served as a platform for their sonic development and experimentation while allowing them to preserve the vinyl tradition-and quality-over- quantity ethos that seemed to be absent in the local scene at that time. Deeply rooted in House, but with an outsider approach, Downpitch would also establish cultural bridges between cities, and by working hand in hand with their Chicago and Detroit precursors, contribute to what some refer to as a recent dance music renaissance in Colombia.
For the past few years Tomás has kept on the move, constantly searching for new sounds and experiences, rapidly building a reputation for himself as an exciting up-and-coming talent. His productions on labels such as Dailysession NY, Descendants Of The Deep, Moody Recordings and Future Funktion have captivated the likes of Danny Krivit, Raresh, Magda and Douglas Sherman (The Loft), to name a few, while his electrifyingly unpredictable taste as a DJ and curator has earned him more than one spot at the decks alongside some of the most respected selectors and DJ's around. While living in NY he worked as music buyer for Halcyon The Shop and as booker and resident for Kolekti and Zodiac Social, hosting parties with Soul In The Hole (Sadar Bahar & Lee Collins), Metro Area & Mark Grusane, amongst many others.. He recently returned to Brooklyn after some years on the road to work on his most recent endeavours which include Jigit, a record label and collective alongside Turkish DJ and producer O.BEE and visual artist Asli Tunaman that released his debut EP under the Irie Nation moniker and to consolidate his long time friendship with the ReSolute party and agency where he joined the roster as one of the resident DJ's.
O.Bee (Jigit):
Known for dancing in between different genres and styles, juggling the tradition and the avant-garde, O.BEE generates obscure yet familiar sonic landscapes, in a signature style that reflects his own musical identity; optimistic yet rebellious and filled by passion. Liberating the dance floor from the accustomed rules and stepping away from functional expectations, he instead cultivates musical trips for both the dancer and the listener. Juxtaposing the stimulating environments of both a intense rave and a concert hall.
As a regular in his hometown Istanbul, and in his current base New York, where he completed his studies in Contemporary Music in the New School and continues to develop his refined take on dance music, O.BEE has built up an arsenal of gems through countless hours of digging. His ability to seamlessly to put together music that would not necessarily be correlated with one another has allowed him to receive acclaim and gain respect from the most serious heads to the most naive dancers as he continues to expand the borders of his undefinable sound.
After bouncing around parties for several years he joined the ReSolute family, a new home, where he has had the honors of hosting and accompanying many artists, such as Zip, Chez Damier, Sonja Moonear, Thomas Melchior, Fumiya Tanaka, a:pria:r, that have been true inspirations for him. Recent years have seen him travel beyond the horizons of the big apple, returning to Istanbul for Suma Beach, MU and minimuzikhol, also taking on days and nights at Unleash and Colors in London, Hoppetosse, Tresor, CDV, Salon zur Wilden Renate and Heidegluhen in Berlin, Rex Club and Sundae in Paris, Macarena Club in Barcelona, to name a few. While also finding a place for himself in accomplished festivals such as Comunite Festival in Mexico, Polifonic in Italy, Chillout and Big Burn Festivals in Turkey, UVA Festival in Spain and Okeechobee in America, sharing his unique record collection with the world, on the bill with visionaries such as Mulatu Astatke, Ambiq and Thievery Corporation. In October 2017 he was invited to perform alongside other Turkish artists in Boiler Room's Istanbul special, closing out the session after an array of wide acts and DJ sets.
O.BEE's evocative and sophisticated approach to his sets is also reflected in his own music. He has been working hard in and out of the studio with his partner, Rona Budak, on their project "Enstantane", which functions as both a record label and an multi-disciplinary artist collective. Enstantane 001 is to be released in the second half of 2018, along with an event series and the subscription based website enstantane.io
Underground System (Live Flute & DJ Set):
If you've seen UNDERGROUND SYSTEM live, then you've witnessed the ensemble's larger than life presence.
One of the most dynamic groups to emerge from New York City this decade, Underground System continues to reinvent their brand of global dance music, remaining a force determined to recreate, redefine, and reconstruct. The journey from humble beginnings taking the purist approach to interpreting Fela Kuti's musical style, to an authentically original, internationally touring indie dance band is a story just beginning to be told.
After time spent developing their sound close to home, the production and release of 2018's debut LP 'What Are You' (Soul Clap Records) proved to be the springboard that set the group in motion. Re-contextualizing and breathing fresh life into elements of afrobeat, dance punk, disco and electronic music, the album was received with international acclaim, setting the band up for their busiest year to date. Following a US Tour in support of the record, Underground System landed a primetime slot at French taste-maker festival Transmusicales in 2018. Their performance garnered international press and promoter attention, paving the road for an 18 show European tour in the Summer of 2019.
With so much artistic inspiration to draw from the fast-paced climate of contemporary culture, Underground System has been back in the studio recording new music in anticipation of a busy 2020.
Seb Hall
Seb Hall is a Los Angeles-based producer and DJ with a penchant for crafting dreamy and melodic dance floor cuts harnessing analog gear. His background as a musician began at an early age on the piano and later exploring the guitar. Hall's style is smooth and expresses a breezy laid-back motif, ascribed to a lifetime awash in the sun of Southern California.
His live show is composed of a collection of drum machines like the Roland 707, Korg analog synthesizers, and odd guitar pedals all running through Abelton. The outcome is a soulful journey that rises and falls like the tide. Hall blends up his own version of disco with a splash of acid house to keep things controversial. As a DJ, his daring range of selections mirror his honed technical abilities when he's on the decks, pulling from west African disco to Japanese boogie funk. Since then Hall has played the likes of London's XOYO, Pikes Hotel in Ibiza, Shelter in Amsterdam, and Public Works in San Francisco, with the rest of the time spent in his studio, heavily focused on productions and new grooves for the future.
Maf
MAF is a Venezuelan DJ producer based in Barcelona. Characterized by a variety of grooves, elegant melodies and Tropical percussions, her mixes send you on a personal journey of bodily emotion and celebration.