Superfreq LA: Mr.C, Adultnapper, Xo Chic & David Scuba

Friday, November 18, 2011 at 10:00 PM

-

Saturday, November 19, 2011 at 4:00 AM (PST)
Event Details
Hi Los Angeles Freqs,

We hope you're all absolutely fantabulous & settling into these much more comfortable cooler climes (I'm a brit so I would say that).

So it's been a minute since our July Superfreq on the terrace at Music Box here in LA but we've had an extremely busy summer taking Superfreq all over the world. Since mid July Superfreq has been to Denver Colorado, Dallas Texas, Washington DC & Tampa Florida here in the States & overseas we've hit London UK, Southampton UK, Ibiza Spain, San Jose Costa Rica & Panama City Panama & still have Superfreq in San Diego this coming weekend & also in London & Singapore before our next Los Angeles event on Friday November 18. Superfreq then plays host to the Bay Area on November 19 at the infamous End Up in San Francisco so that's going to be one wickedly freqy weekend.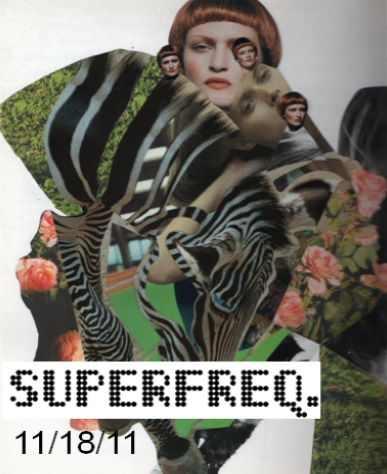 So, on to our Los Angeles show, we're extremely excited to be using for the first time an amazing intimate spot in Hollywood called Phoenix, which is situated at 6202 Santa Monica Blvd, Hollywood, CA, 90038. We'll be freqin' on Friday November 18th from 10pm until 4am with a proper Superfreq line up.

Firstly we welcome back to Los Angeles the incredible Adultnapper.
Real name Francis Harris, Adultnapper is one of those American techno artists that America can be truly proud of.
Not only does he have his own labels Matter://form, Ransom Note, Footnote & the amazing new label Scissor & Thread, but Francis has also released original recordings for LA's very own Culprit records as well as labels Poker Flat, Get Physical, Dirt Crew, Crosstown Digital Rebels, Nummer, Simple, Mule Electronic, Audiomatique, Clink, End Recordings, Superfreq, Hallucination Ltd, Bombis, Intrinsic Design & Lion 1 Music. Francis has also remixed for just about every decent labels worth it's note as well as produced for many artists. Adultnappers DJ skills are undeniable as he can mix seamlessly between 110bpm house to 128bpm balls to the wall techno. His musical style encompasses everything from Nu Disco through deep house, house, acid house, tech house, minimal, techno & all things quality but his selection is always extremely cutting edge & challenging but oh so much fun & tongue in cheek. So yes, we're excited.

Adultnapper will be Joining our Superfreq residents Mr.C (The Shamen, The End, Get Physical, Poker Flat, Wagon Repair, Hallucination Ltd etc etc), Xo Chic (Dollz At Play, Wagon Repair) & David Scuba (Sketchbook Ltd, Superfreq) so for sure this is going to be an extremely special party.

Early Bird 1st release tickets will be only $10 & 2nd release tickets will be $15, which of course are subject to availability at Door cover will be $20
Bear in mind this is an intimate venue so we highly suggest you get tickets quickly as this will sell out & reduced lists are extremely limited.
RSVP: superfreqla@gmail.com
When & Where
6202 Santa Monica Blvd
Los Angeles, CA 90038


Friday, November 18, 2011 at 10:00 PM

-

Saturday, November 19, 2011 at 4:00 AM (PST)
Add to my calendar
Superfreq LA: Mr.C, Adultnapper, Xo Chic & David Scuba