Location
Art Deco Welcome Center
1001 Ocean Drive
Miami Beach, FL 33139
Description

"One of the most exciting art fairs in Miami (as well as LA, DC and NYC)..."
---
Superfine! touches down on Miami Beach this December with a splash. 48 booths of independent solo artists and galleries from Miami and around the globe will call the historic Art Deco Welcome Center home for four days and five nights.

Superfine! is about accessibility and transparency (read: you will find artwork you love, and you can afford it!). For three years, we've grown to become Miami's leading accessible art fair and an exciting jump to the Beach cements our position as the must-do art event for local and global collectors. The action kicks off with a whimsical, champagne-fueled Twilight Vernissage on Wednesday December 5th, followed by a weekend program including the fair's ever-popular Young Collectors' Ice Cream Social and panel discussions at the intersection of art and climate change.

Curated right at the cutting edge of new contemporary art, Superfine! enforces a spread of pricing and transparency friendly to both long-time collectors and those who have never collected before, but want to. Whatever your budget, you're bound to discover the perfect piece for your casita or castle.

Ready to expand your art world?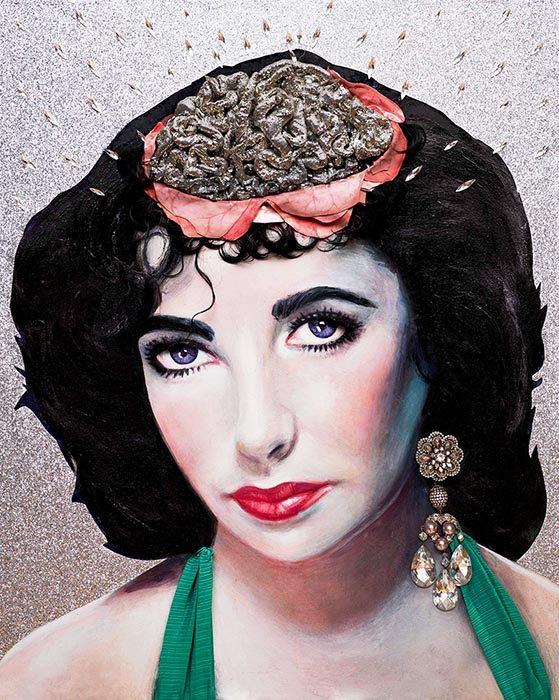 Above: "You Bet Your Ass They're Real!" by exhibitor StrosbergMandel

---


Full Fair Schedule
Twilight Vernissage First Look Preview || Includes all-access
Wednesday 12.5 || 7pm-11pm
Ribbon cutting ceremony (6:30pm) with Miami Beach city commissioner Michael Góngora
Complimentary cotton candy clad champagne courtesy of Bistrotters

Immersive live performance by Dream Caverns

Special saxophone set by celebrity sax sensation Leon Morley

First look and first choice on 1,800+ original works in our 45 curated booths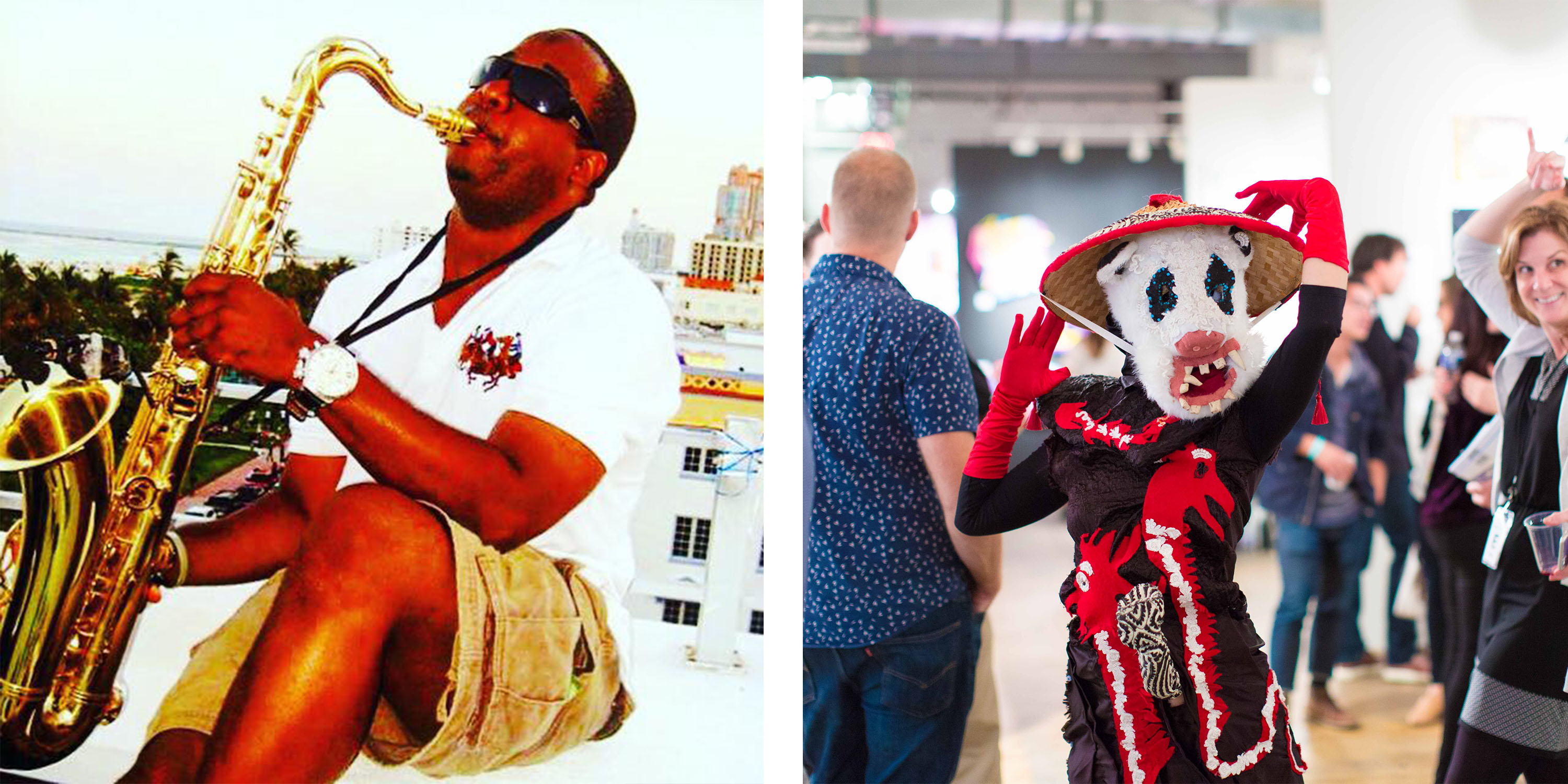 Above: Leon Morley provides saxophone vibes and Dream Caverns wanders the fair on opening night

General Admission
Thursday 12.6 || 11am-10pm
Friday 12.7 || 11am - 10pm
Saturday 12.8 || 11am - 10pm
Sunday 12.9 || 11am - 8pm
Special Programs + In-Fair Events

Young Collectors' Ice Cream Social || Friday 12.7 || 7pm - 10pm
Custom ice cream scoops courtesy of Wynwood darling Dasher and Crank

A heaping dose of global young collector camarederie
ARTstagram social media contest w/ $500 art spree grand prize
(more below)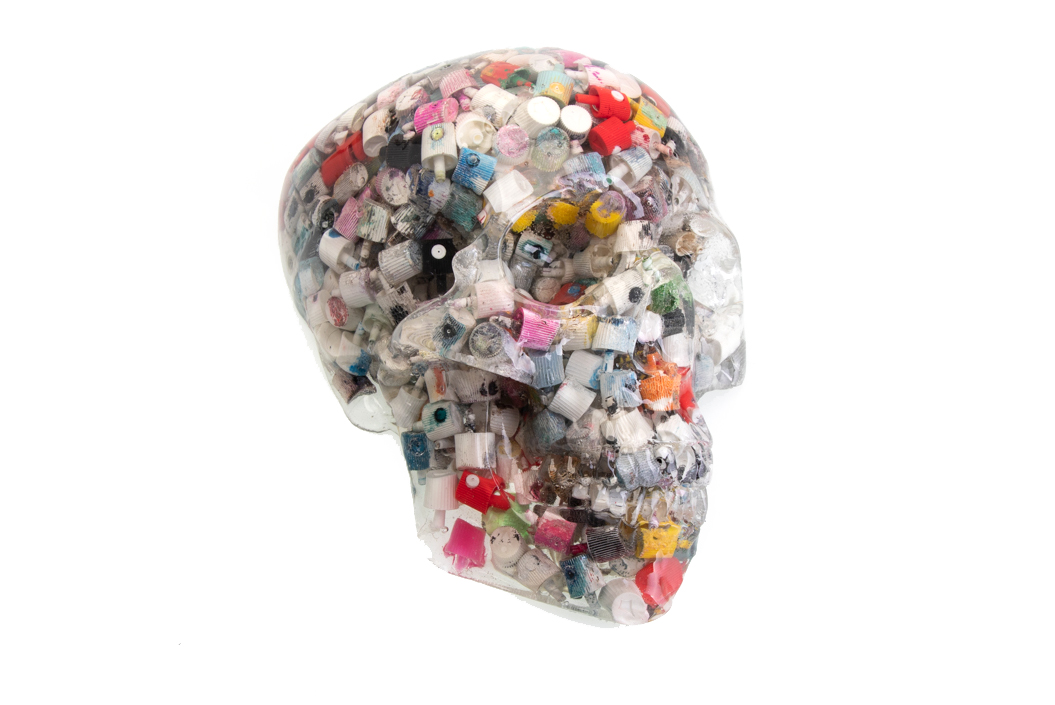 Above: resin skull by Miami artist Remote, Laundromat Art Space booth at Superfine! Miami Beach
Panels in the Park

For the first time ever, we're hosting a full schedule of panel discussions amidst the swaying palms of Lummus Park, adjacent to the Art Deco Welcome Center - our host venue for Superfine! Miami Beach.
Can I Collect? Becoming an Astute Art Collector | | PAMM Picks Panel w/ curator Maria Elena Ortiz | | Thursday 12.6 | | 3pm-4pm

PAMM associate curator Maria Elena Ortiz will share her knowledge on how to develop a tasteful collection from the perspective of a curator at one of Miami's most distinguished institutions.
Art on the Front Lines of Climate Change | | Friday 12.7 | | 5pm-6pm
Artists, forward-thinking politicians, and climate change warriors come together for a focused conversation on how we can fight climate change and its effects through the collective power of art and policy. Featured panelists:

Monica Jahan Bose - feminist artist + environmental activist
"Climate Crusader" - the superhero persona of artist Alexander Zastera
Elizabeth Wheaton - City of Miami Beach Director of Environment & Sustainability
Shannon Riley - Building 180
Zelalem Adefris - Catalyst Miami
Noel Kassewitz - artist focused on rising seas
The Artist Advisory presents...Secrets from the Experts! || Saturday 12.8 || 5pm-6pm


Marina Granger of the Artist Advisory moderates a panel of art experts offering the latest and greatest in advice for artists. The panel will include an experienced art consultant, curator, and branding expert. Join them as they spill the secrets to success. This hour-long discussion could change your life!
Panelists: Jennifer Klos of Collector House; Jenny Mushkin-Goldman of Kin+Gold; special guest panelist TBA.

LGBTQ+ Art Film Series (curated by OUTshine Film Festival) | Sat 8pm-9pm
***Included in Saturday day pass ticket***



SPARROW – Directed by Welby Ings, New Zealand, 15 minutes.

Sparrow is the beautiful and lyrical story of a little boy who thinks he can fly. However, his life is overshadowed by the legend of his grandfather who died a hero in World War II. But one night he discovers the tale that his father so adamantly clings to, is a lie. His grandfather was a gay man who, seeing the futility of war, deserted in protest when his lover was shot in Egypt. In unraveling the truth behind what happened, the boy discovers the strength to stand up to the bullies in his own world in an unexpected way.

SAILORS DELIGHT – Directed by Jonas Ritter, Loucas Rongeart, Louise Aubertin, Eloïse Girard, Amandine Thomoux, and Marine Meneyrol, France, 6 minutes.

A delight, to be sure, this joyful, animated film takes a fresh look at a tried and true subject…. the siren song of the ocean. A mermaid is going to try to seduce two sailors, but everything is not going to happen as expected, and for us that is a good thing. A hit short at the Cannes Film Festival, Sailors Delight will put a smile on your face!

SOMETHING ABOUT ALEX – Directed by Reinout Hellenthal, Netherlands, 18 minutes.

A 14-year-old boy, Alex, develops a close friendship with his older sister's boyfriend, and must confront the depth of his feelings when the couple announces that they will be moving away.
IARA - Directed by Erika Santos and Cássio Pereira Dos Santos, Brazil, 14 minutes, In Portuguese with English subtitles.

Iara, a beautiful young woman, sometimes described as having green hair, light brown or copper-colored skin (as that of an Indigenous Amerindian from Brazil) and brown eyes, connected to a fish body…typically thought of as a Mermaid. When she felt a man around she would start to sing gently to lure him. Once under the spell of the Iara, a man would leave his family to live with her underwater forever. Iara is a free interpretation of this old tale, but this time with a Sapphic twist.

THE PHANTASMAGORIA OF OFFENSE: THE MALE VERSION – Directed by Jess Irish, USA, 7 minutes

The Phantasmagoria of Offense is an animated film lyric about the costs of image suppression. In the "male version" corporal images focus on the male body, presenting a collage history that contrasts the cultural anxieties around expressions of vulnerability and homosexuality with power and privilege within the dominant paradigm. The political ramifications of image suppression during the AIDS crisis in the 1980s is questioned alongside the well-intended requests for "trigger warnings." If there is a take away message, it is that censorship is not an abstraction. It has a body count.
Curious about OUTshine? Visit their website then attend their twin festivals in Fort Lauderdale and Miami, Florida.
Check Out Our Incredible 2018 Exhibitors!
Cedrik Cavallier - Miami, FL
Sam Dobrow - Miami, FL
Joaquin Alonso - Lima, Peru
Claudia Huiza Presents - Los Angeles, CA
YaniPaints - Atlanta, GA
Lauren Altman - New York, NY
Ebru Duruman - New York, NY
Gail Garcia - New York, NY
Malcolm Smith - Miami Beach, FL
Laundromat Art Space - Miami, FL
In Heroes We Trust - Los Angeles, CA
Brianne Lanigan - Arlington, VA
Dena Robertson - Los Angeles, CA
Rudi Sgarbi - Rio De Janeiro, Brazil
Deming King Harriman - Brooklyn, NY
James Miille - New York, NY
Evan Ishmael - Brooklyn, NY
Heidi Horowitz - Long Island, NY
Natasha Ozhiganova - New York, NY
Sean Mick - Miami, FL
Wisewood88 - West Palm Beach, FL
Brian Batt - Miami Shores, FL
Strosberg/Mandel - New York, NY
Mimi Benrazek - Washington DC
Stephanie Chisholm - New York, NY
Sean Christopher Ward - Wichita, KS
Abi Salami - Dallas, TX
Tati Holt - Los Angeles, CA
Adam Christopher Reed - Morgantown, WV
Benoit Izard / Marianne Nems - Paris, FR / Miami Beach, FL
Eric Amsellem - Miami Beach, FL
Dave Pollot - New York, NY
Jamie Jones - Miami, FL
Virago - New York, NY
Leah Guzman - Miami, FL
Rogelio Maxwell - Washington DC
Sug O'Shen - Raleigh, NC
Daniel Stuelpnagel - Baltimore, MD
Pier Paolo Bandini - New York, NY
Tony Michale Estrada - New York, NY

Performance Art
RISING UP by Monica Jahan Bose | | Friday 12.7 3pm-5pm
A performance art action by Monica Jahan Bose, RISING UP is a collective response to climate change using saris from Bangladesh, wind, sand, water, and materials found in Miami Beach - thus spanning two of the world's most urgent theatres in the war against climate change.
Bose collaborates with women from Miami and her ancestral island village in Bangladesh to create a transborder physical and emotional link between coastal peoples. We are facing catastrophic changes to our planet from climate change, and there are only 12 years left to make drastic reductions in our use of fossil fuels. The performance triggers individual and community action on climate change, regardless of federal support. Saris with writing from Bangladesh and Miami are used to establish a people to people agreement on climate, which will move from the fair to the rising sea.
One Billion Rising Miami joins the performance, which also includes spontaneous participation with fair visitors and others in Miami Beach. RISING UP is part of the ongoing feminist project STORYTELLING WITH SARIS.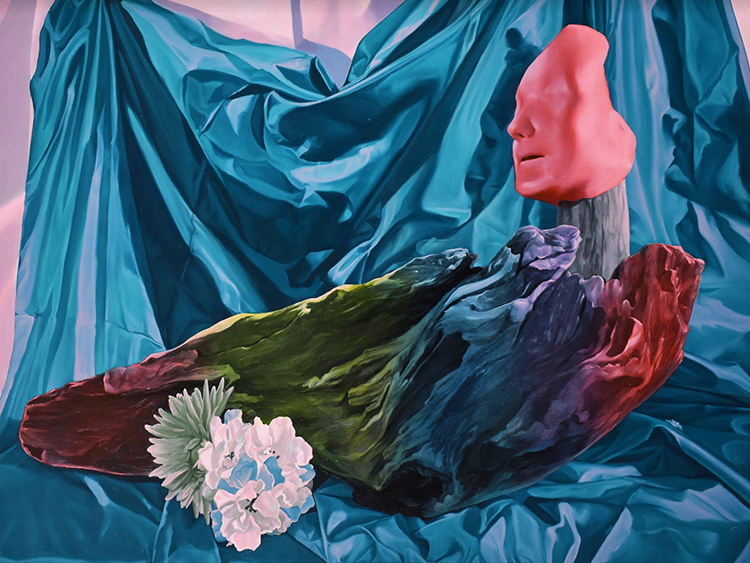 Above: artwork by exhibitor Adam Christopher Reed, solo artist at Superfine! Miami Beach

Extra-Fair Events
For the first time ever, Superfine! Miami Beach will be presenting an off-site calendar of events complimenting the fair itself, designed to give our Collectors' Society members and All-Access ticket holders a key to unlocking the best of Miami Art Week.

PAMM Presents | | Thursday 12.6 @ 9pm | | Perez Art Museum Miami (Collectors' Society + All-Access Passholders)
Sponsored in part by Superfine! - The Fair, PAMM kicks off of its 35th anniversary year with its signature Thursday night Miami Art Week event. Enjoy an unforgettable night featuring Brooklyn-based Afrobeat musical collective Antibalas, American artist and designer Kilo Kish accompanied by Ray Brady, libations, and more.

Access reserved only for Superfine! Collectors' Society + All-Access badge holders. You must pick up your badge at Superfine! Miami Beach prior to attending this event.
Exhibitor + Collector Mix + Mingle at Minibar | | Friday 12.7 10pm-1am | | Minibar at Urbanica: The Meridian Hotel
Join the Superfine! team and our exhibitors for an intimate post-fair cocktail session at this mid-century enclave in the tony South of Fifth neighborhood. Arty DJ sets complete an evening of conversation and camarederie in a hip setting, where you can meet the minds behind Superfine! and its art.
Access reserved only for Superfine! Collectors' Society + All-Access badge holders. You must pick up your badge at Superfine! Miami Beach prior to attending this event.
The Bass | | Miami Beach's contemporary art museum (Collectors' Society + All-Access Passholders) | | Wed-Sun throughout Art Week
Join Miami Beach's art loving cognoscenti at the newly remodeled Bass, ever the pinnacle of contemporary art on the Beach, in its historic Art Deco home. Gain complimentary access to the museum during its general admission hours throughout Miami Art Week using your Superfine! All-Access Badge (must pick up at the fair), and receive a free Bass tote bag if you sign up for one of their membership packages that week. Highlights include exhibitions by Paola Pivi, Aaron Curry, and a new show by The Haas Brothers which opens during Miami Art Week.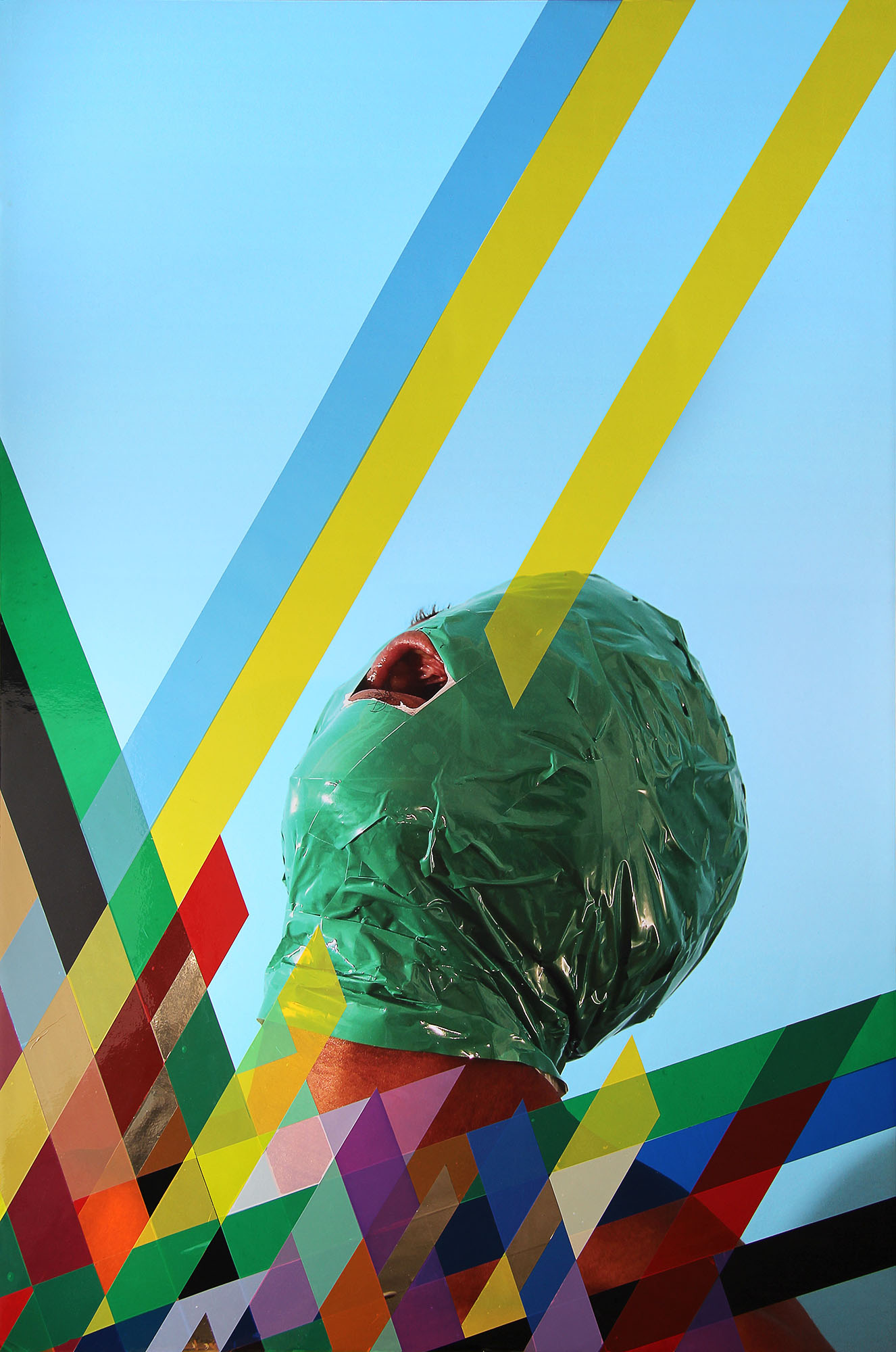 Above: work by Benoit Izard, solo artist exhibitor at Superfine! Miami Beach