About this Event
COVID-19 Update: Superfine! places the safety of our exhibiting arts professionals and passionate visitors first. We are paying careful and regular attention to the news and will keep in close communication with all ticket buyers as the fair approaches if there are any scheduling updates.
Not Just Any Other Art Fair
Punk rock spirit meets art innovation at the fourth annual Superfine! NYC, but this time, we're bringing you three unique art fair experiences: Superfine! (Wo)man, Myth, and Magick. Each fair is designed for you to meet and connect directly with today's cutting-edge emerging artists and buy art directly from them.
Hand-curated by art collector power couple James Miille and Alex Mitow, you'll discover next year's top artist talent in a friendly, warm atmosphere. Oh, and the best part? Not only do you get to meet top-tier artists (more than 150 across the three fairs), but works in the fair begin at $100, and 90% of the art is priced under $3,500 (read: fall in love, then take it home!) With each ticket, you'll also sip a complimentary craft beer, sparkling cocktail, or tumbler of wine in the lush, green mid-century accented lounge designed by fair director Alex Mitow.
No back-door haggling, no inflated pricing, and certainly no snobbery, Superfine! is an art fair for all.
Been to Superfine! before? Haven't been before but already know you'll love the experience? Buy your Trust Us Pass by December 31. It includes everything our Master Pass does and more, for a lower price. Trust us, it's worth it.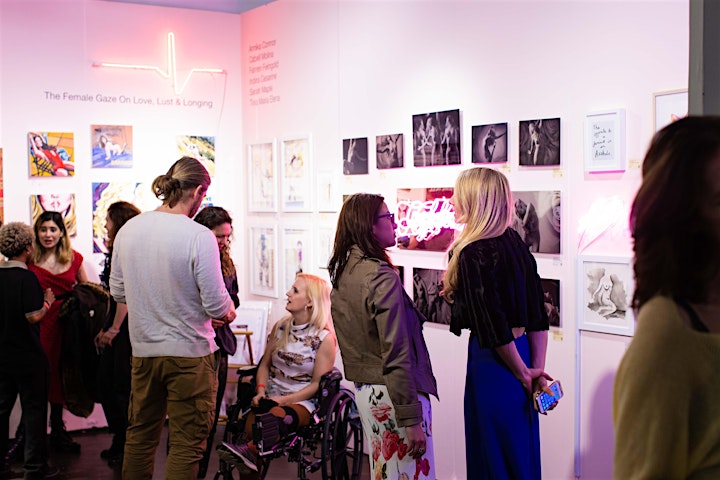 Are you an artist or gallery wanting to exhibit? Learn more about our art fairs in NYC as well as DC, LA, SF, Seattle, and Chicago, and book a call with one of our artist specialists.
Superfine! NYCx1: (Wo)man | April 29 - May 2, 2021
For many years, it's been extremely difficult for women artists to gain the same advantages as their male counterparts in the art market. We believe that era should come to an end. At Superfine! Art Fair, our fair, transparent ethos have resonated with top female artists since our inception. Our fairs host between 60 and 75% (!) women artists, and Superfine! NYCx1 (Wo)man brings the female perspective to the forefront. Over 50 women artists representing the cutting edge of contemporary art today bring their work together for one of the most exciting NYC art fairs of the year.
Superfine! NYCx2: Myth | May 6-9, 2021
Get (sur)real. Artists whose perspectives bend reality are invited to apply to Superfine! NYCx2: Myth, our second arm of the Superfine! Art Fair NYCx3 trifecta. Artists will share their work with you during the famed Frieze New York week, a hub for local and international art. Our location at the heart of the Soho neighborhood affords collectors from around the city and around the world the chance to discover and purchase our modern mythologists' work.
Superfine! NYCx3: Magick | May 13-16, 2021
As a proudly LGBTQ+-owned enterprise, Superfine! Art Fair has always stood up for our proud queer artists. NYCx3: Magick gives us a chance to present an NYC art fair that focuses entirely on the queer perspective. The largest commercial LGBTQ+ art fair in the world, Superfine! Magick will present a diverse array of artists on all ends of the queer spectrum, as well as allies creating art around queer themes. Our partnership with the queer-centric Leslie-Lohman Museum of Art affords our artists added visibility among LGBTQ+ movers-and-shakers, and marketing targeted at an affluent LGBTQ+ audience provides amplified sales opportunities.
"My husband and I didn't feel like art was accessible to us. But after Superfine! Art Fair, I realized that art is is so much more. Not only can I appreciate the art and artists behind the work, but I can actually make the art a part of my life and home."
- Keri, Superfine! Art Fair collector.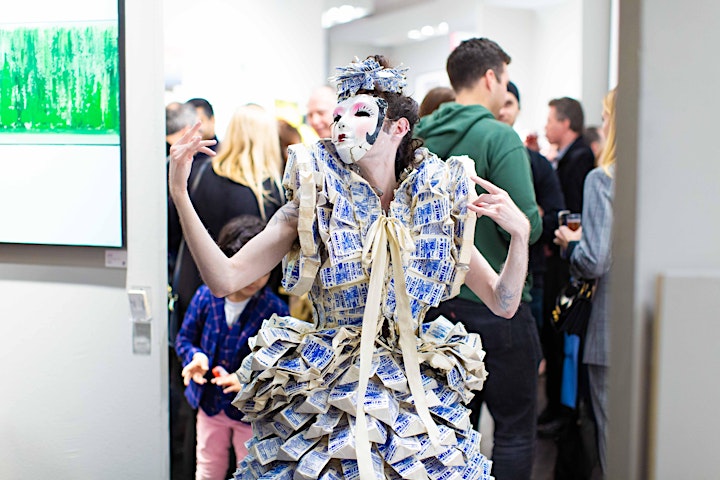 General Admission Schedule:
Friday, 4.30 / 5.7 / 5.14 | 12 - 10PM
Saturday, 5.1 / 5.8 / 5.15 | 12 - 10PM
Sunday, 5.2 / 5.9 / 5.16 | 12 - 8PM
***Buy a Day Tripper Pass with a drink and save on in-fair drink prices.
Special Events:
Champagne Vernissage - Open to Champagne Superstars, Master Pass-holders, and Trust Us Pass-holders
Dress up and make your entrance on Thursday 4.29, 5.6, and 5.13 from 7 - 10PM
Indulge in complimentary champagne & gain a first look at all the work by our 80+ top-flight global artists
Live performance art, live music acts, and complimentary sweets.
***Limited to only 200 guests + Master Pass-holders***
VIP Early-Access Morning Edition - Private for Master Pass-holders and Trust Us Pass-holders
Saturday, 5.1 / 5.8 / 5.15 | 10AM - 12PM
Complimentary mimosas
Complimentary homemade brunch treats
***Limited to only 100 guests***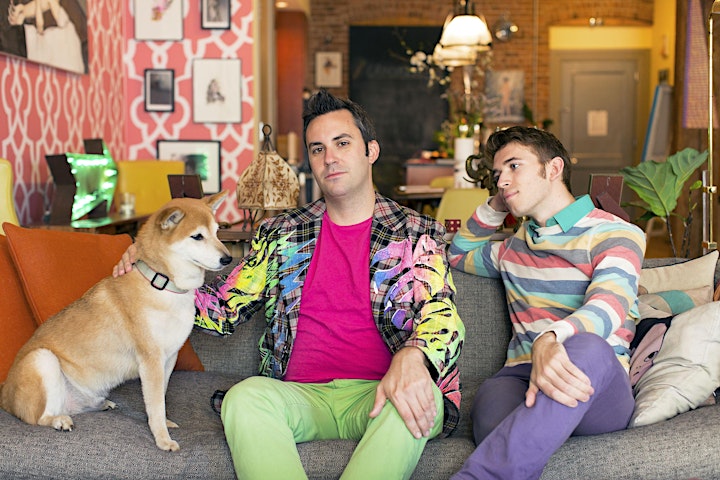 We created a better NYC art fair to connect directly with artists, take home amazing affordable art, and have a great time doing it.
Hi! We're Alex Mitow and James Miille, the co-founders of Superfine! Art Fair. We started Superfine! back in 2015, because at every art fair the story was always the same: aisles upon aisles of white-walled galleries with artwork priced way out of our range and dealers totally uninterested in talking to us.
As collectors ourselves, we wanted to find a better way for regular people excited about art to connect directly with artists and passionate curators. That's how Superfine! was born: an art fair where real people can have fun discovering great new art by up-and-coming artists that doesn't break the bank and — often for less than the price of a round trip flight — take it home and hang it on their wall.
Our NYC art fairs have a special place in our hearts, and we're bringing some of the top artists from around the world to our own home. We can't wait for you to join us at what promises to be one of the top NYC events of the year!
—Alex Mitow + James Miille, Superfine! Art Fair NYC co-founders