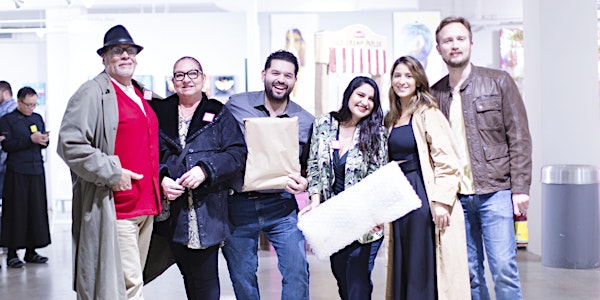 Superfine! Art Fair | LA 2019
When and where
Location
Magic Box 1933 South Broadway Los Angeles, CA 90007
Description

"While more art fairs make their way to the west coast, it's refreshing to welcome Superfine! to the mix to create opportunities for emerging artists and collectors and make art fairs more approachable."
- Shepard Fairey


[UPDATE]: Superfine! LA Exhibitor List now released. Scroll to the bottom of this description to see who's joining us in Los Angeles!


---


Build Your Art Collection, Make Your Friends Jealous.
From February 14-17, Superfine! Art Fair brings diverse, accessible art to DTLA's Magic Box at The Reef. Come discover and collect the work of hundreds of new contemporary artists at the inaugural West Coast iteration of the art fair that's made shockwaves in New York, Miami, and Washington DC by making transparency and accessibility its primary focus, while presenting cutting edge new contemporary art by living artists. A curated, diverse roster of more than 250 artists, including an outsized LGBTQ and female representation, make up the fair's first DTLA show in the 20,000 square foot Magic Box space.
90% of the artwork on offer ranges from $100 to $5000 for a truly approachable art experience. The result? Both novice and experienced collectors are bound to discover the next masterpiece for the walls of their DTLA loft or bungalow in the Hills. Program highlights include the director-curated "This is America!" exhibition of diverse political art, the fair's always-popular Young Collectors' Ice Cream Social (Friday 2/15), and a Valentine's Day Vernissage opening complete with cotton candy topped champagne alongside live sax and DJ sets. The fair will also host educational panels featuring artists, art luminaries, and Hollywood notables; along with a robust A/V program throughout the fair.
"The Superfine! team really has true control over the power of curation, presentation, and representation for their fair and collector base."

- Art Zealous, on Superfine! LA (read about it here)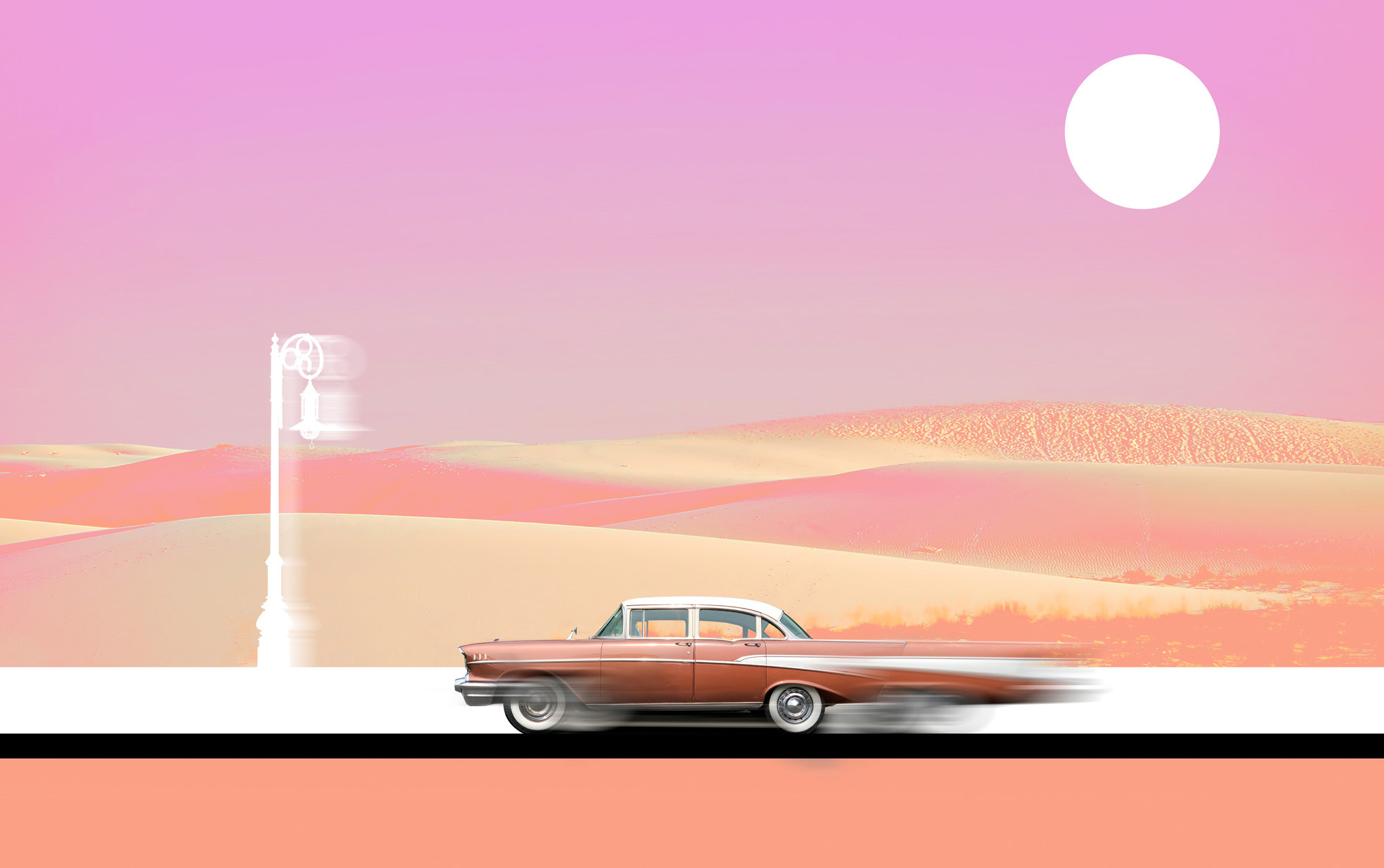 Preview Hours // 2.14.19
Collector Sneak Peek | | 5pm-7pm
Valentine's Vernissage Kickoff | | 7pm-11pm
The best alternative to an overpriced Valentine's Day meal? Great art with your sweetheart.
Complimentary cotton candy-topped champagne, musical guests + performance art
Opening night soundtrack by DJ Jason Eldredge (KCRW, Academy Awards, Six Feet Under) and live saxophone by Leon Morley (Playboy Mansion, Beatport #1 2x)
General Admission
Friday 2.15 | | 12pm-10pm
Saturday 2.16 | | 12pm-10pm
Sunday 2.17 | | 12pm-8pm
Special Programs + In-Fair Events
Young Collectors' Ice Cream Social || Friday 2.15 || 7pm - 10pm

Artisan ice cream, cocktails, and collector camarederie

Ice cream portraits by John Kilduff Ice Cream Parlour (bG Gallery)
ARTstagram social media contest w/ $500 art spree grand prize
Curated Projects

"Beyond Björk" Dual Entry Installs | curated by Art Attack SF
From Fair Director Alex Mitow:
We took advantage of two narrow display windows at the entrance of Superfine! LA that were used by the singer Björk for her 2017 installation by partnering with Art Attack SF to curate complementary multi-dimensional installations by Bay Area artists Harumo Sato and The Tracy Piper (recent winner of Netflix's "Skin Wars"). Fairgoers will be greeted by larger-than-life tableaus by these two iconic artists, and then can discover and take home their work in the Art Attack SF booth.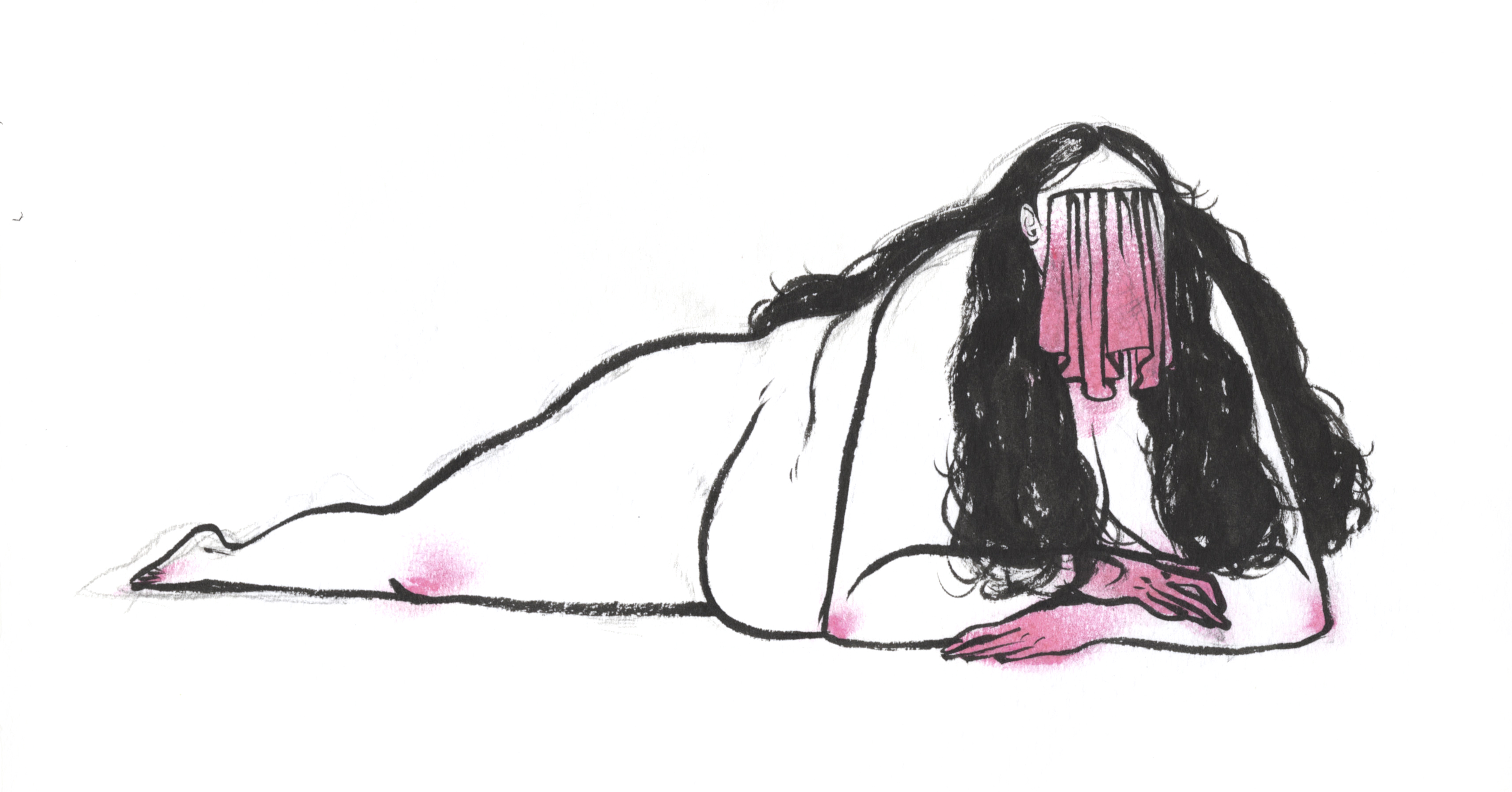 "Women in Monochrome" Lounge Install by Jasjyot Singh Hans | curated by Paradigm Gallery
Indian-born, Baltimore-based artist Jasjyot Singh Hans brings to life a series of monochromatic panel drawings as the backdrop of the Superfine! LA lounge. Challenging normative ideas of female beauty, Jasjyot's women move about with confidence with or without clothes, aren't afraid to express what they're feeling, and are in complete control over their mind and body.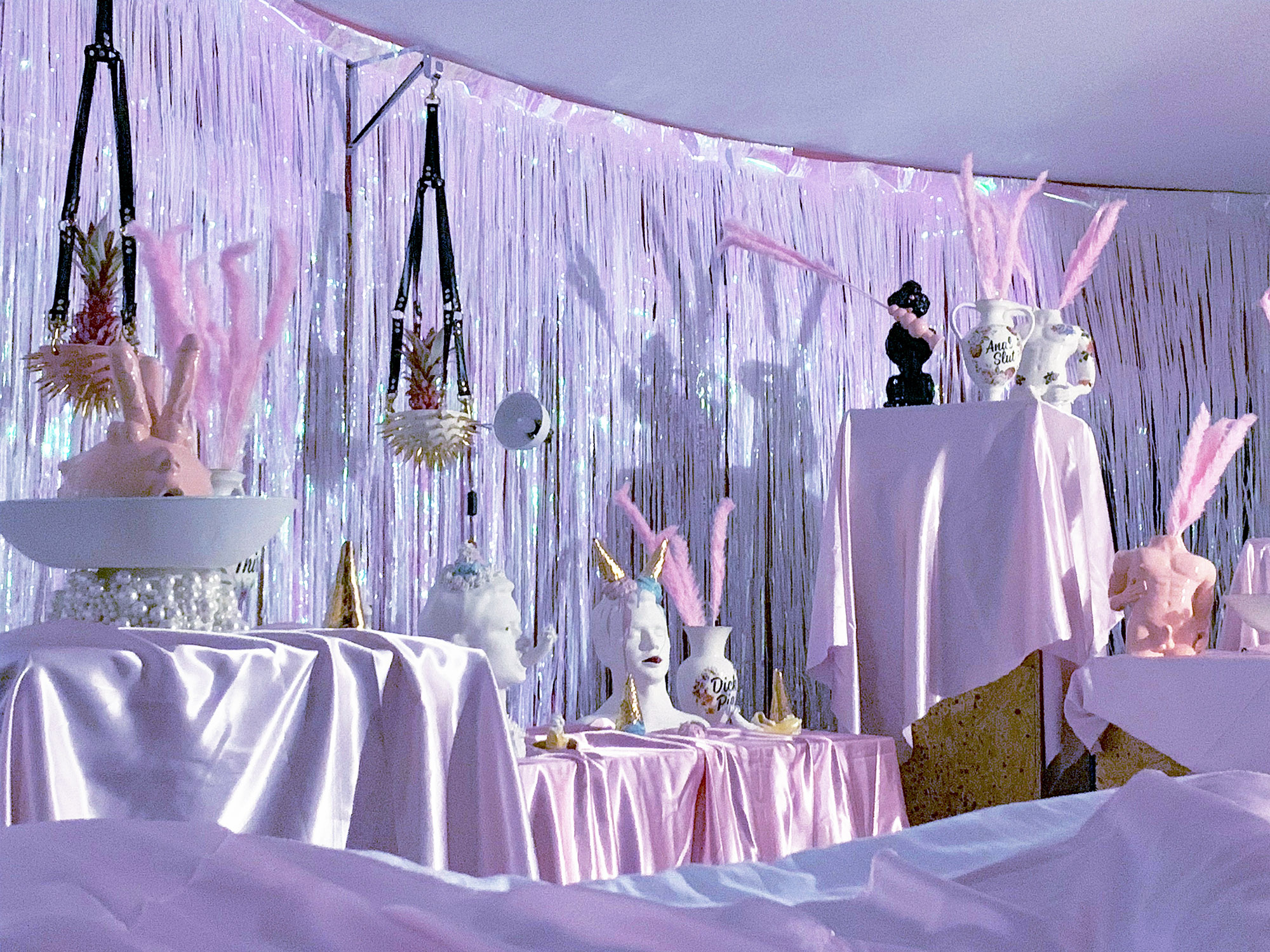 Pansyland | An Amorous Journey Into Camp Curated by Pansy Ass Ceramics (Toronto, CA)
From the Curators:
For Pansyland at Superfine LA we wanted to harness the amorous tone of the show's opening date of February 14th and create an immersive space inspired by the Roman bacchanalia. The Bacchanalia was a festival celebrating indulgence, sexuality and desire. The space we are creating will be a scintillating visual orgy of sparkles, blooms, treats, boys and yummy yummy pink. We will be blending classical motifs with our signature Pansy Ass themes.
In our day to day practice we work primarily in porcelain sculpture and we explore sexuality and queer culture through themes of temptation, desire, and the camp aesthetic. For Pansyland we are creating a new body of work to help entice visitors to join us in our world and indulge in our desires.

Art Money | Booth A01
Art Money is the new, smart, way to buy art. Enjoy now, pay later, 10 payments, 10 months, no interest.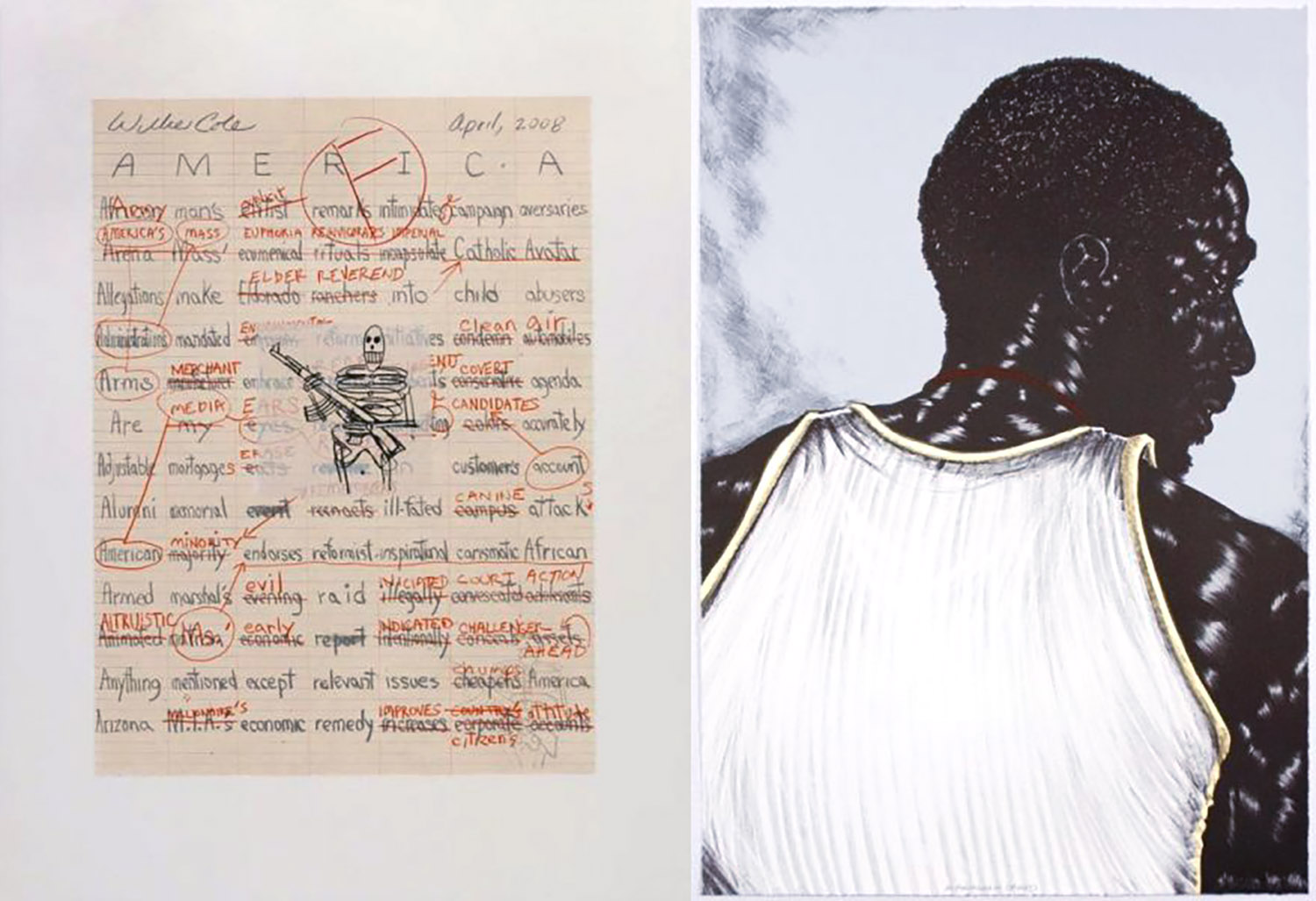 Above works by Willie Cole (L) and Toyin Ojih Odutola (R) courtesy of Tamarind Institute
This Is America! | Directors' Project Curated by James Miille and Alex Mitow
From the Curators:
We wanted to take a shot at the current political climate while highlighting the intense diversity of the American art community. Akin to Hunter S. Thompson's "savage journey to the heart of the American dream" and based around the Grammy-winning song by Childish Gambino, this project conveys both a pride and skepticism about the American identity and what it means in 2019. Expect a visual journey tackling issues that include race, gender, and trans expression while training a keen eye on both the dark and bright sides of the American way.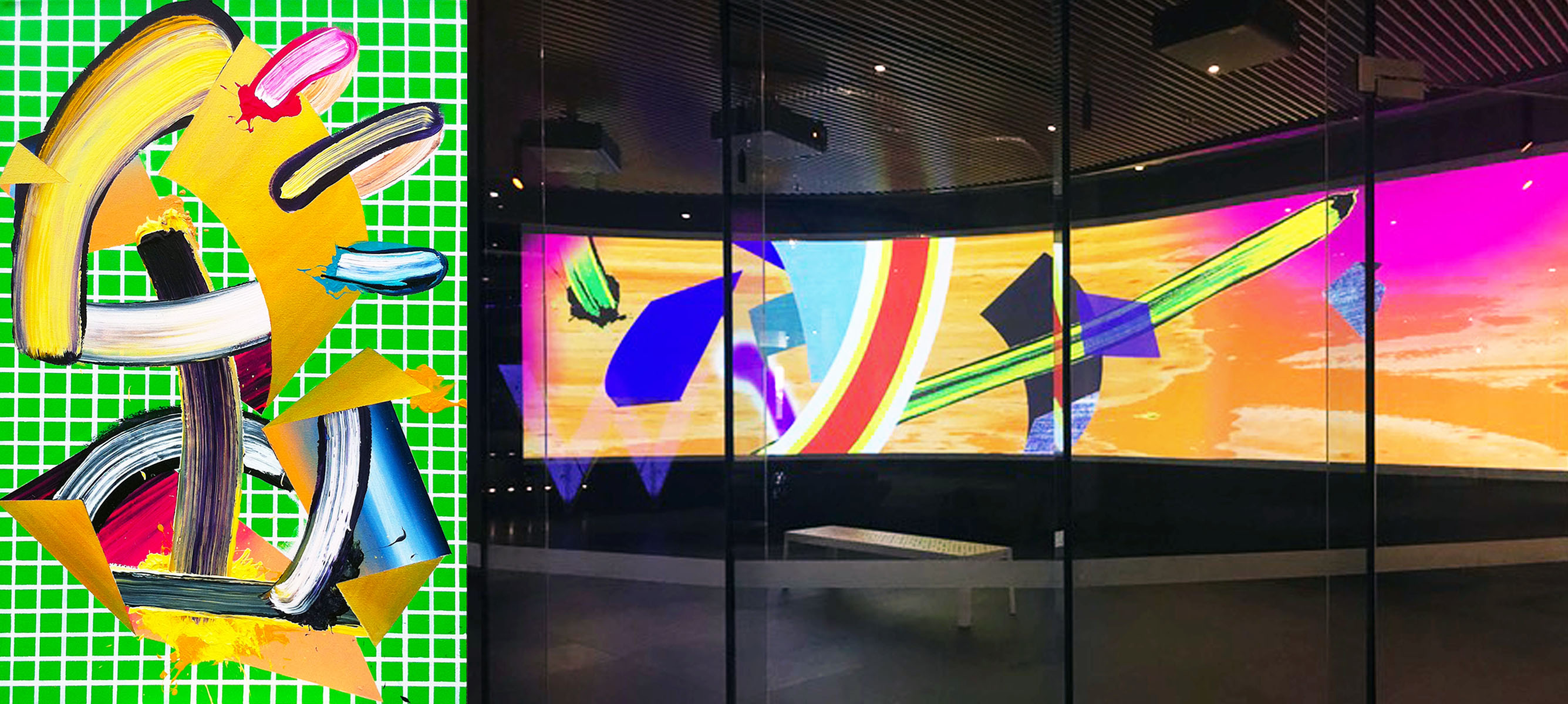 LA-based artist Matt Sheridan was a storyboard artist on the iconic MTV series "Daria" in the 90s, but the work he's bringing to life as part of the Superfine! LA A/V program has a decidedly different tone. He'll break down his abstract painting-in-motion process for Superfine! LA visitors, including a live-mix video on opening nights. Exhibiting a variety of works on paper, canvas, monitors and projection, Sheridan walks you through his mind from marks to movement.
The Screening Room | Film Series at Superfine! LA

"For Your Consideration" | Saturday 2.16 6pm-7pm (followed by talkback with Plastic Jesus and director Patrick Green)
Apropos of the #MeToo movement, a pop culture provocateur (Plastic Jesus) and Naked Trump sculptor team up to take down Harvey Weinstein, creating a statue of the disgraced movie producer that goes viral and incites further conversation. Catch Plastic Jesus' viral "Casting Couch" sculpture itself in the Superfine! entry vestibule.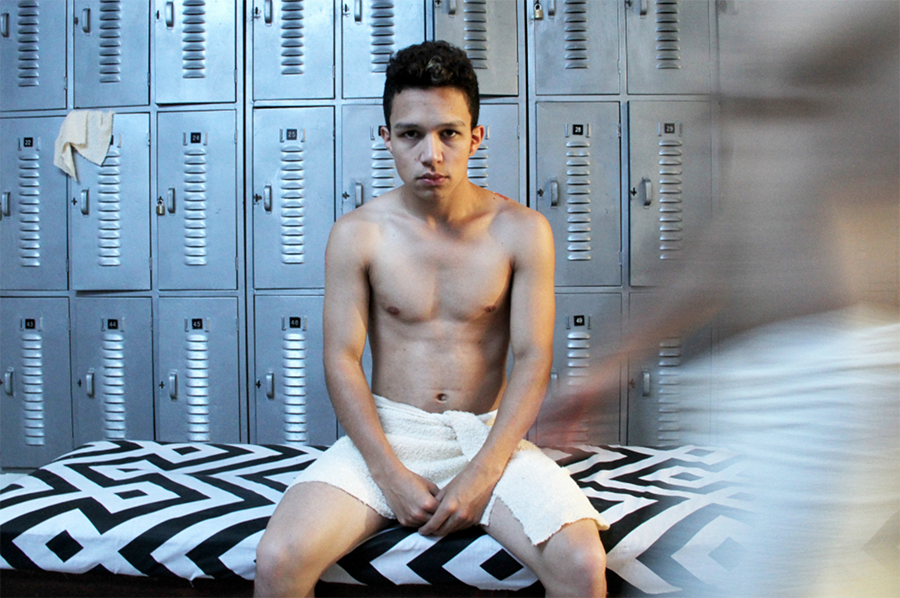 OUTshine Comes to LA | Friday 2.15 6pm-7pm
Selection of LGBTQ+ art shorts, specially curated by Miami's OUTshine Film Festival for Superfine! LA. Themes include Latin American queer identity with musical and dance elements, along with a short film focused on Miami's position in the LGBTQ+ community. Program highlights include Free Fall (Colombia - image above), Forget Me Not (Spain), and Guillermo on the Roof (Spain).







In Conversation / Panels at Superfine! LA
Challenging Masculinity Stereotypes Through Art | Friday 2.15 5pm-6pm
Set against the backdrop of the Pansyland installation, artists tackle the difficult topic of how typical masculinity norms should be represented and re-evaluated through visual art.
John Waiblinger (Artist)
David Jester (Artist)
The Tracy Piper (Artist)
James Miille (Superfine! Co-Founder + Artist)
Moderated by The Advocate editor-in-chief Zach Stafford (Forbes 30 Under 30)



From Buttholes to Basquiat: Building a Challenging Collection | Saurday 2.16 2pm-3pm
Collectors at various stages in their journeys share anecdotes and perspective about how they've built a collection that both speaks to their personal tastes, and challenges them.
Lauren Fairbanks (S+G) in conversation with Superfine! director Alex Mitow and a surprise collector

Building a New, Accessible Art Market in LA (& Beyond!) | Sunday 2.17 2pm-3pm
Innovators from tech, PR, art fairs, and the gallery world discuss the importance and urgency of an accessible, sustainable contemporary art market and how that impacts LA from both a creative and economic standpoint.
Carrie Eldredge (ĀTO Gallery)
Kristine Schomaker (ShoeBox PR, Art&Cake LA)
Valda Lake (Wallspace LA)
Moderated by Superfine! director Alex Mitow

---
Superfine! LA '19 Exhibitors
GALLERY PAVILION
Zeitgeist/LA | Los Angeles' wave of New Contemporary art
Wallspace | Los Angeles, CA
ECF ART CENTERS | Dowtown LA
Wönzimer Gallery | Los Angeles, CA
bG Gallery | Santa Monica, CA
Pulp/LTD | prints, multiples, + works on paper from $100-$5,000
SHIM Art Network | New York, NY
Tamarind Institute | Alburquerque, NM
Jen Mauldin Gallery | Dallas / Fort Worth
Phillip Hua | San Francisco, CA
Portals | global galleries with fresh, approachable, emerging art
Art Attack SF | San Francisco, CA
HUE Gallery Presents Sean Christopher Ward | Wichita, Kansas
Raw Space Gallery | New York, NY
GALLERY 104 | New York, NY
ATO Gallery | New York, NY
ALIGUORI | Miami, FL
Daniel Stuelpnagel | Baltimore, MD
ATC DEN gallery | Denver, Colorado
Edge of Reality Gallery Presents James Miille | Brooklyn, NY
This Is America! | Curated by Fair Directors Alex Mitow and James Miille
BBAM! Gallery | Montréal, Canada

ARTIST PAVILION
Immerse | front and center solo artists
Cathy Breslaw | Southern California
Bjorgvin Jonsson | New York, NY
Rogelio Maxwell | Washington, DC
Mary Gortani | London, England
Natasha Ozhiganova | New York, NY
Elevate/LA | solo artists from the Los Angeles area
Gillian Loop | Newport Beach, CA
Blair Martin Cahill | Ojai, CA
Eugene Vishnevsky | Los Angeles, CA
CISCO | Los Angeles, CA
Cathy Immordino | Los Angeles, CA
Lindsey Price | Los Angeles, CA
Micaela Aguirre | Laguna Beach, CA
Tati Holt | Los Angeles, CA
Chris Justice | Laguna Beach, CA
Haimeng Cao | Los Angeles, CA
John Waiblinger | Los Angeles, CA
Elevate/Global | solo artists from around the world
Bruce McGowan | Montréal, Canada
Willie Brooks Jr | Canton, MI
Christine Daigle | Montréal, Canada
Marc Scheff | Brooklyn, NY
David Jester | San Diego, CA
Louis Angel | Brooklyn, NY
Mary Finlayson | San Francisco,CA
Evelina Cole | Rockford, MI
Mimi Benrazek | Washington, DC

Emerge | fresh solo artists featuring works under $5,000
Whytnie McDonald | Artesia, NM
Ilaria de Plano | Los Angeles, CA
PAZ | Los Angeles, CA
Jonathan McAfee | Evergreen, CO
Karen Thomas | Montpellier, France
Lucas Geor | Brooklyn, NY
Christopher Olson | Los Angeles, CA
Joaquin Alonso | Lima, Peru
Amaia Marzabal | Brooklyn, NY
Cristina Natsuko | Las Vegas, NV
Rasa Vilcinskaite | Kaunas, Lithuania
Carolyn Brann | La Jolla, CA
Francesca Saveri | Berkeley, CA
TOMOYAARTS | Nagano, Japan
Wade Asa | Ashville, NC
Miriam Julianna Sutton | Washington, DC
Mike Sanchez | San Francisco, CA
Yanique DaCosta | Atlanta, GA
... and counting!
---
About Superfine! - The Fair
Founded in 2015 as a satellite to Art Basel Miami Beach, Superfine! has steadfastly grown into a new ideal for what a contemporary art fair should be. With editions in Miami Beach, NYC, Washington DC, and Los Angeles, the fair focuses on transparency and accessibility as a means of growing a more inclusive art market for artists, galleries, and collectors. Geared towards new and established collectors alike, each Superfine! represents a survey of what's here and now in contemporary art with an emphasis on women and LGBTQ+ artists, as well as other underrepresented groups. Thousands of millenial + young professional art aficionados have blossomed into full-fledged collectors within the walls of Superfine! fairs, and we're thrilled to bring our unique approach to LA in 2019.
Read about Superfine! on artnet

---
About Our Founders
Partners in life as well as business, Alex Mitow and James Miile are the originators of the Superfine! approach as well as the director and creative director, respectively, of Superfine! - The Fair. James is a photographic artist whose own career arc helped spawn the idea of a more fair, inclusive art market, and Alex is a multi-spirited entrepreneur with a background in hospitality that's informed his and James' unique outlook on creating a friendly space to discover and collect art. Both are also dedicated collectors of the emerging art they champion, and their art-filled DUMBO, New York loft is a testament to that with more than 400 pieces of original art - mostly by living contemporary artists. The pair continue to pioneer new markets and have been profiled by Logo's NewNowNext and artnet, along with a plethora of national and regional publications.