Description



"Superfine! might have been the only time I've ever enjoyed being at an art fair. More remarkable, it might have been the only art fair I've ever attended where the art was outright good."

- The Clyde Fitch Report (read more)
---
The Art Fair DC Deserves Is Just Days Away

Fun, approachable, and chock full of art by local and global emerging artists, Superfine! DC descends on the capital from October 31st to November 4th for a fall art spectacular the likes of which the District has never before seen. The art fair that's built its chops in New York and Miami by serving up a clear, transparent, new art market friendly to both long time collectors and people interested in art who've never purchased a piece before is bringing its unique formula to DC's Union Market, and you'll never experience art the same way again.
Over 300 visual artists from DC and beyond will present new contemporary artwork throughout 74 curated booths, and with price points beginning below $100 and 75% of works available below $5,000, you're certain to discover the perfect piece for your castle or cottage. Join us for a chic sneak peek Masquerade Vernissage opening on Halloween night, or indulge your inner child with artisan scoops by Trickling Springs Creamery at our Young Collectors' Ice Cream Social on Friday 11/2. From panel discussions with local art luminaries to art movie nights, Superfine! DC has Washingtonians covered as your own local, global art fair.
Superfine! in the Washington Post (click to read)

"After Miami and New York, This Art Fair is Coming to Union Market to Change How D.C. Views Buying Art"

Superfine! in Washington City Paper (click to read)
"The Superfine! Fair Wants to Make Art Accessible for All"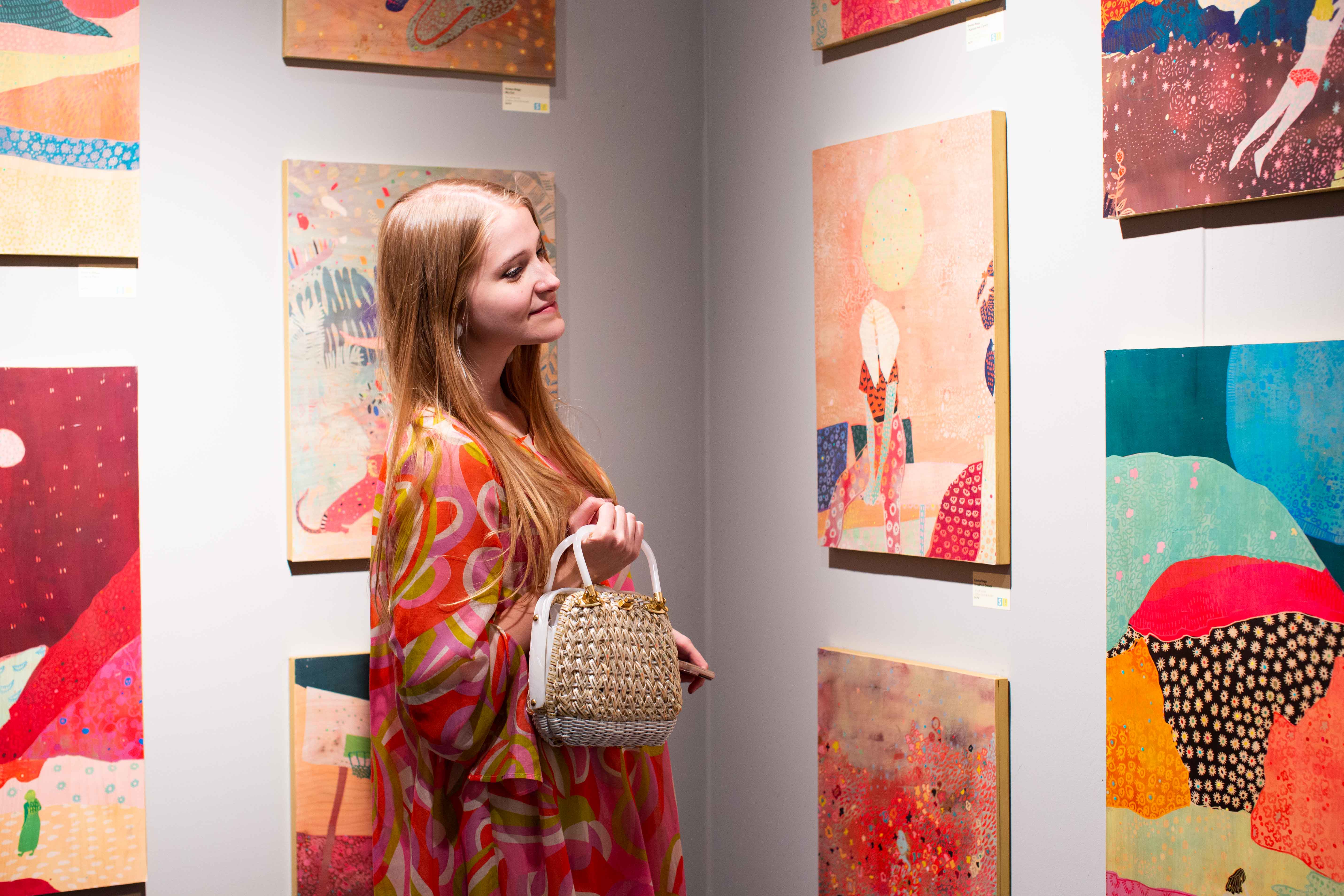 ---
Complete Fair Schedule


General Admission
Thursday 11.1 || 11am - 10pm
Friday 11.2 || 11am - 10pm
Saturday 11.3 || 11am - 10pm
Sunday 11.4 || 11am - 8pm



In-Fair Events + Special Programs

Masquerade Vernissage | Co-hosted by Washingtonian
Wednesday 10.31 7pm-11pm
Cotton candy-clad champagne
Live mural painting by artists Diana Contreras (Miami), Martin Swift (DC), Mickael Broth (Richmond), Matt Lively (Richmond)

Immersive performance art by NYC's Sylva Dean and Me: the performative experience for the Avant Garde connoisseur.
Ethereal harp chords courtesy of Erin Baker
"Big kid" trick-or-treat bags w/ artisanal, organic, Swedish candy + partner gifts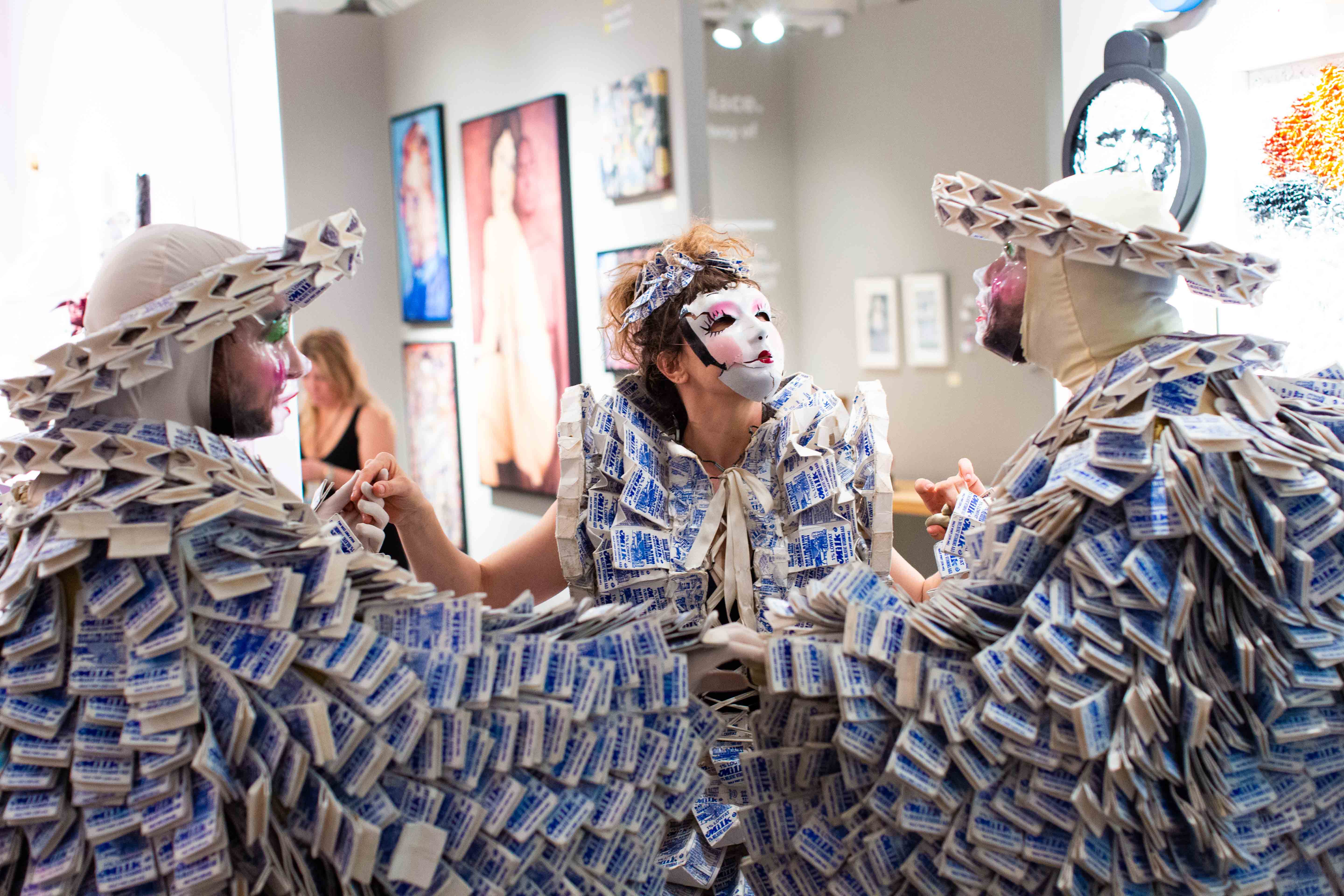 Art's Night Out at the Market | Co-hosted by Washington City Paper
Thursday 11.1 || 7pm - 10pm
Discover Union Market's incredible vendors, then enjoy complimentary access to the fair (w/ stamp or receipt)

Funky grooves courtesy of The MOD Orchestra

Get up close and personal with an exhibitor base comprised of more than 50% DMV artists and galleries
Young Collectors' Ice Cream Social | Co-hosted by The Pink Line Project
Friday 11.2 || 7pm - 10pm
Unlimited organic ice cream, courtesy of Union Market vendor Trickling Springs Creamery
Funky world beat set by DJ Lalee

ARTstagram challenge w/ $500 art spree grand prize
Immersive performance of masked characters built from musical instruments, animals & ancient culture by New York's Dream Caverns

Collectors' Breakfast Reception
Saturday 11.3 || 10am - 12pm
*Limited to only 100 attendees - only 40 tickets left!*
Decadent breakfast spread of bespoke bagels and smoked delights by Union Market's own Neopol Savory Smokery

Morning cocktails available at the bar

A private look at the entire fair and its over 2,500 artworks
LGBT Art Shorts: Film Series w/ OUTshine Film Festival - Included in Saturday Day Pass ticket
Saturday 11.3 || 7pm-8pm
Short films curated by Miami's OUTshine Film Festival, centered around LGBT themes and visual art motifs

Gourmet popcorn + movie treats for attendees
Ties Not Required / Young Professional Art Mixer
Saturday 11.3 || 8pm - 10pm
Local craft beer tasting by DC favorite 3 Stars Brewing Company

Mingle with fellow DC young professionals amongst 2,500+ works of art
UNSETTLED - Presented by Transformer
Saturday 11.3 || 3pm - 7pm
Transformer presents UNSETTLED - a performance art series curated for Superfine! by Victoria Reis, Founder and Director of Transformer. UNSETTLED features performances by a select group of leading DC based emerging artists - Hoesy Corona, Rex Delafkaran, Maps Glover, Kunj, and Tsedaye Makonnen - who are pushing performance art forward with their innovative interdisciplinary work.
Ink Minx Mobile Tattoo Parlor / Throughout Duration of Fair
Ink Minx is a mobile tattoo studio for women founded by artist and social justice warrior Shanzey Afzal. Currently housed in a re-purposed 1960's Shasta camper, Ink Minx will travel from its home base in the Rockaways community of New York City to Superfine! DC in order to spread her message of connectivity and body positivity to a segment of the population long overlooked - younger Muslim-American women - using her own unique vocabulary of images designed specifically for her audience.
Private Tours*
Thursday 11.1 || 2pm - 3pm || ASL guided tour of Superfine! DC for hearing impaired art-lovers, with fair co-director + artist James Miille and Gallaudet University students and faculty

Friday 11.2 || 1pm - 2pm || Foto Kaip-Sool guided tour
Saturday 11.3 || 1pm - 2pm || DC artists + galleries guided tour
Sunday 11.4 || 1pm - 2pm || Heartlandia guided tour
Panels + Discussions
Thursday 11.1 || 5:30pm - 6:30pm || The Artists' Nook: Networking Tactics for Artists

Client Raiser's Danielle Glosser offers valuable insight for artists on managing the business side of their art career. Listen in from 5:30-6:30pm for a group talk, following and followed by 1-on-1 artist sessions from 11am to 4pm and 6:45pm to 8pm.
Friday 11.2 || 6pm - 7pm || "Art Over Avocado Toast: How to Build a Great Collection on a Millenial's Budget"

Local DC art collecting enthusiast Philippa Hughes leads a panel discussion on ways aspiring collectors can bring art into their lives without breaking the bank. Panelists include Superfine! director Alex Mitow, CEO of Art Money Paul Becker, S+G's Lauren Fairbanks, and Transformer's Victoria Reis.

Sunday 11.4 || 2pm - 3pm || "Who Runs The (Art) World: Girls!"

An insiders' look at the ever-evolving role women artists and arts professionals play in the changing market, with local and national female arts luminaries offering fresh, innovative perspectives. Led by Superfine! team member Deming King Harriman, panelists include Marina Granger (The Artist Advisory), Box Heart Gallery director Nicole Cappozzi, and exhibiting artist Noel Kassewitz.

All-Access Pass Holders and Collectors' Society Members:
Join Superfine! founders Alex Mitow and James Miille in the lobby at the Hirshhorn Museum and Sculpture Garden on Friday 11.2 at 9am. As part of the Hirshhorn/AM program, the partners and founders will talk all things Superfine! and what led them to developing a new approach to art fairs.
Private collectors' receptions and tours are available before fair hours each day. Please email collect@superfine.world for more information.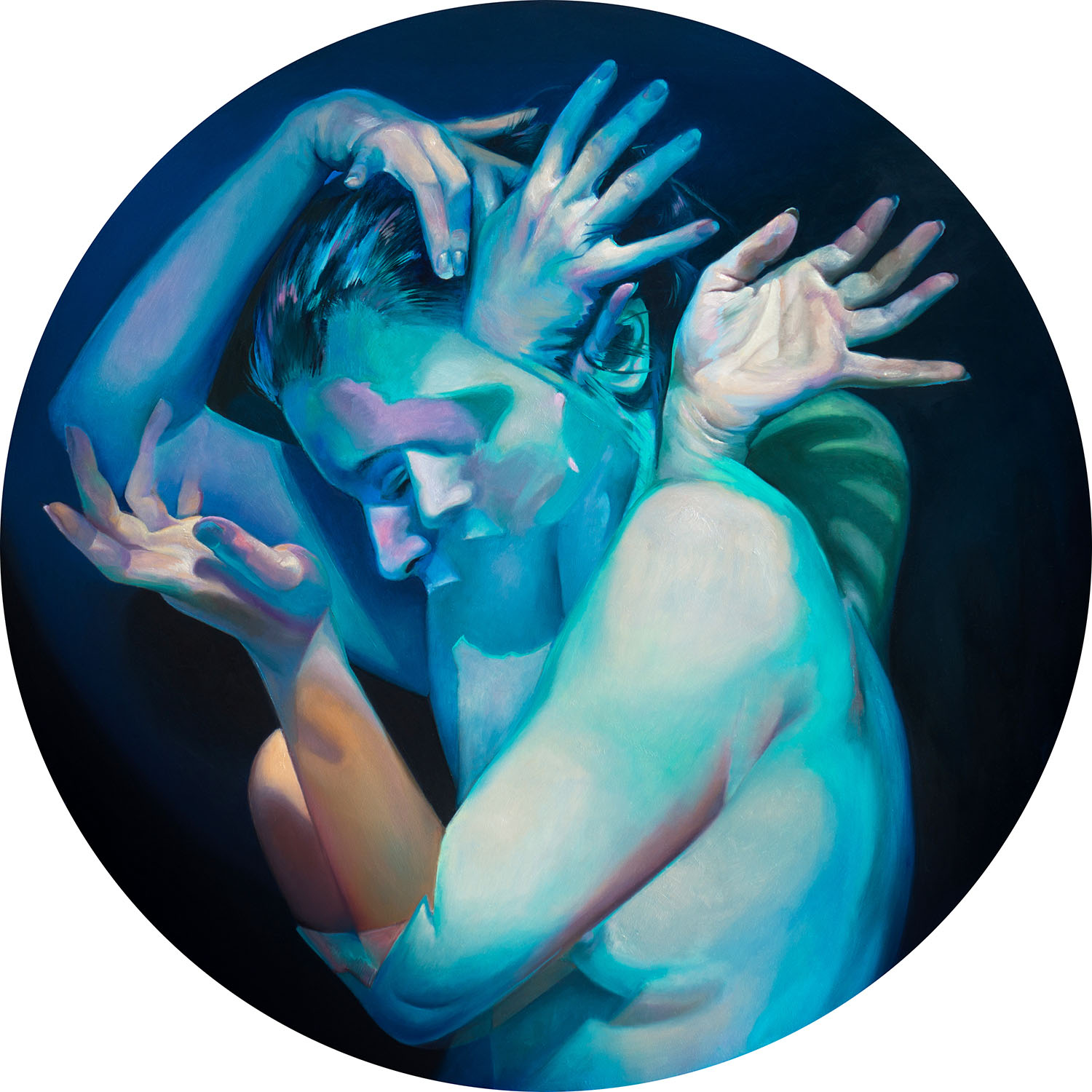 It's all about the art. Here are some can't-miss Superfine! DC exhibitions:

ENTRANCE INSTALLATION /// "Seeing Impossible Color" by Hilary White

Presented in Partnership with Paradigm Gallery (Philadelphia, PA)
Enter Superfine! DC to the multidimensional, omniprismatic works of Hilary White, curated by Sara McCorriston of Philadelphia's new contemporary stalwart Paradigm Gallery. White uses the concept of impossible colors, the colors that cannot be perceived by humans in normal circumstances, to demonstrate to viewers that they can overcome adversity and start seeing the possibility of what can be beautiful in their lives.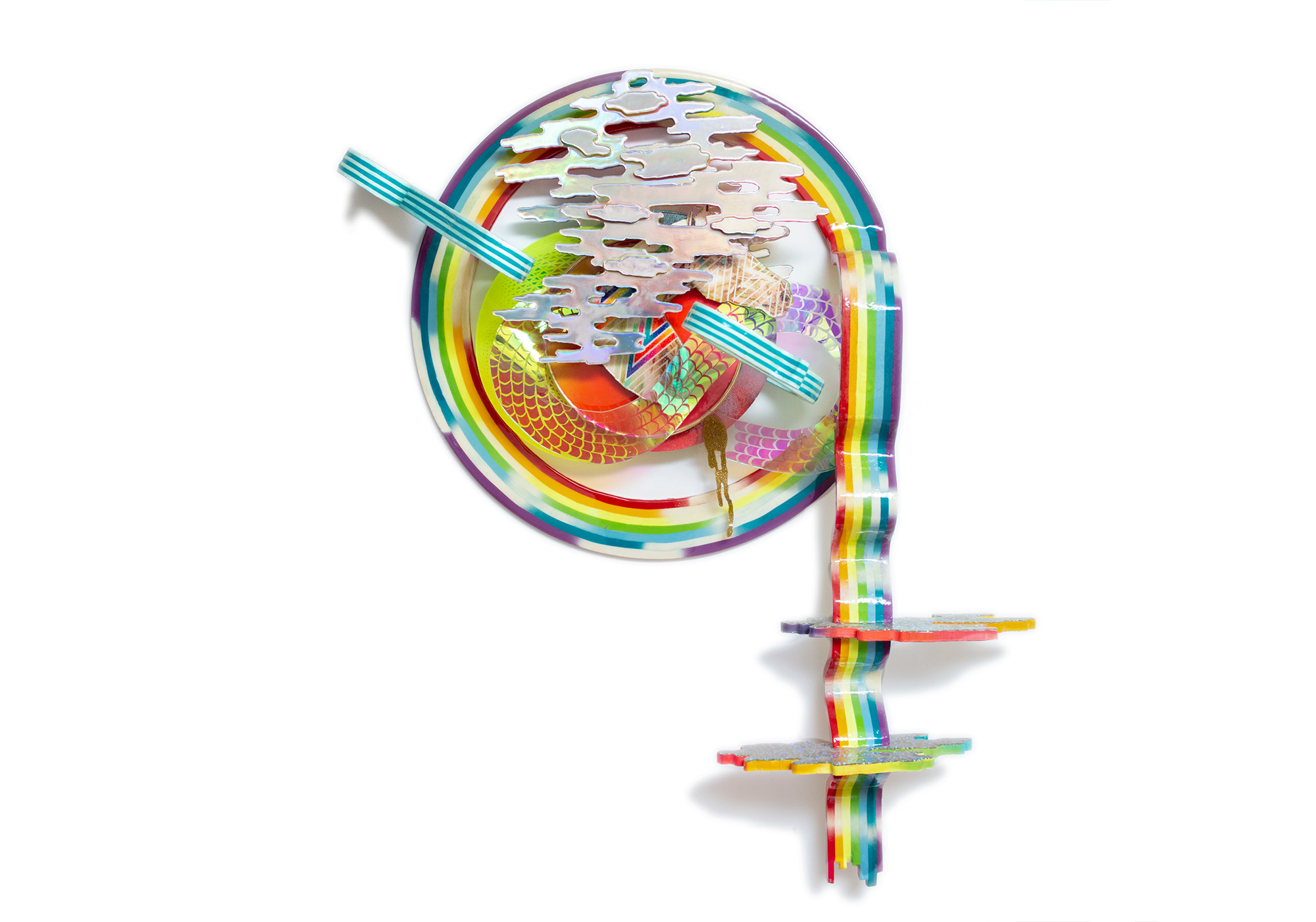 HEARTLANDIA
Led by BoxHeart Gallery, a curated exhibition of new contemporary art from across the country
Focus on off-the-beaten-path artists and galleries from outside well-trodden art hubs
Highlights include New Orleans' Antieau Gallery and Houston's Cindy Lisica Gallery
FOTO KAIP-SOOL 2018
Politically-charged photo time capsule of the here and now

Works dealing with gender expression, LGBTQ+ topics, and global socio-political issues
Highlights include Ashley G Garner + Lauren Karaman's "36-24-36" body positive project, Alexandra Aroyo's photo chronicle of the Women's March, and James Miille's "Secrets of Suburbia" series on the dark side of the American middle class through an LGBTQ+ lens
CENTER STAGE
Nationwide and global galleries showcasing the freshest trends in contemporary art, including European Design + Art's survey of Belgian and French pop artists, Memphis' Art Village Gallery which focuses entirely on African American artists, and a street art-fueled presentation from Richmond's glave kocen gallery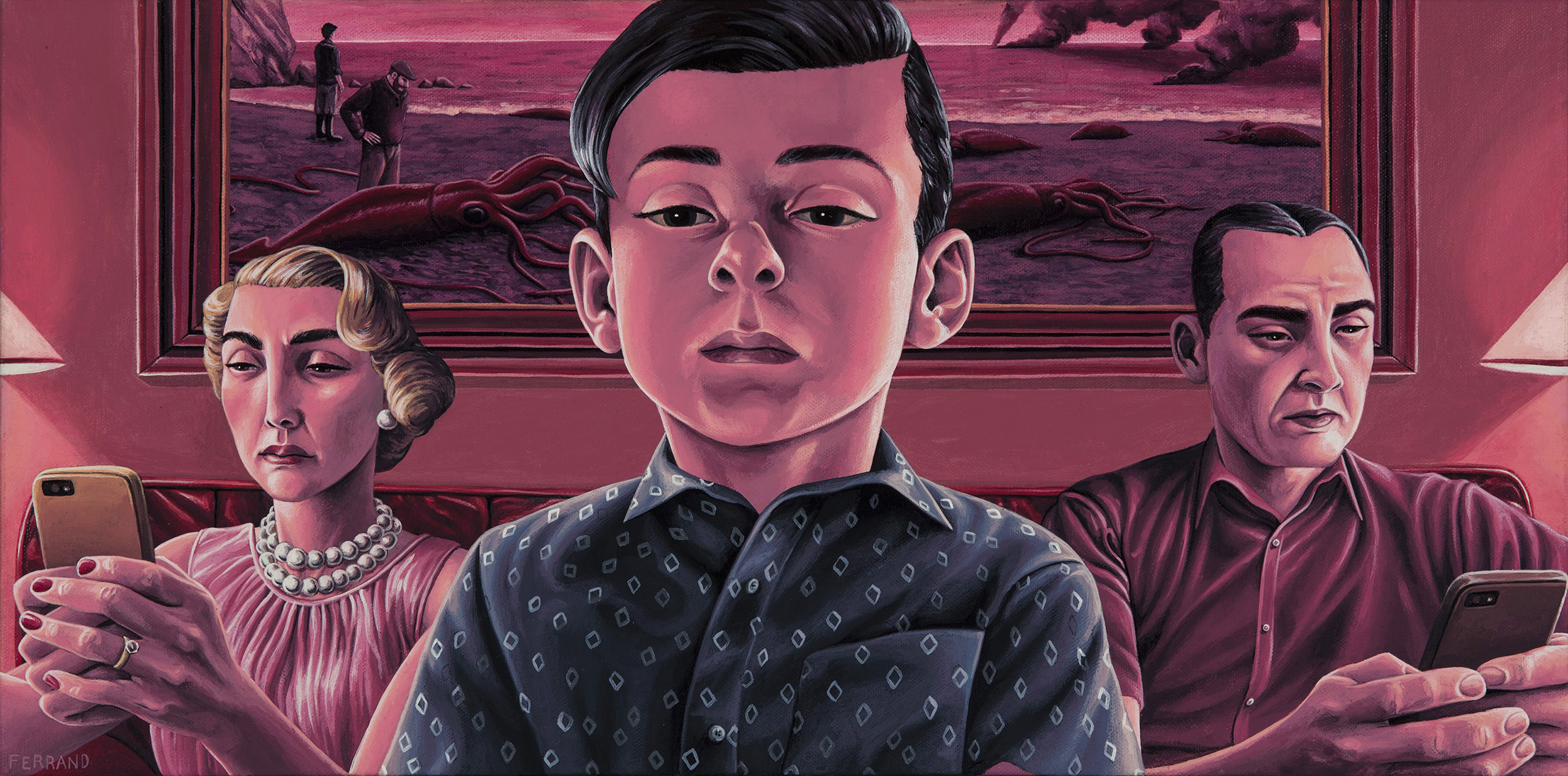 ARTIST PAVILIONS / ELEVATE + EMERGE
Meet the artists face-to-face and learn about their work, inspiration, and process in person, direct from the source
Artwork from the DC area's most beloved and boundary-pushing artists including Sarah Jane Jamison (Washington City Paper's top visual artist of 2018), Noel Kassewitz' climate change-fueled constructs, and Arlington artist Scott Hutchison's surreal paintings

Global artists from other Superfine! cities including master of the visual trick Aliguori (Miami), as well as global artists including pop surrealist Bruce McGowan (Montreal)
OUTSHINE LGBTQ+ SHORT FILM SERIES / SAT 7-8PM
***Included in Saturday day pass ticket***



SPARROW – Directed by Welby Ings, New Zealand, 15 minutes.

Sparrow is the beautiful and lyrical story of a little boy who thinks he can fly. However, his life is overshadowed by the legend of his grandfather who died a hero in World War II. But one night he discovers the tale that his father so adamantly clings to, is a lie. His grandfather was a gay man who, seeing the futility of war, deserted in protest when his lover was shot in Egypt. In unraveling the truth behind what happened, the boy discovers the strength to stand up to the bullies in his own world in an unexpected way.


SAILORS DELIGHT – Directed by Jonas Ritter, Loucas Rongeart, Louise Aubertin, Eloïse Girard, Amandine Thomoux, and Marine Meneyrol, France, 6 minutes.

A delight, to be sure, this joyful, animated film takes a fresh look at a tried and true subject…. the siren song of the ocean. A mermaid is going to try to seduce two sailors, but everything is not going to happen as expected, and for us that is a good thing. A hit short at the Cannes Film Festival, Sailors Delight will put a smile on your face!


RENDERED SMALL – Directed by Louis Cherry and Marsha Gordon, USA, 15 minutes.

Take a tour of the over 1,200 American folk art buildings on display in Steve Burken and Randy Campbell's private collection, located in Hillsborough, North Carolina. These diminutive churches, movie theaters, houses, schools, factories, bowling alleys, and more were made during the nineteenth and early twentieth centuries out of materials ranging from meticulously detailed tin and wood, to cigar and Velveeta boxes. The collectors have added on to their home multiple times in order to accommodate their continuously growing body of small structures. Over the course of the film, the caretakers of this impressive assemblage discuss their fascination and share what it is like to live in their world as the viewer experiences the visual wonder of their collection.


IARA - Directed by Erika Santos and Cássio Pereira Dos Santos, Brazil, 14 minutes, In Portuguese with English subtitles.

Iara, a beautiful young woman, sometimes described as having green hair, light brown or copper-colored skin (as that of an Indigenous Amerindian from Brazil) and brown eyes, connected to a fish body…typically thought of as a Mermaid. When she felt a man around she would start to sing gently to lure him. Once under the spell of the Iara, a man would leave his family to live with her underwater forever. Iara is a free interpretation of this old tale, but this time with a Sapphic twist.


THE PHANTASMAGORIA OF OFFENSE: THE MALE VERSION – Directed by Jess Irish, USA, 7 minutes

The Phantasmagoria of Offense is an animated film lyric about the costs of image suppression. In the "male version" corporal images focus on the male body, presenting a collage history that contrasts the cultural anxieties around expressions of vulnerability and homosexuality with power and privilege within the dominant paradigm. The political ramifications of image suppression during the AIDS crisis in the 1980s is questioned alongside the well-intended requests for "trigger warnings." If there is a take away message, it is that censorship is not an abstraction. It has a body count.
Curious about OUTshine? Visit their website and learn more about their twin festivals in Fort Lauderdale and Miami, Florida.
DC 2018 EXHIBITORS /// SNEAK PEEK
HEARTLANDIA
Cindy Lisica Gallery | Houston, TX
Monochrome Collective | Washington, DC
Most Wanted Fine Art | Pittsburgh, PA
BoxHeart Gallery | Pittsburgh, PA
Antieau Gallery | New Orleans, LA
ArtShape Mammoth | Burlington, VT
Pure Artistry Works | Philadelphia, PA
Walton Gallery | Petersburg, VA
Sean Christopher Ward | Wichita, KS
Gallery O on H | Washington, DC
CENTER STAGE
Zenith Gallery | Washington, DC
Touchstone Gallery | Washington, DC
Vox Populi Print Collective | Madison, WI
European Design & Art LLC | Miami, FL
Art Village Gallery | Memphis, TN
XOL Gallery | Baltimore, MD
glave kocen gallery | Richmond, VA
YNOBE DNA Gallery | Miami, FL
Gallery Orange | New Orleans, LA
RoFa Projects | Potomac, MD
Foundry Gallery | Washington, DC
Adah Rose Gallery | Kensington, MD
Susan Calloway Fine Arts | Washington, DC
FOTO KAIP-SOOL
Jeremiah Morris | Mount Crawford, VA
Lori Cuisinier | New York, NY
Alexandra Aroyo | New York, NY
The 36-24-36 Project | Brooklyn, NY
James Miille | Brooklyn, NY

ARTIST PAVILION
Brooke Rogers | Ocean City, MD
Julio Valdez | New York, NY
Svetlana Nelson | Madison, AL
Daniel Stuelpnagel | Baltimore, MD
Rogelio Maxwell | Washington, DC
Virago | New York, NY
Bruce McGowan | Montreal, Quebec, CA
JJ Galloway | Annapolis, MD
Deming King Harriman | Brooklyn, NY
Noel Kassewitz | Washington, DC
Kelly Moeykens | Washington, DC
Olan Quattro | Washington, DC
Fei Alexeli | Thessaloniki, Greece
Mary Westphal & Armand Fogels | Alexandria, VA
Susan Hostetler | Washington, DC
ALIGUORI | Fort Lauderdale, FL
Jaclyn Mottola | New York, NY
Emma Repp | Seattle, WA
Sheila Cahill | Washington, DC
Hannah Sarfraz | Gaithersburg, MD
Diana Contreras | Miami, FL
Brianne Lanigan | Arlington, VA
Brendon Palmer-Angell | New Orleans, LA
Dennis Crayon | Washington, DC
Julie Christenberry | Washington, DC
Joseph Meloy | New York, NY
Sarah Magida | Baltimore, MD
Scott Hutchison | Arlington, VA
Chaney Trotter | New York, NY
Joseph Shetler | Washington, DC
Aaron Patton | Wichita, KS
Stephen Perrone | Sylvan Beach, NY
Christine Ruksenas-Burton | Stone Ridge, VA
Sonja Rohde | New York, NY
Wayson R. Jones | Brentwood, MD
Michael Heilman | Alexandria, VA
Helen Robinson | Brooklyn, NY
Sarah Jamison | Washington, DC
Colleen Garibaldi | Washington, DC
Adam Chamy | Washington, DC
Steve Wanna | Mount Rainier, MD
Rod Webber | Boston, MA
Kathryn Jane Leung | Manassas Park, VA
D'Arcy Simpson | Hudson, NY