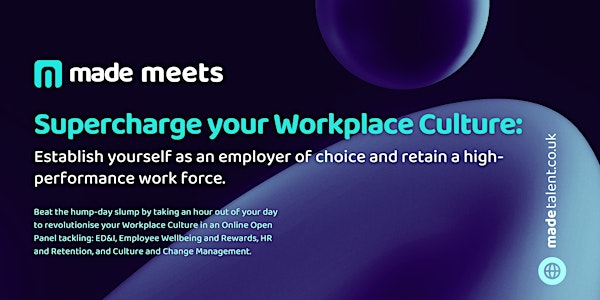 Supercharge Your Workplace Culture
Supercharge Your Workplace Culture
About this event
We've all been there: Wednesday afternoon comes along and you're feeling de-motivated. The runners high is wearing off and the weekend is nowhere in sight.
On Wednesday, October 12th, shake up your week by taking a bitesize chunk out of your day to benefit your staff! Log in to our online forum from the comfort of your own home or office to tackle Workplace Culture.
You might be asking yourself: How does this panel benefit my business? Wellbeing at work makes a hot topic for the world of Tech, and (for many) is the deciding factor when choosing a business to work for. According to a new CIPD study, one in five (20%) of workers in the UK say that it is likely they will quit their current role in the next 12 months, with 24% wanting a better work-life balance and 27% looking to increase job satisfaction.
If you're looking to save your favourite member of the team from Quiet Quitting, it's crucial to understand how to benefit your employees from more than one angle.
This panel puts you in front of pioneers of industry for 3 incredible talks:
Gethin Nadin - What motivates people beyond a higher salary
Marissa Ellis - Building An Inclusive Culture in a Hybrid World
Laura Tejada - Creating Positive Culture for Top Performance
Attending this one-hour panel will help you optimise productivity, promote equality, and improve the mental wellbeing for you and your colleagues.
By taking part, you also gain access to our Made Community: offering free networking, events, and working opportunities with top recruiters across the Tech for Good, Health Tech and Health space.
To sit in on this panel and get involved in the Made Community, get your FREE ticket below!