Supercharge Your Life With Pranayama

Saturday, January 18, 2014 from 10:00 AM to 5:00 PM (PST)
Event Details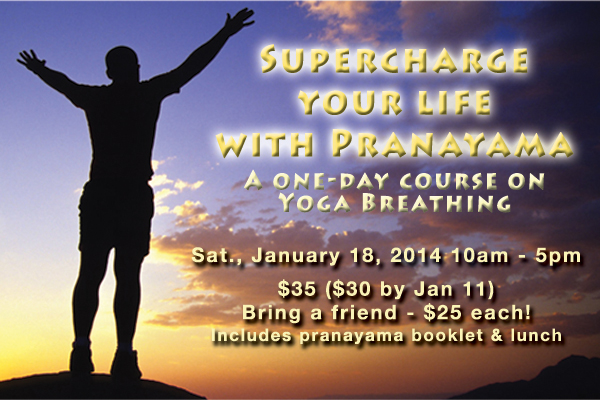 Breath is life! Our breathing affects our whole life, for better or for worse, and if we can control our breathing, in turn we can control our minds, emotions, and all aspects of our life.
Benefits of controlled yoga breathing include:
Increased vitality and psychic ability

Decreased stress

More positive approach to life

Mental and emotional balance

More restful sleep

Greater concentration and memory

Stronger awareness of our Divine self

In this course you will learn a powerful set of 6 yoga breathing exercises devised by Master of Yoga, Dr. George King (1919-1997), that can easily be performed by anyone. We will give you the tools and training that you need to include pranayama in your daily life and supercharge it!
_

*Course fee includes pranayama booklet
Contact Your Higher Self Through Yoga
, written by Dr. George King, and a vegetarian lunch. There will also be a free follow-up session (date to be determined).
Testimonials from previous pranayama workshop/course participants:
"Oscar was outstanding; very thorough, patient and highly knowledgeable. I thoroughly enjoyed the workshop and the manner in which he taught it." -SB
"I will make it easy and say everything was an absolute 5 stars... I would definitely recommend the workshop to others." -DL
"Thank you so much for the workshop. Overall, the workshop for me was an astounding success. Very awesome instructor! I just felt so good being there. Energy was awesome!" -AS
"I can't think of anything that could have been better. [His] attention and dedication with each student was excellent. I learned a lot and it is very much worth the time to take this type of workshop." -JM
---
For further info, please contact course instructor Oscar Leon at
(323) 465-9652, or oscar@aetherius.org
---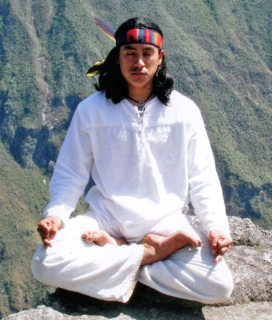 Oscar Leon
 is a native-born Peruvian raised in northern California. After spending most of his youth and young adult years in search of greater meaning in life, and later a path of spiritual service to humanity and the Earth, he found The Aetherius Society and joined as a Member in 2005. He currently is a resident and full-time employee at The Aetherius Society and is the Healing Program Administrator. He also serves as a Mentor and Prayer Team Member of The Aetherius Society. Oscar has been practicing pranayama for over 10 years and has led various classes on pranayama and other yogic practices.
When & Where

The Aetherius Society
6202 Afton Pl.
Hollywood, CA 90028


Saturday, January 18, 2014 from 10:00 AM to 5:00 PM (PST)
Add to my calendar
Organizer
The Aetherius Society
The Aetherius Society is a worldwide spiritual organization dedicated to the salvation and enlightenment of humanity – and towards the great dawning New Age of the Mother Earth. The Society was founded in England in 1955 by trance medium and Master of Yoga, Dr. George King, and later incorporated in America in 1960 as a 501(c)3 non-profit organization.
The Aetherius Society cooperates with Ascended and Cosmic Masters to help build the New World through spiritual energy radiation, healing, spiritual development and education. We are here to serve.
Our motto is: "Service is the Jewel in the Rock of Attainment"
For further information, please visit: www.aetherius.org
Supercharge Your Life With Pranayama