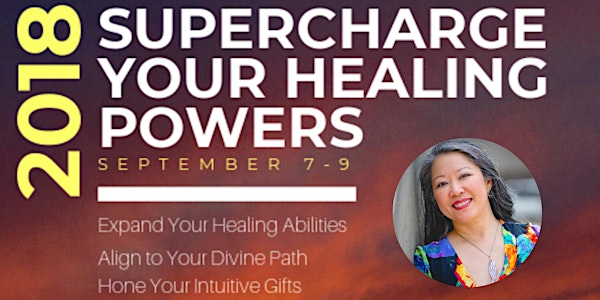 Supercharge Your Healing Powers 2018
When and where
Location
Lake Clear Lodge & Retreat 6319 New York 30 Lake Clear, NY 12945
Refund Policy
Refunds up to 30 days before event
Description
A 3-Day Training to Align with the Divine, Hone your Spiritual Gifts and Connect to your Soul Mission
Do you believe that you have a calling in life that requires your unique sensitivity and gifts?
Do you feel frustrated with all the negativity and chaos around you?
Do you feel misunderstood and unsupported because you're "different"?
Do you wish someone would show you an easier way to heal aches, pains, depression and anxiety?
If you said YES to any one of these questions, then keep reading.
The world and everyone in it is going through massive changes and it is known as the Ascension. With Ascension, powerful high vibrational energies are introduced and massive clearing of negative energies take place. Sensitive souls can feel frustrated because they know they have an important role to play in the Ascension but are often struggling with their health, money, or relationships. Not only that, they feel that their friends and loved ones don't understand or appreciate them - sometimes they are just labeled "weird". So they often feel alone in a world of insensitive people. And the worst part for sensitive souls is that they may not understand who they REALLY are and what they are here on this planet to accomplish, so this lack of clarity blocks them from manifesting a purposeful joyous life.
Ascension is by no means easy. But if you're a sensitive soul, there is good news!
If we haven't met yet, my name is Dr. Karen Kan. I am a physician specializing in spiritual medicine and I work with sensitive souls from around the world to help ground and integrate these ascension energies and teach them how to discover and hone their spiritual gifts. I help them understand who they really are and why they are here on earth, and teach them the skills necessary to manifest better health, joy and abundance in their everyday lives. I want to show you exactly how you can begin tapping into your spiritual gifts and co-creating the life you've always wanted.
Healing doesn't have to be hard.
In fact, you already possess the power to change your reality in a massive way!
Why I created this event:
It wasn't long ago that I felt like I was treading water like so many other people, just trying to survive and barely making ends meet. I was working super hard, but it seemed like it was never enough. Not only that, I was fraught with symptoms of being sensitive to everything and everyone. I couldn't understand why I suddenly had pain or fatigue seemingly for no reason.
Then one day, I finally found out who I really was, and it rocked me to my core. Finding out that my soul was a Lemurian Angelic being from a past life now reincarted in my body was shocking enough. But then discovering that I did not complete my Soul's Mission in that lifetime and that I had reincarnated to do exactly that in this lifetime was beyond belief. I was a "sensitive" soul, a starseed and earth angel.
I found out that the combined healing energies of the Archangels had been bestowed on my Lemurian self aeons ago. I was one of the original eight beings that had been personally attuned by Archangel Raphael. (Jesus was another of the original eight.) As a Lemurian healing master, it was my Soul's Mission to attune earth's inhabitants with this healing energy, spreading these healing frequencies far and wide. Unfortunately, when Lemuria was suddenly destroyed, I had not yet completed my mission.
I then realized that it was my mission in this lifetime to complete what I had started in Lemuria. I was to share these healing frequencies with the rest of the world and teach them how to use them to heal themselves and others. At first I could only attune people one at a time, through touch or crystals, but now, thanks to Ascension, I've been able to attune most of humanity en masse!
Most people don't even know they have these special healing frequencies that keep evolving and increasing in power and light with each Ascension upgrade. I created programs and events in order to teach people how to use their spiritual gifts and these abilities, which I now call TOLPAKAN(TM) Healing.
In short, TOLPAKAN(TM) Healing is a 3 step method that involves getting answers from Source through Divine Muscle Testing, Directing the healing and reassessing the results. It is quick and fast.
You do not have to be a professional healer to do amazing healing work.
My students have used TOLPAKAN(TM) Healing to manifest wonderful things such as:
dissipating a hurricane (Hurricane Patricia in 2016)
healing a pet's tumor
bringing back lost pets and loved ones
healing haunted homes
healing malfunctioning computers, cars and phones
healing a drowned young child
releasing symptoms of pain and depression
manifesting the return of a stolen car
....and much more.
There are more incredible stories. You can check them out HERE.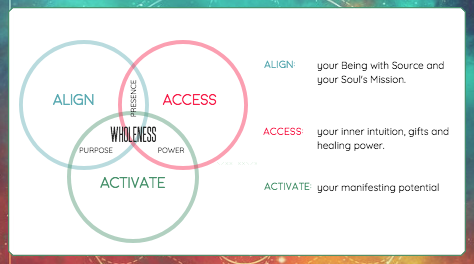 I invite you to join me, my Light Warrior students, and other energy healers at the Supercharge Your Healing Powers LIVE event where we will help you hone your energy sensing skills as well as your energy sending skills. By practicing TOLPAKAN(TM) Healing, you'll be increasing your Power levels, that is, your ability to make a shift purely from your intentions to physical reality. And in this event, I'll show you exactly how to do that.
Here is what you'll experience:
3 day immersion in the healing energies of the Adirondack Forest Preserve and the Lake Clear Energy Vortex
Being more in tune with your Intuitive Gifts
Practices to optimize and balance your Energy Body
Hand-on healing proxy technique
Remote energy healing technique
Understanding more of your Soul's Mission
Connection and love from other members of your tribe
An embodied experience of receiving Abundance
A greater appreciation and understanding of yourself
Feeling more grounded, nurtured, and peaceful
New experiences of Joy and Fun!
This event has been designed to be highly interactive where you'll not only be learning more about yourself as an energy being, but how to receive intuitive information and perform effective energy healing.
By the end of this weekend, you'll be able to:
use your intuitive gifts with greater precision in your every day life
direct energy healing in bigger more creative ways than ever before
feel more grounded in your Soul's mission
Check out this video where I show you where we'll be holding this event! (Check out all the butterflies!)
---
Limited-time Bonus worth $1000:
Pre-event Accelerator Training
If you register now, you'll receive bonus training in the months leading up to the event. You will receive a private login to your student portal where you'll be able to access the training and healing videos and your Vision form. Not only that, you'll also receive:

Personalized 7-Point Abundance Assessment based on your Vision form
TOLPAKAN(TM) Power Level reading before and after the event
Both will be emailed to you once you register and start your Accelerator training.
HERE'S WHAT TO DO NOW.
Step 1: Until April 15 2018 we have a special Super Early-Bird price available for our community for $97 which is 80% off the regular ticket price. There are only 30 available spots to receive a Sound Bath healing with certified practitioner Andrea Villiere - a once in a lifetime experience! To secure your place, just purchase your event and sound bath ticket(s) now before the deadline.
Step 2: For lodging/meal packages, go to the link: Lake Clear Lodge and Resort. Click BOOK button at the upper right hand corner of the website. Use PROMO CODE: KAREN2018. Please note that there are limited numbers of cabins and single occupancy rooms, so book early. Call the Lodge at 1-518-891-1489 and tell them you are attending the Supercharge Your Healing Powers event. To see a video of the retreat center where we'll be holding the event click HERE.
Step 3: Book your travel. If you're coming by plane, the closest airport is the Lake Clear airport (10 min drive to resort) and the next major hubs are: Albany, NY (ALB) (3 hour drive to resort), Plattsburgh, NY (PBG) (1.5 hour drive to resort), Montreal, Quebec Canada (YUL), and Burlington, VT (BTV) (2.5 hour drive to resort).
Step 4: Check your email for your friends and family discount as well as accelerator pre-event upcoming BONUS training.
Look forward to seeing you there!
CANCELLATION AND REFUND POLICY
60 days before event begins - Full refund minus $20 administration fee
30-60 days before event begins - 50% refund minus $20 administration fee
0-29 days before event begins - no refunds
Have More Questions? Check out this video where Dr. Karen Kan and Cathy Hohmeyer of the Lake Clear Lodge explain more about what to expect and how to book your tickets and accommodations!
To check the schedule of the event click here!
About Dr. Karen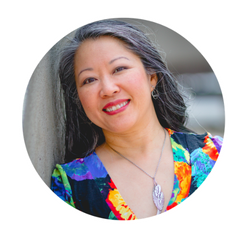 Dr. Karen Kan is a light medicine doctor, bestselling author, and founder of the Academy of Spiritual Medicine. As a mentor/healer, she helps highly sensitive people hone their superpowers, express their Soul's Mission and experience joy in the process. But what she's really passionate about is helping the world move from darkness into light.
Her popular online self-healing programs include:
Dr. Karen is the #1 Amazon bestselling author of Guide to Healing Chronic Pain - a Holistic Approach and is the host of a weekly radio show called Light Warrior Radio. Joining Dr. Karen's Light Warrior Network on Facebook is absolutely free and is perfect for sensitive souls who want to connect with others just like them.