SuperGirls Showcase what they learned during SuperCamp 2019
About this event
Join our brilliant and talent group of girls as they share what they have learned during SuperCamp 2019.
At the showcase, SuperGirls will:
Perform Poetry
Dance Afrobeats
Dance Hip-hop
Present their academic research
SuperCamp is a leadership camp for girls of African descent. We train girls to use their gifts and talents to make a difference in the world. During our intensive leadership camp girls work to gain or bolster self-efficacy, body confidence and knowledge of themselves and their communities.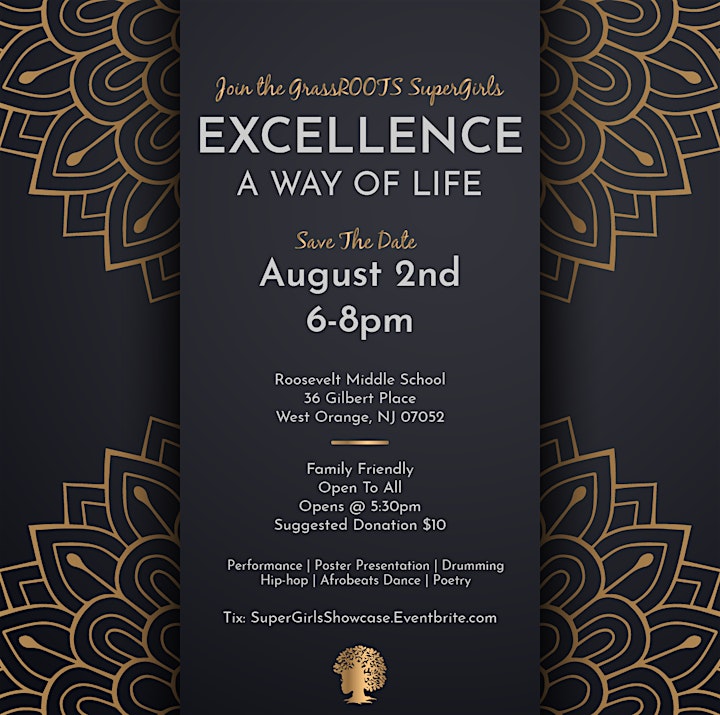 Organizer of SuperCamp Showcase

GrassROOTS Community Foundation (GCF) is a training institution with a focus on public health and social action. We work to enhance individual and family well-being, develop girl changemakers and mobilize community action. Our organizational practice, initiatives and programs are organized around the principles of justice and four intersecting areas of wellness: Physical Health, Mental Health, Sexual Health, and Economics of Health. Founded in 2011 by sociologist, Dr. Janice Johnson Dias, Associate Professor of Sociology at John Jay College of Criminal Justice with support from Tarik "Black Thought" Trotter of The Roots. Our mission is to create a world where all girls grow up to be healthy women.

GrassROOTS' board includes a group of professional working mothers and leaders: Lisa Maxwell, VP of Product Marketing-Mastercard; Mona Scott-Young, CEO of Monami Entertainment and Dr. Olivia Affuso, Professor of Epidemiology, University of Alamaba.