| | |
| --- | --- |
| | |
Event Details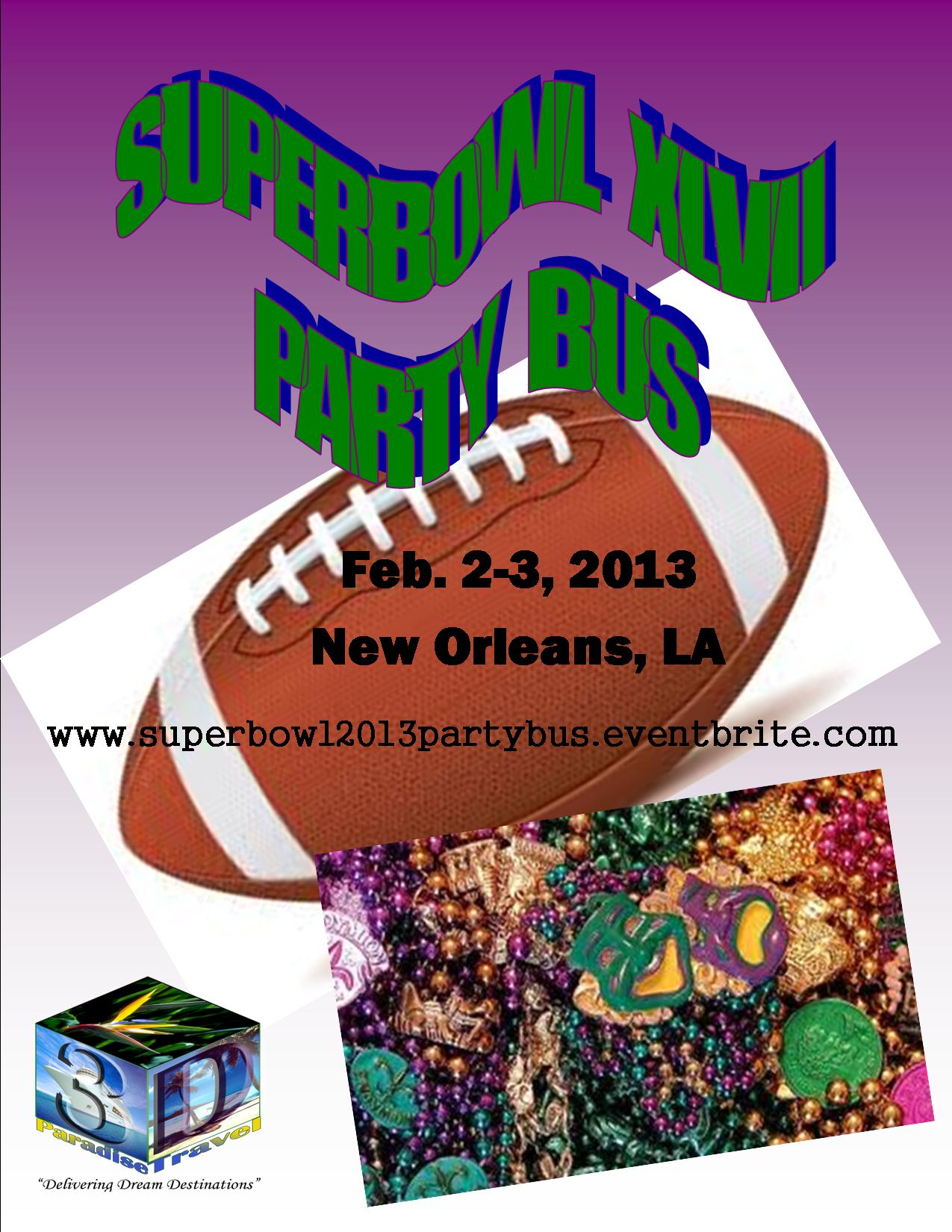 Superbowl XLVII
New Orleans, LA
February 2-4, 2013
(1 Day Trip)
$85 per person
JOIN 3D PARADISE TRAVEL & DIAMOND ULTIMATE'S SUPERBOWL PARTY BUS TO NEW ORLEANS and enjoy New Orleans...fun, food, parties, Bourban St., Mardi Gras parades, Harrah's Casino, and so much more.   
Price Includes
- Roundtrip motorcoach transportation from Atlanta to New Orleans
- Full Day in New Orleans
- Beer and Mixed Cocktails on bus
- Games and prizes, Movies, and Music on bus
- See the city, party on Bourbon Street, cajun food, music, superbowl
- If you require a hotel stay during our trip please contact me for current rates. You must book early to get the best rates and availability. *
Pick-Up Location
11PM (2/2/13 Saturday night) The Parking Spot 2 3600N Desert Drive, East Point, GA 30344
Please be at the pickup location before the bus arrives. The bus will pick up everyone at the scheduled time and will not wait for anyone not at the location. We are not responsible for cars left in the parking lot. Parking at The Parking Spot 2 is a secure location with a 24 hour parking attendant for a small per day fee.
Refresh
You will have 45 minutes to freshen up, change clothes, and do anything else to get ready for drop off in New Orleans at the Welcome Center.
Arrival in New Orleans
Everyone will be dropped off at Harrah's Casino.
Restaurants and bars are everywhere in New Orleans. The French Quarter is not far from Harrah's Casino and the parades aren't either. We will meet up at Harrah's Casino at 2am Central(3am Atlanta time) Monday night. Keep a close eye on the time.
Drinks on the Bus
This is a party bus! Remember to eat before boarding the bus. Definitely know your limit. If you become out of hand we will pull you to the side and tell you to get a grip. Please do not get offended. We all want to have fun. You may bring a small cooler containing your favorite beverages.
Arrival Back in Atlanta
Our buses will leave New Orleans at 2am central time (3am Atlanta/Eastern time) on 2/4/13 Monday morning) and arrive in Atlanta approx. 10-11am on Monday, 2/4/13.
Payments (prices subject to increase after January 18, 2013)
Full Payment - $85
2 Payments:
- January 15, 2013 - $45
- January 25, 2013 - $40
Policy
-Please adhere to the payment guideline above. If you do not make the scheduled payments you are at risk of cancellation. If you are unable to make a scheduled payment contact me ASAP to make arrangements.
-All payments are nonrefundable and nontransferable due to contractual agreements with the motorcoach company.
-Must be 21 years of age or older.
-A valid Government issued ID is required to board motorcoach and must match as listed on reservation. 
-We are not responsible for vehicles left at parking locations in Atlanta.
-In addition, we are not responsible nor held liable for motorcoach malfunctions during the trip.
-We are going to party and have a good time on the bus but please remember safety first and be respectful to other passengers.
-No illegal drugs will be tolerated if you violate the rule you will be removed from the bus with no refund.
 Please review our Policies at  http://www.3dparadisetravel.com/14.html
Like us on Facebook
www.facebook.com/3dparadisetravel
 Twitter
@3paradisetravel
For More Information
Visit our Website: www.3Dparadisetravel.com
Email Us: info@3dparadisetravel.com
Call Us: (404) 610-8149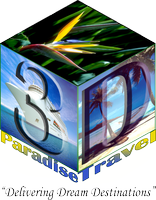 Organizer
3D Paradise Travel, LLC is a licensed full-service Atlanta-based travel and events agency, "delivering dream destinations" in paradise worldwide. We specialize in leisure, individual, group, organization and corporate travel and event services.
Services offered include, but not limited to" cruises, all-inclusive resorts, getaways, events, festivals, reunions, youth teams, fundraisers, custom packages, etc. Select from our pre-packaged travel or allow us to customize your experience for you or your group with convenient budget and affordable payment plans (when available).
3D Paradise Travel would like to take you to paradise, contact us today to coordinate your next exciting travel destination or event plans.
Contact:
Phone: (404) 610-8149