Actions and Detail Panel
Super Smash Bros Tournament
Fri, Mar 24, 2017, 5:00 PM – Sat, Mar 25, 2017, 12:00 AM EDT
Description
Upsilon Pi Epsilon (UPE) would like to cordially invite you to our Super Smash Bros. Tournament, taking place Friday, March 24th at 5pm in PG6 116. Registration includes entry to the tournament, a slice of pizza, a drink, a badge (with the character of your choice), and a raffle ticket!
This is a community event that will bring students from across campus to compete, socialize, and have a great time. The tournament will take place at FIU's Tech Station (PG6), which is equipped with large projectors, multiple tables with built-in displays, and space for over a hundred students. There will be many gaming stations, food, drinks, and giveaways from Nintendo, Amazon, and Discord. Prizes will include hardware, games, accessories, and more!
This event is open to everyone (both students and non-students). Participating organizations include Women in Computer Science, Academic Success Initiative, Theta Tau, IEEE, Eta Kappa Nu, Society of Women Engineers, Association for Information Systems, Geek Culture Club, Asian Student Union, and Panther Esports.
For more details, please check the FAQ found below. If you have any other questions, feel free to send us an e-mail or contact us through our Facebook page.
We hope to see you there!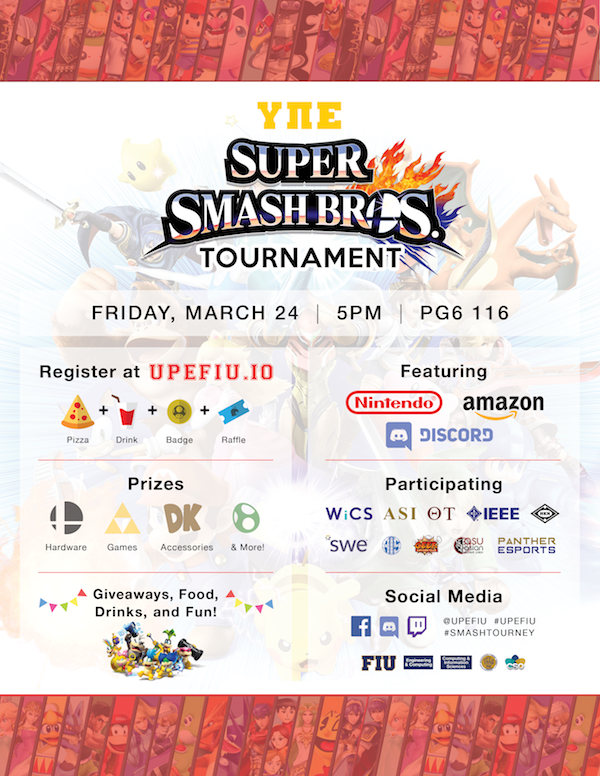 FAQ
Which version of Super Smash Bros will be used at the tournament?
We will be using the latest version of the game, Super Smash Bros for Wii U.
What are the tournament rules?
The tournament rules are posted here for your convenience.
Will controllers be provided or do I have to bring my own controller?
Controllers will be provided; however, you may bring your own controller as long as it meets the tournament requirements listed in the rules above.
Will the tournament be streamed?
Yes! Upsilon Pi Epsilon will be streaming the tournament live on Twitch.