SUPER SATURDAY & POWER TRAINING w/ Millionaire, DARNELL SELF!!!

Saturday, January 26, 2013 from 10:00 AM to 5:00 PM (EST)
Event Details
BREAKING NEWS... and it's HOTTT!!!
There will be ONE special "Event After the Event" taking place on Saturday evening after the Power Training. This will be a GREAT OPPORTUNITY to fellowship with MR. DARNELL SELF in a more intimate & fun setting.
This will be a Night of Bowling & Fun EXCLUSIVE for those who are attending the Super Saturday Event and who are "PERFORMANCE CLUB" or "POWER-20" Qualified in JANUARY by THIS FRIDAY, Jan. 25th!!!
Those who Qualify **MUST** inform us by **EMAIL** that you have "qualified" and will be attending this special event.
DEADLINE: Friday night, 10:00PM
Send email to: beryl_isaacs@yahoo.com
MAKE 2013 YOUR BEST YEAR EVER!!!
WRITE More Memberships!!... RECRUIT More Associates!!
BUILD a Bigger Team!!!... EARN a Bigger Income!!!
*** DON'T MISS THIS EVENT!!! ***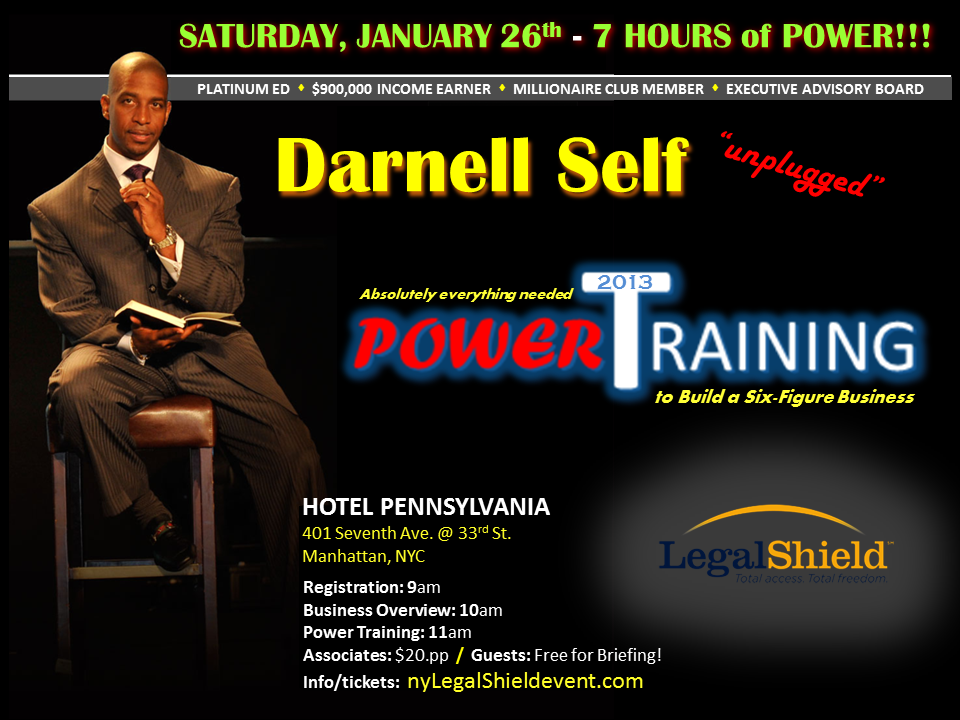 NY SUPER SATURDAY!
A POWERFUL EVENT TO START THE NEW YEAR!!!
Business Overview starts at 10:00a Sharp!
MR. DARNELL SELF will present the LegalShield Opportunity to your invited guests!  Have your team's Sharp Business Prospects "Take a Look" at our business with one of the Top Leaders in the entire industry!
Work with your team to Invite MANY Guests!
Powerful Business Overview
Financial Success Stories
Provider Attorneys
Business Skills Training
Special 2013 Presentation
Lots of Associate Recognition
*** ALL GUESTS ARE FREE for the Super Saturday! ***
>>>>>>>>>>   BREAK FOR LUNCH   <<<<<<<<<<
ADVANCED POWER TRAINING
*** THIS SEGMENT IS FOR ASSOCIATES ONLY ***
Any "guests" who attend Super Saturday and become new Associates, may attend the ADVANCED POWER TRAINING w/Darnell Self, at the regular $20. Associate fee.
The KEY to Building a Large, Productive Organization of Associates is to...
1. Become an Effective Leader
2. Identify & Develop other Leaders on Your Team.
DARNELL SELF'S ADVANCED TRAINING
Darnell & Traci Self have built an empire within the Network/Direct industry. Mr. Self's systematic approach to team building has allowed him to grow an organization of over 100,000 Independent LegalShield Associates throughout North America.
In the last decade, the success system implemented by Mr. Self has produced forty-two Six-Figure income earners who all work from home. In addition, he has helped thousands of families match or exceed their full-time incomes with LegalShield as a part-time, home based business.
In a rare and unique event, Mr. Self will share his Knowledge in a open, honest and very direct Advanced Training Session. He will teach you exactly what you need to KNOW and ultimately what you need to DO in order to become more productive in 2013. As a result of your attendance and participation at this special event, you will be better prepared for success and rapid growth in your LegalShield business!
---------------------------------------------------
SUPER SATURDAY & POWER TRAINING
Saturday, January 26, 2013
Registration opens: 9:00am
Event Starts Promptly: 10:00am (Invite MANY Guests!)
Location:
HOTEL PENNSYLVANIA
401 Seventh Avenue @ 33rd St.
Manhattan, NYC
18th Floor
Across from Madison Square Garden
 ---------------------------------------------------
Event Tickets
ASSOCIATES: $20.00 per person
GUESTS ARE FREE for the SUPER SATURDAY Event !!!
(Invite MANY Guests)
Any Associate who attempts to enter room as a GUEST, will be asked to leave event!
Any "guests" who attend Super Saturday and become new Associates, may attend the ADVANCED POWER TRAINING w/Darnell Self, at the regular $20. Associate fee.
PLEASE ARRIVE PROMPTLY / BUSINESS ATTIRE / NO SMALL CHILDREN
You're welcome to bring light snacks into room.

*
Organizer
LegalShieldEvents
LegalShield Field Leadership Team: RGM, NVPs, BVPs, RMs, CMCs & Exec. Directors
SUPER SATURDAY & POWER TRAINING w/ Millionaire, DARNELL SELF!!!