About this Event
SUPER NETWORKING MASTERCLASS in BANGKOK
Date : 21st October 2019 (Monday)
Time : 7pm - 10pm
Venue : The​ Lounge195, M​ Floor, Empire​ Tower​ Sathorn
Ticket Fee : Free Admission (Usual Price: US $49)
*First 25 registrants will get Steve's exclusive Million Dollar Networking checklist of his successful networking skills. (Worth US $89)
วันที่: 29 ตุลาคม 2562 (วันจันทร์)
เวลา: 19.00 - 22.00
สถานที่: The​ Lounge195, M​ Floor, Empire​ Tower​ Sathorn
ค่าธรรมเนียม : บัตรเข้างานฟรี (ราคาปกติ 49 ดอลล่าร์)
*ผู้สมัคร 25 ท่านแรก จะได้รับรายการ Million Dollar Networking สุดพิเศษจากคุณ Steve Wee ซึ่งได้ รวบรวมทักษะการสร้างเครือข่ายที่ประสบความสาเร็จ ไว้อย่างมากมาย (มูลค่า 89 ดอลล่าร์)
_____________________________________________________________
It's not WHAT you know BUT WHO YOU KNOW.
Discover How Smart Entrepreneurs Network Effortlessly Without a lot of Money & Time Guaranteed...
Have you ever wondered how to get ACCESS TO High-NetWorth and Highly Connected Entrepreneurs EASILY?
STEVE WEE came from humble beginnings starting from being a Singapore Airlines flight attendant to be a founder of HIGH FLYER ASIA that span across 17 Asia countries with multi-million dollar net worth individuals.
Why figure it out yourself when you could learn from someone with years of experience and LEVERAGE on his network?
สิ่งที่คุณรู้และเข้าใจ ไม่สาคัญเท่ากับ คนที่คุณรู้จัก
มาร่วมกันค้นหาและศึกษา วิธีการสร้างเครือข่ายของ ผู้ประกอบการที่มีประสิทธิภาพ ซึ่งจะทาให้เราไม่ สูญเสียเงินและเวลาไปโดยเปล่าประโยชน์
คุณเคยสงสัยไหมว่า เราจะทาอย่างไรให้เข้าถึงเครือข่าย ที่มีประสิทธิภาพและผู้ประกอบการที่มีคอนเนคชั่นทาง ธุรกิจได้อย่างง่ายได้
Steve Wee ผู้ที่เริ่มต้นอาชีพด้วยการเป็นพนักงาน ต้อนรับบนเครื่องบินของ Singapore Airlines ได้ กลายเป็นผู้ก่อตั้งของ HIGH FLYER ASIA ซงึ่ ได้เติบโต และขยายไปยังอีก 17 ประเทศในทวีปเอเชีย ซึ่ง ประกอบไปด้วยบุคคลที่มีรายได้สุทธิหลายพันล้านดอล- ล่าร์มากมาย
ทาไมเลือกที่จะเสียเวลาเรียนรู้ด้วยตัวเอง ในเมื่อคุณ สามารถเรียนรู้จากผู้ที่มีประสบการณ์และสามารถต่อ ยอดธุรกิจของคุณจากเครือข่ายของเขาได้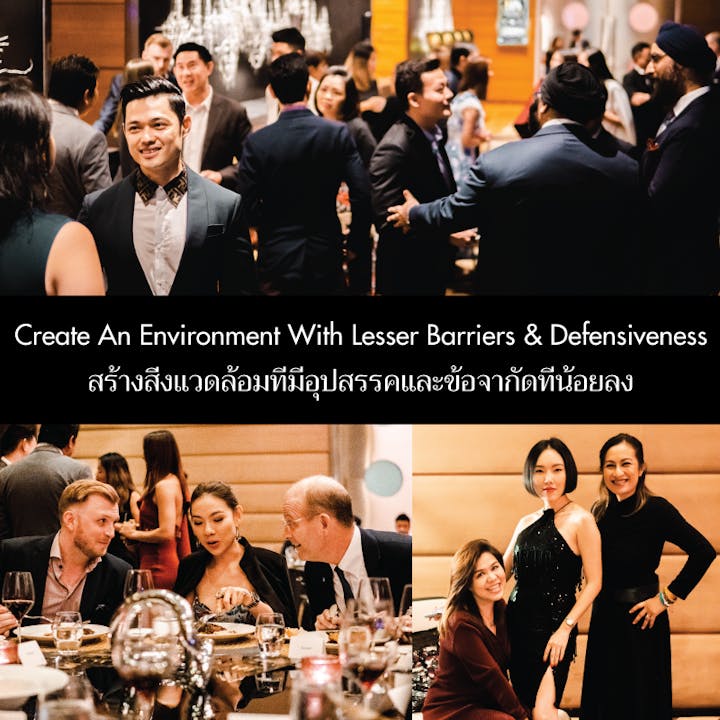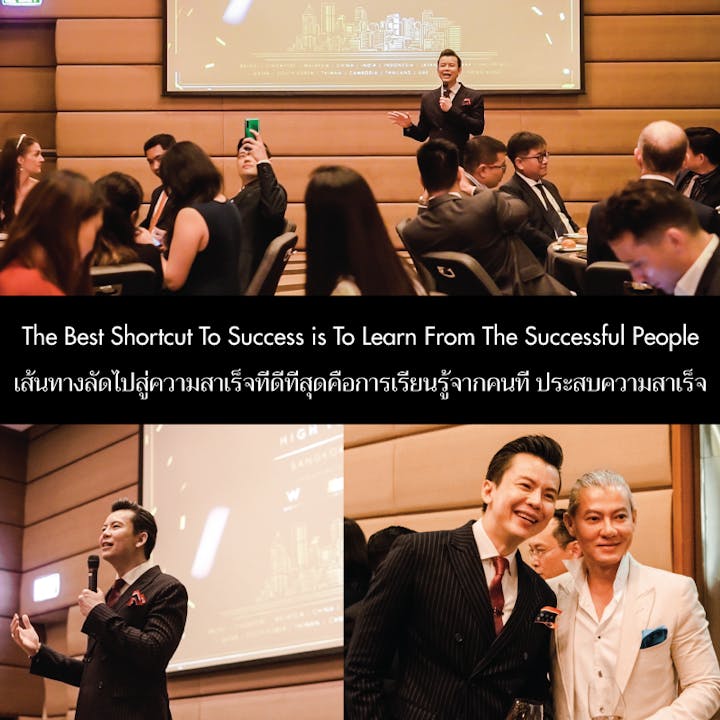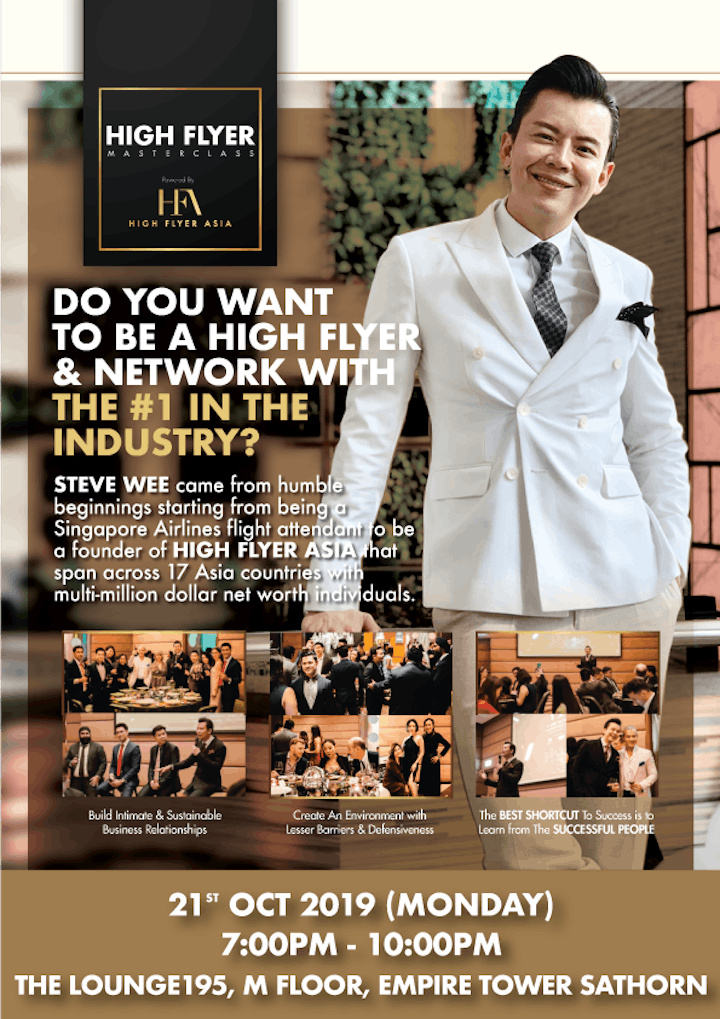 Seats are limited, get your FREE ticket now!
ที่นั่งมีจำกัด​ จองบัตรเข้างานฟรี​
Follow us at
High Flyer Asia Facebook: https://www.facebook.com/HighFlyerAsia
High Flyer Asia Instagram: https://www.instagram.com/highflyerasia/
If you have any queries, feel free to contact us at 0815915622
ติดตามเรา High Flyer Asia ได้ที่
Facebook: https://www.facebook.com/HighFlyerAsia
Instagram: https://www.instagram.com/highflyerasia/
หากคุณมีข้อสงสัยใด ๆ สามารถติดต่อเราได้ที่ 0815915622