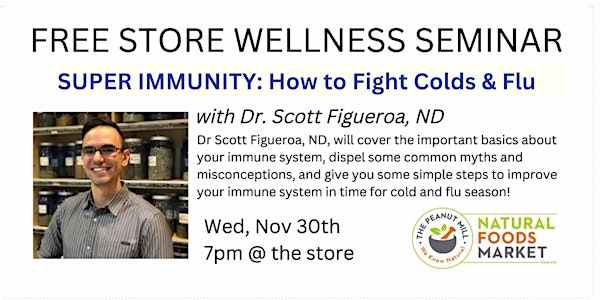 Super Immunity: How to Fight Colds & Flu with Dr. Scott Figueroa, ND
Learn important facts and fiction about your immune system and how you can naturally prepare yourself for cold and flu season!
When and where
Location
The Peanut Mill Natural Foods Market 191 Welland Avenue Saint Catharines, ON L2R 2P2 Canada
About this event
Dr Scott Figueroa, ND, will cover the important basics about your immune system, dispel some common myths and misconceptions, and give you some simple steps to improve your immune system in time for cold and flu season!
Additional Information:
Ontario's chief medical officer of health is "strongly recommending" that Ontarians wear masks in all indoor public settings. Masking in the store or at our public events is not mandatory at this time; however, we encourage and support you to take whatever precautions you feel necessary to make this event safe and comfortable for you.