Sales Have Ended
Ticket sales have ended
Hi Super Fan! Tickets sales via Eventbrite are now closed, but have no fear - tickets will be sold on site at Super Fan Fest in Wynwood, Miami! Make sure to stop by and celebrate The Big Game weekend with us! -SWARM
Sales Have Ended
Ticket sales have ended
Hi Super Fan! Tickets sales via Eventbrite are now closed, but have no fear - tickets will be sold on site at Super Fan Fest in Wynwood, Miami! Make sure to stop by and celebrate The Big Game weekend with us! -SWARM
Description
Super Fan Fest presented by AT&T is a week-long free event nestled right in the middle of Miami's hottest neighborhood, Wynwood.
Super Fan Fest is 80,000 square feet of action, activities and – best of all – people watching. At the center of it all is thedeck, a 9,000 square foot sports bar complete with South Florida's top resident DJs, dozens of TVs, and one of the largest LED screens you've ever laid your eyes on. The craft beer, mojitos, and custom cocktails will flow each and every day at thedeck, a unique indoor/outdoor venue found nowhere else in Miami. The onsite Thrifter Market and Food Truck Alley will ensure visitors come and stay for a while.
And we can't forget about our favorite sport, football! Fans will be able to play pick-up touch games on the flag football field and watch from authentic bleachers, try to kick it though the regulation field goal post, take a shot at the daily run, pass, and kick contests, and much more
And best of all, Super Fan Fest is
completely free and open to the public

. Make sure to RSVP to get on the roster for a FREE beer!


Hours:
Thursday: 4PM - 2AM
Friday: 12PM - 5AM
Saturday: 12PM - 5AM
Sunday: 11AM - 2AM
---


PREMIUM VIP TICKET INCLUSIONS:
Private Bar with Unlimited Sponsored Cocktails/Spirits, Beer, and Wine (8pm-3am)
Front of Stage VIP Access
Luxury, Air-conditioned Restrooms
Commemorative VIP Credential
Stagefront VIP lounge
Private Entrance
VIP TICKET INCLUSIONS:
Private Bar with one(1) Complimentary Sponsored Cocktail or Beer
Luxury, Air-conditioned Restrooms
Front of Stage VIP Access
Stagefront VIP lounge
Commemorative VIP Credential
Private Entrance
Special Celebrity Apperances by:
Cheat Codes, J Alvarez, Darell, Rae Sremmurd, Nitti Gritti, Brian Westbrook, Brett Favre, Mark Ingram, Rick Flair, Matt Hasselbeck, Dennis Rodman, and Ricky Williams
ACTIVATIONS:
- We will be hosting VIP Autograph Signings with Dennis Rodman Friday Jan 31, 2020 from 8pm to 10pm & Ricky Williams on Saturday February 1, 2020 from 8pm to 10pm They will be hanging out, signing autographs, and taking photos with fans. For more information on this activation, click here.


POO-POURRI CELEBRITY APPEARANCE SCHEDULE:
DROP BY POO-POURRI'S GIANT POO AT SUPERFANFEST TO SEE ALL-STARS
DANNY AMENDOLA, BRETT FAVRE, RIC FLAIR, BRIAN WESTBROOK,
CHARISSA THOMPSON, MARK INGRAM, MATT HASSELBECK AND MORE!
Thursday, 1/30
·
4:00-5:00pm - Mark Ingram Jr.
Friday, 1/31:
·
4:00-4:30pm - Danny Amendola chats with Jeff Darlington
·
6:30-7:30pm - Brian Westbrook
Saturday, 2/1:
·
12:00pm -1:00pm – Ric Flair
·
1:30-2:30pm - Matt Hasselbeck & Brett Favre chat with Charissa Thompson
AT&T Elevate Main Stage & AT&T VIP Pit
Bringing top artists to the AT&T Elevate Main Stage. Stay alert for your chance to score tickets to the AT&T VIP Pit, where you will be up close and personal with your favorite artists.
---
PERFORMANCE LINEUP:
Thursday: Cheat Codes

Friday: J. Alvarez & Darell


Saturday: Ray Sremmurd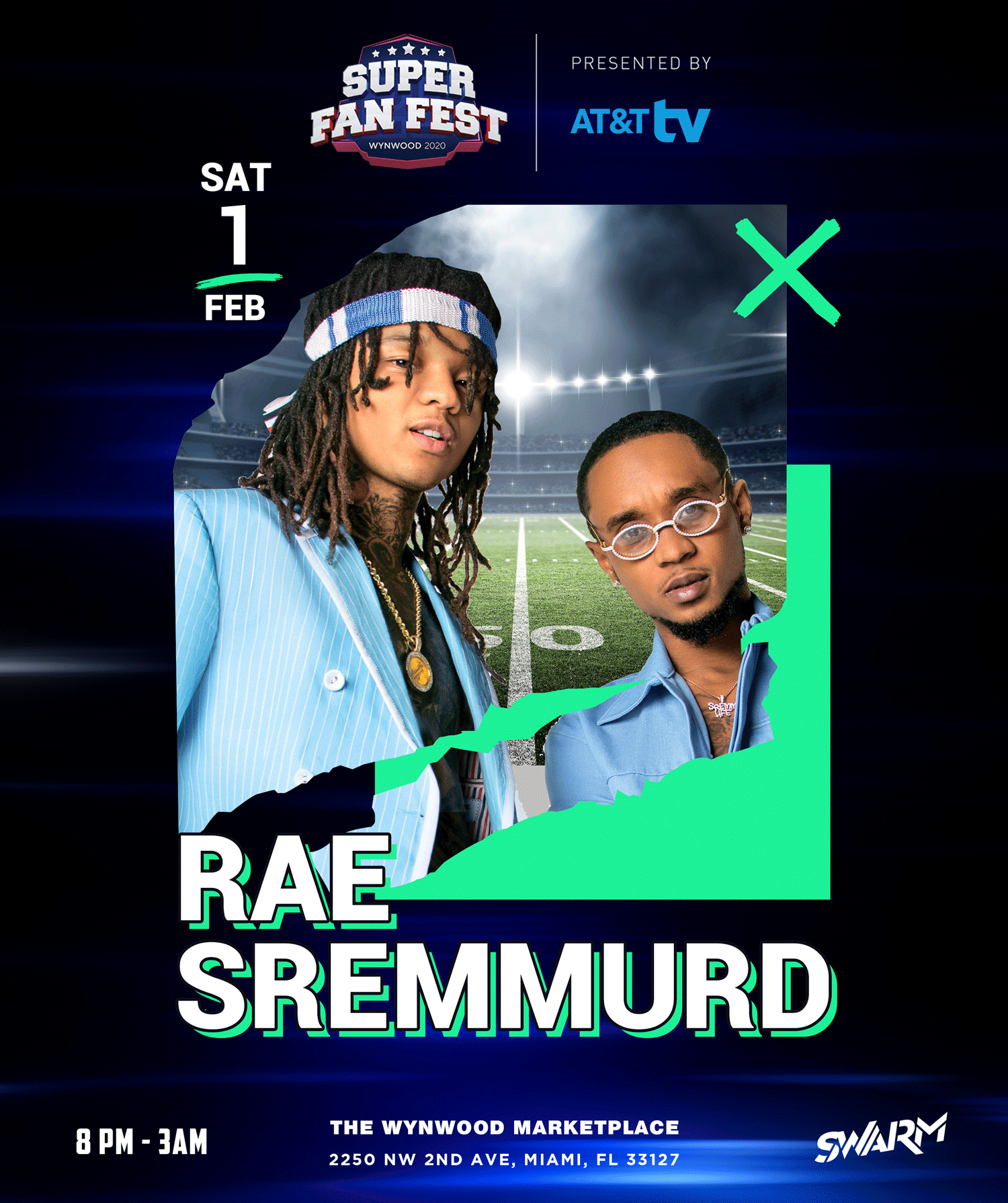 Bud Light Sport Deck & VIP Lounge

Join us at the Bud Light Sports Deck, where signature drinks will be flowin' and an abundance of TV's will excite any Super Fan in attendance.

Photo Op: 3D Postcard
We're kickin' it old school with two unique photo-op's. Step into a vintage Miami postcard or the classic Miami Beach Lifegaurd Stand, it's bound to be picture perfect for anyone from out of town!
Caja China Tailgate Experience

The Caja China Tailgate Experience presented by Cruzan Rum & Jim Bean is the perfect location to turn your vehicle into the perfect tailgate weapon while showing off your BBQ skills. Daily workshops by award-winning grill masters will be giving you professional tips on grilling at home or at The Big Game.

Fast on your Feet
They say you are born with speed, or you aren't. Located inside our Punts & Pints Beer Garden presented by Bud Light, you will have the opportunity to find out if you've got the speed with our 40-yard dash, where you'll be racing against our virtual sprinters.


Front of House Bar
Where football fans will unite in Wynwood when they get thirsty! Grab an ice cold beer by Bud Light, a Smartwater to keep you hydrated, Coca-Cola to quench your thirst, Le Roséy for the ladies, or a Monster Energy Drink to keep you going throughout the day! Then kick back & enjoy the Super Fan Fest maddness.

Punts & Pints Beer Garden presented by Bud Light
GRO Wynwood presented by Patagonia Food & Beer Hall
Field of Dreams
Thread the Needle Challenge

Learn more of these activations at superfanfest.com !
For Vendor Opportunities, please email hello@thrifter.cool.
For Sponsorship activations or opportunities, please email partners@swarminc.com.