Description
*THIS IS A MOBILE SPORTS SCAVENGER HUNT*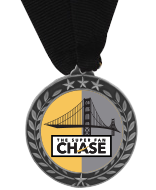 Are you an ultimate Super Fan? NBA Playoffs 2017 begin on April 15, and we are celebrating with a Super Fan Chase - Playoff Edition! Join the Chase for your chance to WIN a pair of playoff tickets! We will be donating at least 10% of every registration to the Fellowship of Christian Athletes, a non-profit faith-based sports program.
What: This is a sports-themed scavenger hunt to celebrate 2017 NBA Playoffs!

When: Round 1 - 2017 NBA Playoffs
Where: Upon registering, you will receive a detailed email to start your chase. You choose the clues you want to complete to win the prizes you want to win (simple).
Why: It's Playoff Celebration time! Play for fun, prizes and for a cause!
Cost: FREE - you can choose to donate to the cause or pay $10 and that includes your Super Fan Chase medal and the opportunity to win a variety of sports-themed prizes along the way. Plus, at least 10% of every entry will be donated to the Fellowship of Christian Athletes. *We are in no way affiliated with this charity, we like to choose a different charity for each of our events and are happy to raise funds for them.