Event Information
Refund Policy
Contact the organizer to request a refund.
Eventbrite's fee is nonrefundable.
Healing and Revealing Your Life! with Universal Core Healing
About this Event
Welcome to School of Universal Core Healing. It is the home of Psychic Training through Healing and Revealing your Life! It is the only school of its kind in the western world today. So what is it that we do here? We train for and develop our psychic skills accurately as needed to obtain Super Consciousness. Reaching, obtaining and mastering Super Consciousness is the goal here. Obtaining Super Consciousness will allow many wonderful abilities to flourish without any limitations.
Universal Core Healing and Psychic Development is one class. Here is how our class works. Universal Core Healing incorporates Spiritual Energy Healing with Psychic Development together. Our concept is simple, we identify exactly what needs healing with the Super Conscious mind, not the human mind. What needs healing is what blocks us from developing into our Super Consciousness. We learn to identify and heal what needs healing in our life. This allow us to move forward into the new higher vibrations with little or no resistance..
Here is our own definition of Super Consciousness it will differ from mainstream definition.
1: transcending human consciousness. 2 : of, relating to, or possessing the highest consciousness or a margin of consciousness above that within the ordinary range of human attention —3: transcending into the highest possible vibrational scale possible while in the human body. 4: In contact and receiving energy and information from other forms of existence that operate and exist in higher forms of evolution. The ability to receive the absolute truth about anything without any exceptions.
The first step in understanding Super Consciousness is learning what stops, derails, or prevents you from reaching this state of existence. The answer is simple. Your negative karma inside your life theme. We here at Universal Core Healing have titled your negative karma "Karmic Imprints" these Karmic Imprints are vibrational scales that have been preprogramed by your negative Karma from previous incarnations and your current incarnation. We have both good and bad Karmic Imprints in our life themes. The negative karmic imprints are what we heal and the good ones we leave alone. Karmic Imprints are activated and stored in your subconscious mind.
Karmic Imprints create, manifest disease and or reoccurring negative life patterns inside your life theme.
Negative Karmic Imprints that are active and that have not been identified, neutralized, or released, are engineered by the Creator to stop, halt, the higher Super Consciousness from developing inside of you. You will never be able to obtain this state of Super Consciousness without doing the following. Accurately identifying, accurately neutralizing, and accurately releasing the most prominent Karmic Imprints inside your life theme! This is why the class is titled Psychic development through Healing and Revealing Your Life. We start with Psychic development and through healing and revealing your life, you can obtain your very own Super Consciousness.
What we need from a new student:
Let go of your ego! Let go of all the past training it will hinder you in this class. If you cannot let go of what you have learned in the past, this class would not be for you. Universal Core Healing is like no other class. It will go against some of the teaching of Metaphysical Community. If your ego is too strong, then this is not the class for you. We only accept students that are humble, have little ego, dedicated to their long-term spiritual development and are in gratitude.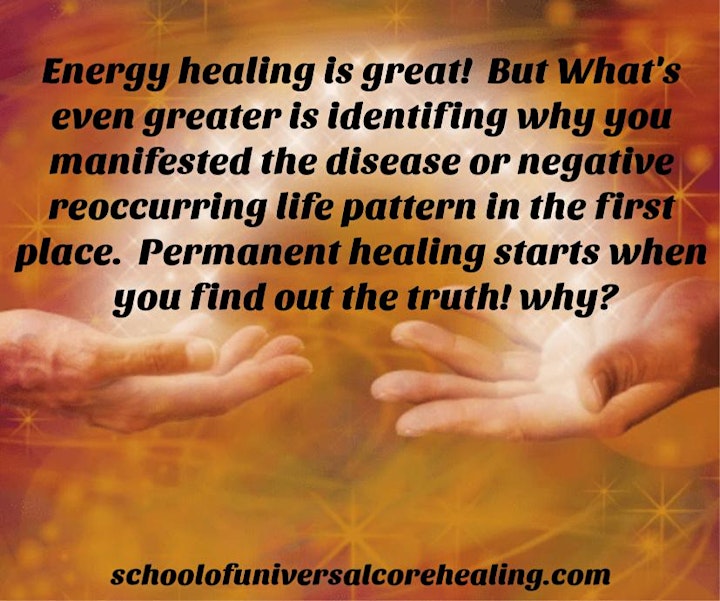 Location
Refund Policy
Contact the organizer to request a refund.
Eventbrite's fee is nonrefundable.