Event Information
Location
Gleneagles Country Club, Gleneagles Room
5401 West Park Boulevard
Plano, TX 75093
A panel of leading B2B sales and marketing experts will provide you the fuel to kick revenue growth into overdrive.
About this event
"I don't really want to grow my topline" said NO BUSINESS OWNER EVER! On May 19 we will bring together a panel of leading B2B sales and marketing experts that will provide you the fuel to super charge your revenue engine. As the next installment in our Entrepreneur Education Forum series, you do not want to miss this event. Our past events have all received 100% satisfaction, 100% likelihood to attend another and 100% likelihood to recommend a peer attend!
We will cover topics such as:
What are the common missteps companies make when trying to generate leads?
How do you know what tactics to use to grow revenue?
What best practices define the optimally integrated marketing and sales functions?
How long does it take for marketing to impact sales?
How much should I be spending on growth?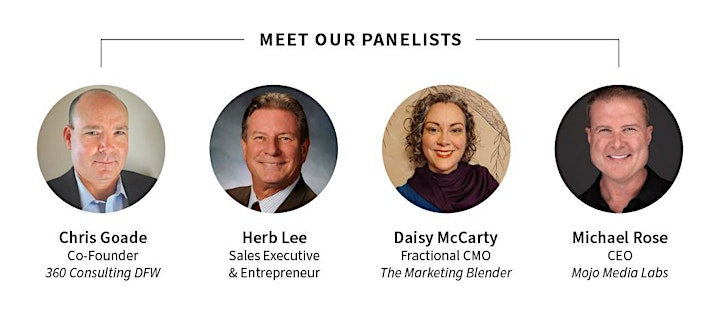 Chris GoadeLinkedIn
Chris Goade is Co-Founder of 360 Consulting. 360 works with clients to develop scalable sales systems and winning performance-based teams that achieve revenue growth and profit goals.
360 Consulting's mission is to coach leaders to drive their business and achieve exponential success. The company was developed on the founding principles of developing relationships, identifying gaps using an outside, diverse perspective and focusing to achieve record-breaking sales results. As a visionary leader, Chris' goal is to get leaders out of the weeds so they can execute with precision, every time with every client. 360 Consulting works right next to you, because they have been there, and they know what it takes to win.
Through blended experience, from international corporations to entrepreneurial start-ups, 360 has developed a unique skill set which develops customized programs for businesses at all stages. Their innovative and transformational approach helps business leaders and their sales teams execute with purpose resulting in revenue and profit growth. 360 works to make your highest vision a reality.
Herb LeeLinkedIn
Herb Lee started his sales career in Dallas, Texas in 1970. First, he sold commercial laundry equipment to hospitals and industry. Then he sold textiles and helped run a "cut and sew" operation with mills based in Georgia and Texas. Next, he sold design services and interior finish out products for several companies including Burt Copeland's. Finally, Herb transitioned into water conservation products and services, building his own distribution companies and also representing several product lines before retiring in 2020. A native of Chicago, Herb attended Southern Illinois University and served in the U.S. Marine Corps.
Daisy McCartyLinkedIn
Daisy works with innovators and business leaders to nail down exactly how to engage and persuade customers. Since 2008, she has been crafting brand messaging and marketing strategies to accelerate success for over 100 B2B companies.
"I love seeing business leaders gain clarity on their branding and start hitting their goals for revenue growth. When I'm not writing, I play the banjo to relax and recharge my creative batteries." – Daisy McCarty
Michael Rose LinkedIn
A scientist by training, speaker, author and entrepreneur by drive, Michael brings a level of business acumen to marketing strategy that is rare in the emerging online marketing space. Michael's strong knowledge and understanding of business challenges, as well as marketing best practices, has evolved to him authoring and speaking on a new and innovative game-changing approach to business entitled ROE Powers ROI - The ultimate Way to think and communicate for ridiculous results. The Return on Energy methodology is the secret sauce behind Mojo's success and that of their clients.
Michael is responsible for driving the Mojo brand expectations so everyone at Mojo Media Labs can provide the best possible brand experience for their clients.
Michael graduated from Texas Wesleyan University with a degree in Biochemistry, is a long-standing member of the Entrepreneurs' Organization, and guest lectures in the areas of marketing and organization development.
Ladies and Gentlemen: Start your engines and race to this event! You will be glad you did!
Burt Copeland Chris Goade
Founder/CEO, New Life CFO Co-Founder, 360 Consulting DFW
Date and time
Location
Gleneagles Country Club, Gleneagles Room
5401 West Park Boulevard
Plano, TX 75093