About this Event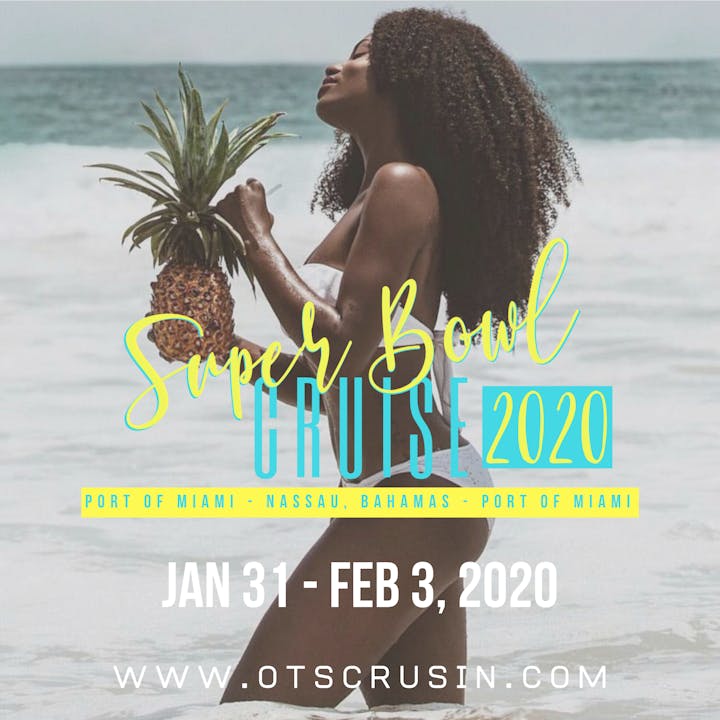 It's going down... The "Official" Super Bowl Cruise 2020, presented by Official_Travel_Solutions... It's gonna be party at sea like no other!! Come rep your squad onboard the Carnival Victory as we cruise from the Port of Miami to Nassau, Bahamas all while celebrating the Big Game on the high seas!! #SuperBowlCruise2020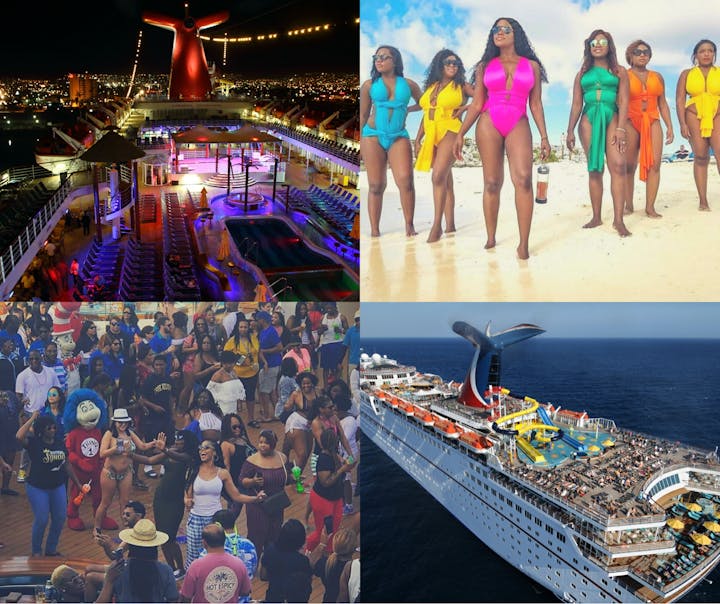 JOIN US FOR 3 DAYS FILLED WITH THEMED PARTIES, OPEN BAR, ADULT GAMES, COMEDY SHOWS AND MORE!
SAILING ABOARD CARNIVALS
"VICTORY"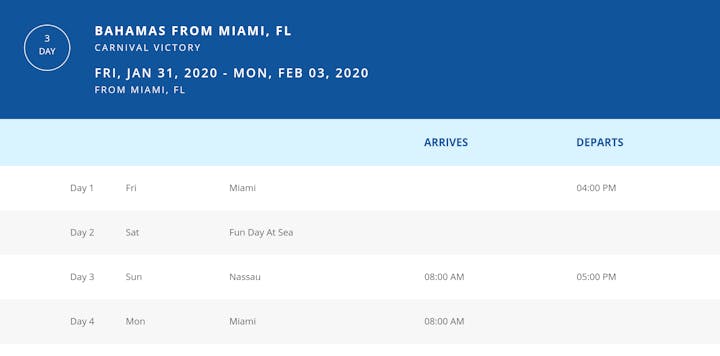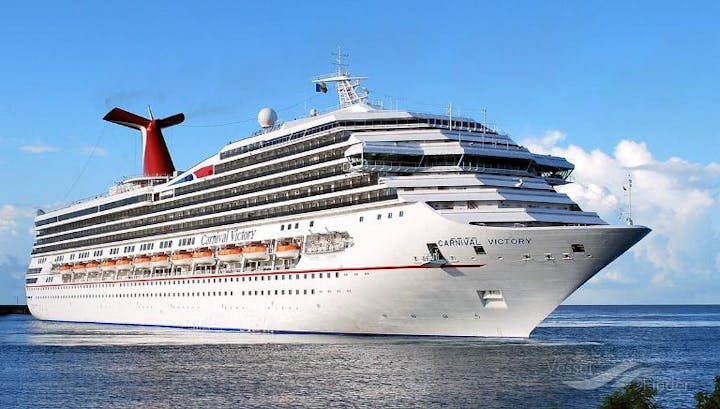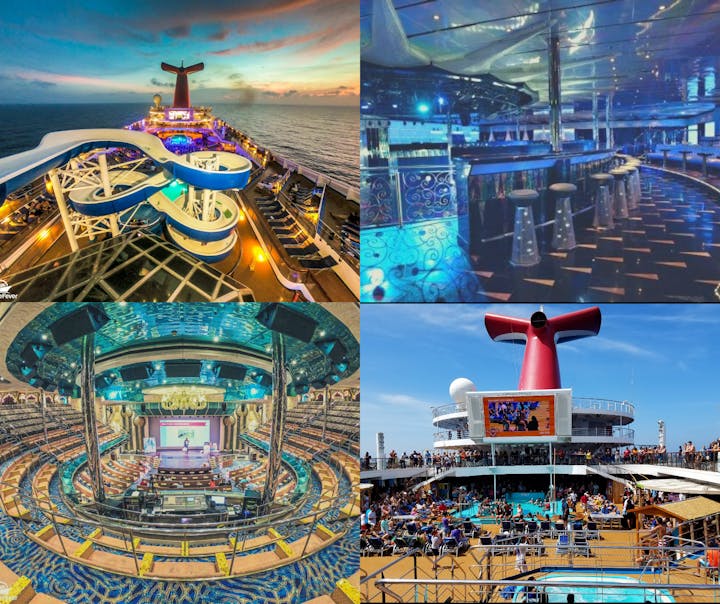 PACKAGE INCLUDES:
- ACCOMODATIONS IN THE CABIN CATEGORY OR YOUR CHOICE. https://www.carnival.com/staterooms.aspx
- UNLIMITED ACCESS TO ONBOARD DINING (WITH THE EXCEPTION OF SPECIALITY DINING RESTAURANTS)
- 24 ACCESS TO ROOM SERVICE
- SELECT NON-ALCOHOLIC BEVERAGES
- SUPER BOWL @ SEA MEET & GREET AND COCKTAIL PARTY
- SUNDAY BRUNCH
-$25 ONBOARD CREDIT
-SUPER BOWL SWAG BAG
- ALL ONBOARD ENTERTAINMENT & OTS PLANNED ITINERARY
- ALL TAXES, FEES AND PORT CHARGES.
PACKAGE DOES NOT INCLUDE:
-TRANSPORTATION TO AND FROM PORT OF MIAMI
- AIRFARE TRANSFERS TO AND FROM PORT OF MIAMI
- PARKING
- ALCOHOLIC BEVERAGES & SODA
- SPA & SALON SERVICES
- SHORE EXCURSIONS
- TRAVEL INSURANCE
- GRATUITIES
*QUOTES FOR NON INCLUDED SERVICES CAN BE PROVIDED UPON REQUEST*
ALL ACCESS
Our OFFICIAL ACCESS PASS includes all access to all Theme Parties, Group Activities, Discounted Excursions, & more! This Pass also includes our signature Official Travel Solutions gift bag, a Super Bowl 2020 T-Shirt & Collectors Item. VISIT otscrusin.com/sbc-2020-itinerary TO PURCHASE AN OFFICIAL ACCESS PASS.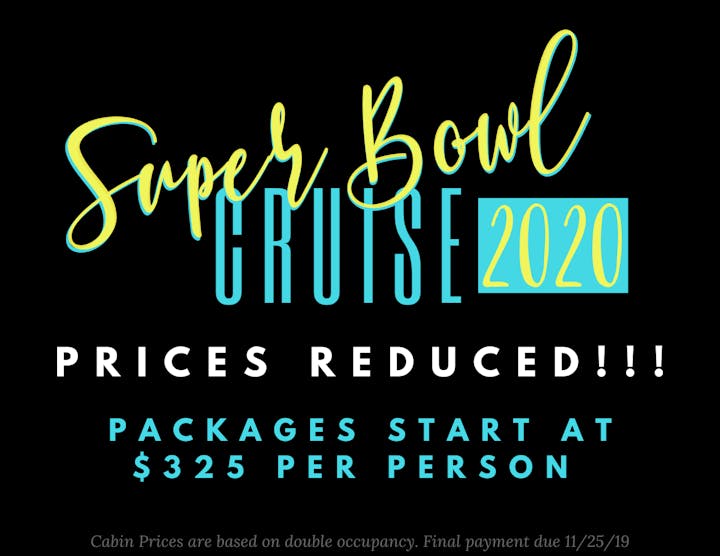 BOOK NOW!!
WE ARE ALMOST SOLD OUT!!!
CABIN RATES ARE SUBJECT TO CHANGE UNTIL CABIN DEPOSITS ARE PAID IN FULL.
INTERIOR CABIN - 2 LEFT AT THIS RATE!!
SINGLE RATE $545
DOUBLE RATE $335/PP
----------------------------
OCEAN VIEW CABIN -
SINGLE RATE $600
DOUBLE RATE $365/PP
----------------------------
BALCONY CABIN -
SINGLE RATE $720
DOUBLE RATE $430/PP
(prices include taxes and port fees)
CABIN PRICING IS BASED ON DOUBLE OCCUPANCY.
SINGLE OCCUPANT RATES ARE ALSO LISTED.
*OFFICIAL TRAVEL SOLUTIONS REQUIRES A $25 REGISTRATION FEE FOR EACH PERSON THAT WILL OCCUPY A CABIN FOR THIS CRUISE*
-THIS REGISTRATION FEE IS SEPARATE FROM ANY RESERVATION FEES OR CRUISE BOOKING DEPOSITS.
-REGISTRATION FEES ARE NON REFUNDABLE & DO NOT GO TOWARD CRUISE PACKAGE TOTALS
SECURE YOUR CABIN AND RATE BY MAKING A $100/PP DEPOSIT TODAY.
- A $100 PER PERSON DEPOSIT IS REQUIRED FOR EACH PERSON TO BOOK A CABIN. FOR THIS SAILING.
- YOU WILL NOT RECEIVE YOUR CABIN BOOKING NUMBER UNTIL YOUR BOOKING DEPOSIT IS PAID IN FULL.
- YOU MUST HAVE A CABIN MATE WHEN BOOKING A CABIN OR BE SUBJECTED TO SINGLE OCCUPANCY RATES. OFFICIAL TRAVEL SOLUTIONS IS NOT RESPONSIBLE FOR ROOM MATE MATCHING
- ALL BOOKING DEPOSITS GO TOWARD YOUR CRUISE PACKAGE TOTAL.
- BOOKING DEPOSITS ARE NON-REFUNDABLE
ONCE ALL REQUIRED FORMS AND FEES HAVE BEEN SUBMITTED AFTER MAKING YOU INITIAL DEPOSIT PLEASE ALLOW UP TO 48 HOURS TO RECEIVE YOUR TOTAL CRUISE PACKAGE INVOICE, CRUISE PACKAGE INFO & PRIVATE BOOKING/PAYMENT LINK.
YOUR INVOICE WILL INCLUDE THE PRICE OF THE CABIN CATEGORY SELECTED, THE AMOUNT PAID AND THE BALANCE DUE.
ANY CURRENT PROMOTIONS WILL BE REFLECTED ON YOUR INVOICE
PLEASE FEEL FREE TO EMAIL US AT cruiseinfo@officialtravelsolutions.com WITH ANY QUESTIONS OR CONCERNS
TERMS AND CONDITIONS
OFFICIAL TRAVEL SOLUTIONS PARTICIPANT'S AGREEMENT
SUPER BOWL CRUISE 2020 is non-refundable once purchased. There are no refunds for cancellations, regardless of the reason. The payment of your deposit and subsequent payments for SUPER BOWL CRUISE 2020 confirms that you accept and agree to these Terms & Conditions including our Cancellation Policy.
AGE REQUIREMENTS
GUESTS ARE REQUIRED TO BE 21 YEARS OF AGE (ON EMBARKATION DAY) TO TRAVEL ON THEIR OWN. GUEST AGES WILL BE VERIFIED AT EMBARKATION. GUESTS NOT CONFORMING TO THIS POLICY WILL RESULT IN DENIED BOARDING AND NO COMPENSATION WILL BE PROVIDED AT EMBARKATION.
*NO PASSPORT REQUIRED FOR THIS SAILING BUT HIGHLY RECOMMENDED*
ALL GUESTS NEED PROPER PROOF OF CITIZENSHIP IN ORDER TO TRAVEL AND FAILURE TO PRESENT VALID DOCUMENTATION WILL RESULT IN DENIED BOARDING.
PAYMENT OPTIONS:
GUESTS HAVE THE OPTION TO PAY IN FULL OR SELECT OUR MONTHLY PAYMENT PLAN.
MONTHLY PAYMENT PLAN OPTION:- AFTER CABIN DEPOSIT IS PAID AND YOUR CABIN IS BOOKED, THE TOTAL REMAINING CRUISE PACKAGE BALANCE WILL BE SPLIT INTO MONTHLY INSTALLMENTS. PAYMENTS WILL BE DUE ON THE 25TH OF EACH MONTH.- ONCE ALL REQUIRED FORMS AND FEES HAVE BEEN SUBMITTED, PLEASE ALLOW UP TO 48 HOURS TO RECEIVE YOUR TOTAL CRUISE PACKAGE INVOICE, CRUISE PACKAGE INFO & PRIVATE BOOKING/PAYMENT LINK.- ALL FINAL PAYMENTS ARE DUE NO LATER THAN NOVEMBER 25, 2019
PAY IN FULL:
- GUESTS MAY ALSO CHOOSE TO PAY IN FULL AT THE TIME OF BOOKING
- ONCE ALL REQUIRED FORMS AND FEES HAVE BEEN SUBMITTED, PLEASE ALLOW UP TO 48 HOURS TO RECEIVE YOUR TOTAL CRUISE PACKAGE INVOICE, CRUISE PACKAGE INFO & PRIVATE BOOKING/PAYMENT LINK.
LATE PAYMENTS:
THERE IS A $20 LATE PAYMENT FEE. THIS WILL BE ASSESSED EACH TIME YOUR PAYMENT IS MORE THAN THREE (3) DAYS PAST THE DUE DATE. IF YOU ARE 30 DAYS PAST DUE ON ANY OF YOUR PAYMENTS, WE HAVE THE RIGHT TO CANCEL YOUR RESERVATION.
NAME CHANGES:
- YOUR NAME, AS LISTED ON YOUR TRAVEL DOCUMENTS, MUST EXACTLY MATCH YOUR NAME AS LISTED ON YOUR CRUISE DOCUMENTS.
- ALL GUEST NAME CHANGES CAN BE MADE UP UNTIL OCTOBER 25, 2019 WITH A $50 ADMINISTRATIVE FEE PER NAME CHANGE ASSESSED
- ALL GUEST NAME CHANGES MADE AFTER OCTOBER 25TH 2019 UP UNTIL FINAL PAYMENT DATE WILL BE ASSESSED A $100 FEE PER NAME CHANGED ASSESSED
- IF BOTH PARTIES CANCEL, A NAME CHANGE IS NOT ALLOWED AND WILL BE CONSIDERED A FULL CANCELLATION.
OFFICIAL TRAVEL SOLUTIONS CANCELLATION POLICIES:
- ALL CRUISE DEPOSITS AND PAYMENTS ARE NON-REFUNDABLE! THERE ARE NO EXCEPTIONS TO OUR CANCELLATION POLICIES. WE STRONGLY RECOMMEND THE PURCHASE OF TRAVEL INSURANCE!
CANCELLING YOUR SUPER BOWL CRUISE 2020 RESERVATION:
ALL CANCELLATION REQUESTS MUST BE SUBMITTED IN WRITING. PLEASE EMAIL cruiseinfo@officialtravelsolutions.com TO CANCEL YOUR RESERVATION.
OFFICIAL TRAVEL SOLUTIONS & SUPER BOWL CRUISE 2020 CANCELLATION AND PAYMENT POLICIES SUPERSEDE THAT OF CARNIVAL CRUISE LINES AND CARNIVAL CRUISE LINES STAFF INFORMATION OR WEBSITE PAYMENT AND CANCELLATION TERMS.
TRAVEL INSURANCE:
TRAVEL INSURANCE IS HIGHLY RECOMMENDED IN ORDER TO PROTECT YOUR VACATION INVESTMENT. CRUISE LINES, TOUR COMPANIES, AND TRAVEL VENDORS CHARGE PENALTIES FOR CANCELLATION WHICH CAN RANGE FROM THE DEPOSIT AMOUNT TO THE TOTAL COST AND ISSUE NO REFUND AT ALL.THE OPTION TO PURCHASE TRAVEL INSURANCE IS AVAILABLE WHEN BOOKING YOUR CABIN.
GRATUITIES:
Carnival Cruise Lines will add a daily automatic gratuity to every guest's onboard Sign and Sail account. The automatic daily gratuity will be applied onboard for all individual and group bookings that have not prepaid gratuities prior to boarding their cruise. Prepaid guests will not be impacted by this automatic process and will not see additional charges on their folio account.
The daily gratuity will be shared among Dining Services Staff, Stateroom Attendants and Other Housekeeping Services Personnel.
Many of the guests wish to reward exceptional service during their cruise by providing additional gratuities. Guests may do so by providing an additional gratuity on their SeaPass onboard account or with a cash gratuity at their discretion.
THE OPTION TO ADD PRE PAID GRATUITIES TO YOUR CRUISE PACKAGE TOTAL WILL BE GIVEN ON YOUR INVOICE AFTER BOOKING YOUR CABIN.
DISCLAIMER OF LIABILITY FOR SUPER BOWL CRUISE 2020:
WHEREAS, Official Travel Solutions is a fully-appointed full service Travel Agency who is authorized to engage in the general business of arranging, planning, reserving and handling Carnival Cruises and other ancillary services. Official Travel Solutions shall not be responsible for any injuries, losses or damages in connection with terrorist activities, social or social or labor unrest, mechanical or structural integrity of air, sea, and ground transportation and accommodations, diseases, local laws, terrorists acts, bankruptcy or cessation of supplier or carrier services, climatic conditions, Acts of God, delays, changes or cancellation of travel due to weather conditions, hotel services, accidents or health related problems before or while in-transit to (e.g., an accident on the way to a tour), during, and after a tour, or any other actions, omissions, or conditions outside of Carnival Cruise Lines control. If travel plans are delayed or cancelled for any reason there will be no refunds issued by Official Travel Solutions. There will be no refunds for cancellations made 90 days or less before departure, including cancellations due to actual or threatened terrorist events. It is the travelers responsibility to protect their purchase and travel insurance is strongly recommended. Traveler is advised to obtain appropriate insurance coverage against these risks. By embarking upon his/her travel, the traveler voluntarily assumes all risks involved in such travel, whether expected or unexpected.Traveler is hereby warned of the above risks as well as the possibility traveler may be unable to travel as scheduled because of personal emergency.
ZERO TOLERANCE DRUG POLICY:
Official Travel Solutions and Carnival Cruise Lines, have a zero tolerance policy regarding the use, possession, purchase or distribution of illegal controlled substances. Any violation of this policy will result in disembarkation from the vessel as well as the individuals being turned over to the local law enforcement officials for appropriate legal action. In such cases Official Travel Solutions and Carnival Cruise Lines shall not be liable.
FEEL FREE TO EMAIL US QUESTIONS @ cruiseinfo@officialtravelsolutions.com or visit us at otscrusin.com for more info!
SEE YOU AT THE "SAILGATE"! #SuperBowlCruise2020