Super Bowl At Sea Watch Party on board the Royal Princess sailing to Cabo
About this Event
Sailing from Los Angeles, Saturday, February 1, 2020 return to Los Angeles, Thursday , February 6th. Prices start from $599 per person + taxes.
Feb 01 - check in for cruise begins at 12:30 PM
Feb 01 - ship sails at 4:00 PM
Feb 02 - Super Bowl Sunday at Sea to watch the big game.
Feb 03 - Ship arrives in Cabo San Lucas at 11:00 AM (overnight in harbor)
Feb 04 - Ship sails from Cabo bound for Los Angeles at 1:00 PM
Feb 05 - At Sea sailing north along the Baja Coast of Mexico
Feb 06 - Ship arrives in Los Angeles at 6:15 AM
For more information call (858) 999-3025 to get prices and reserve your cruise.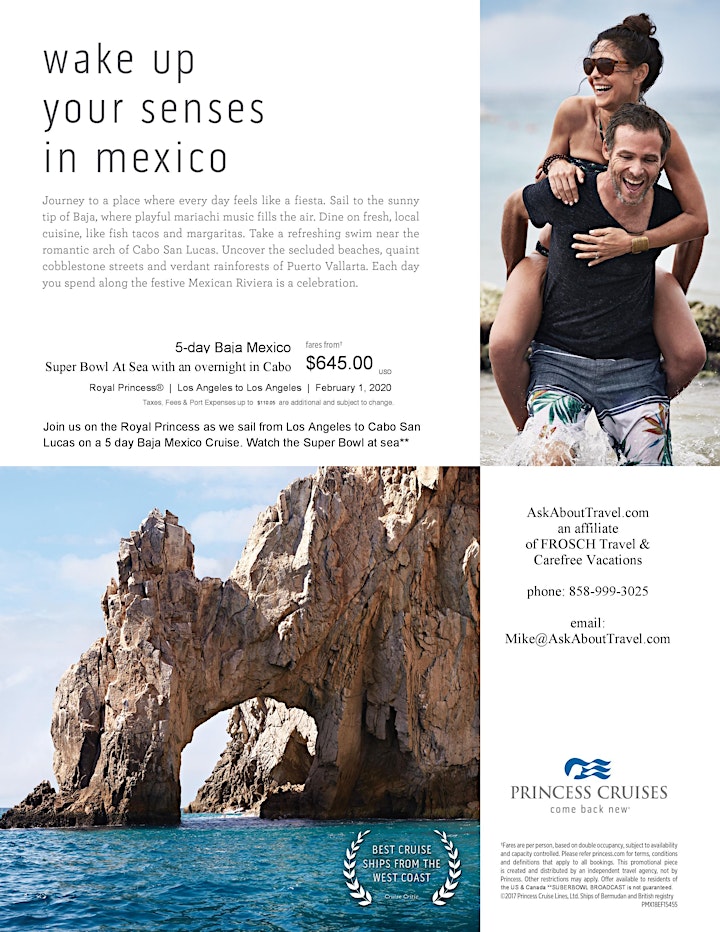 Rates are per person and are subject to current promotional rates and subject to change.
Port Taxes, government fees and other taxes are $110.05 per person
Payments are subject to cancellation fees, ask your travel advisor for details
Ask About Travel is a licensed seller of travel in California - # 2108208-40
CALL 800-571-4510 for details and to reserve your cabin on this cruise.
$50 deposit will be applied to your cruise price.
email: Mike@AskAboutTravel.com for more info.